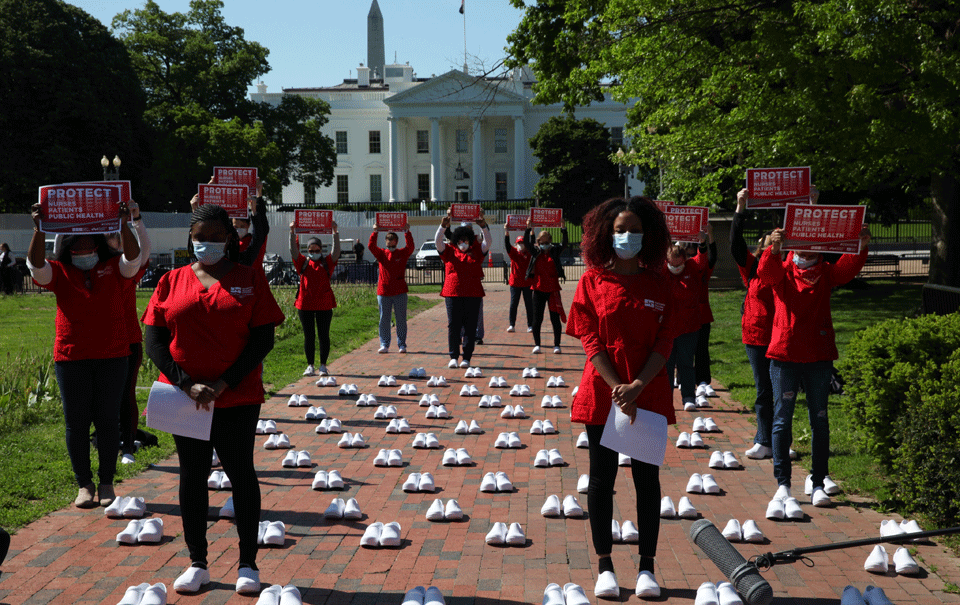 OAKLAND, Calif.—There's a yawning gap between the number of U.S. nurses the viral pandemic has killed so far in the U.S. and the number of Canadian nurses killed. The count as of May 11: U.S. 91, Canada, 0.
That prompted National Nurses United President Zunei Cortez, RN, of California and her Canadian counterpart, Linda Silas, RN, to meet each other via Zoom on May 11, with hundreds of nurses from both nations listening in, to discuss why.
And it all comes down to the fact, both agreed, that Canada's nationalized health system, despite a large hole involving nursing homes, puts people – patients and practitioners – before profits, while the U.S. is the other way around.
The hour-long discussion reinforced, though neither nurse mentioned it, NNU's long campaign for a Canadian-style single-payer government-run health care system, Medicare For All, south of the U.S.-Canada border.
NNU has picked up support from more than a dozen other U.S. unions, along with a majority of the House Democratic Caucus, led by Progressive Caucus Co-Chair Pramila Jayapal, D-Wash., and 17 senators, led by Bernie Sanders, Ind-Vt.
Sanders made Medicare For All his top plank in his now-suspended Democratic presidential nomination campaign, repeatedly and delightfully telling all comers, "I wrote the damn bill!" And NNU was the first AFL-CIO union to endorse him.
By contrast, Canada's national health care system, built province by province, has existed for decades and survived right-wing attempts to dismantle it, including in Ontario, home to 39% of Canadians.
"We know the (U.S.) hospital industry's failure to provide us with personal protective equipment (PPE) is largely to blame," Cortez told Silas and their colleagues. "You have a public health care system. We have deaths."
But the U.S. death toll, which was 80,682 as of the evening of May 11 – out of 1.333 million people who have tested positive – isn't solely the result of the nation's health care non-system, Cortez admitted. GOP President Donald Trump, whom out of sheer distaste she did not mention by name, is also responsible, Cortez declared.
The president, she said, "is trying to move the agenda to save the economy rather than saving people's lives."
"First and foremost, we must protect public health," Cortez declared. "Without public health, we have nothing."
U.S. hospitals, she noted, seem not to realize that. They're now stockpiling PPE to prepare for the next wave of coronavirus cases and telling U.S. nurses to reuse their masks, an order that puts the nurses in further medical peril.
"Our question is: 'If nurses are dying now, who are you stockpiling these for?' Everything we've learned in nursing school" about proper care, hygiene and disposal of contaminated clothes, equipment, and goods "has gone out the window."
Putting the economy first wasn't the case in Canada, Silas said, at least initially. Ontario moved quickly into a lockdown in January, though the Tory provincial government there is now backsliding. It dumped a requirement health care facilities "stop automatically providing PPE against airborne viruses — though they still provide the protection when people ask."
Even so, Canadian health care workers sickened from the virus, though no nurses have died. Medical provider illness ratios range from 10% in Alberta and 14% in Ontario to 21% in British Columbia.
And unlike in the U.S., Silas noted, the provincial and federal governments listened to public health care scientists.
Silas too said the federal government of Liberal Prime Minister Justin Trudeau, which does not have a majority, but only a plurality, of House of Commons seats, is also under corporate pressure to reopen businesses. That's though Canada had 68,848 people test positive for the coronavirus as of May 11 – in a nation with 37 million people, one-ninth the population of the U.S. The U.S. has had 1.348 million people test positive for the virus.
And 4,878 Canadians have died, according to a slide Silas posted while talking to the group. That puts Canadian illness and death rates per 1,000 people far below the U.S. ratios.
Like in the U.S., long-term care facilities are a particular coronavirus hotspot, Silas said. They're also the one part of the nation's health care that's not in the national health system.
"I remember a national health inspector walked into the first nursing home he visited in Ontario, and he was shocked" by immediately seeing nine cases there, she added. One nursing home in the province has seen 30 residents and one doctor die.
Cortez used the session to again campaign for further PPE and protections for the nation's nurses, including an emergency standard from the federal Occupational Safety and Health Administration ordering U.S. health care facilities to develop and implement airborne virus protection plans. And she said NNU is also lobbying for more federal funds directly for front-line health care workers, not just for their hospitals.
There is one other Canadian protection nurses have, Silas said, an absolute right to refuse to work in an unhealthy environment.  U.S. nurses, by contrast, have to lobby their bosses not to send them into danger. If the bosses do so anyway, nurses "have an 'assignment despite objections' form," with checkoffs on why the nurses did not want to work in a particular assignment or ward.
Like free stuff? So do we. Here at People's World, we believe strongly in the mission of keeping the labor and democratic movements informed so they are prepared for the struggle. But we need your help. While our content is free for readers (something we are proud of) it takes money — a lot of it — to produce and cover the stories you see in our pages. Only you, our readers and supporters, can keep us going. Only you can make sure we keep the news that matters free of paywalls and advertisements. If you enjoy reading People's World and the stories we bring you, support our work by becoming a $5 monthly sustainer today.