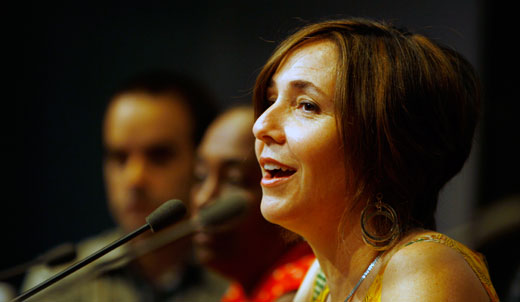 For years Mariela Castro, daughter of Raul Castro and niece of Fidel Castro, has combated ignorance and discrimination towards gay, lesbian, bisexual and transgender Cubans. She is considered by many in the international LGBT rights movement to be the founder of the modern Cuban gay rights movement. She is the foremost straight ally of LGBT Cubans.
Mariela Castro is director for the National Center for Sex Education where she leads the fight for appropriate sexual health care and human rights for sexual minorities.
Conditions in Cuba have improved remarkably for gay, lesbian, and transgender individuals in recent years. Today LGBT Cubans can be seen in public together, have access to social services and discrimination-free employment, march in government-sponsored pride parades, and partake in public social events.
Things weren't always so open. In the early years after the Cuban revolution, LGBT people in Cuban society were horribly stigmatized and not given recognition by the government. But in 2008 changes started to occur. Transgender individuals were given the right to change their legal gender free of charge through surgery provided by Cuba's free universal health care system. In 2010 Fidel Castro even apologized to the LGBT community, saying that discrimination was wrong and the past discrimination against them was unfortunate.
Mariela Castro has introduced a civil union bill into the Cuban National Assembly several times. Although it did not pass initially, the bill is being reintroduced this year and is in the legal research phase, meaning the Assembly is assessing its legal impacts. The bill would also prohibit discrimination on the basis of sexual orientation and gender identity both in the Communist Party of Cuba and in public life.
To say how great something like this is would be an understatement. Cuba is advancing a broad-based human rights agenda for LGBT people ahead of the United States, which continues to have a muddied and mixed track record at best on LGBT issues.
The time has come for the United States to end the embargo and perhaps take a lesson from the book of Cuban human rights in regard to LGBT issues. In the United States it's illegal to have a sex change and to be recognized as the opposite gender in three states: Tennessee, Ohio and Idaho. And there are still sodomy laws here in the United States despite the Supreme Court's Lawrence v. Texas decision that decriminalized same-sex relationships.
That isn't to say that Cuba doesn't have more progress to make in overcoming stereotypes about "masculinity" and "femininity," and prejudice and discrimination against those who defy the stereotypes. But thankfully the National Center for Sex Education and Mariela Castro are empowering the Cuban population through education to eradicate these stereotypes and advance equality.
If her bill passes in Cuba, the island nation will be not only a leader in tolerance and human rights for LGBT people but also set an example for both the developing world and other socialist countries that LGBT rights are compatible with a socialist agenda. Who knows the broader impact of this legislation? Maybe China or Vietnam will feel compelled to follow their Cuban comrades and enact pro-LGBT legislation as well. There surely is a Chinese version of Mariela Castro.
In the People's Republic of China, a sexologist named Li Yinhe, a professor at the Chinese Academy of Social Sciences, has reportedly introduced bills to allow same-sex marriage. As a member of the Chinese People's Political Consultative Conference she has spoken in defense of the Chinese LGBT community and that is where she has introduced her bills as well.
Although China is not on the same level as Cuba in LGBT rights, things seem to be improving. In the late 2000s the Chinese government opened the first state-sponsored LGBT health and community centers where members of the LGBT community could meet and receive sex education advice and basic health services. Polls among the average Chinese population indicate that the current general perception of LGBT people continues to improve.
In Vietnam the atmosphere regarding LGBT people appears to be improving too. Many young people are reported to be understanding of and sympathetic to the problems of the LGBT community. Health care for LGBT people is free especially for those who have HIV or are in need of testing. This is done irrespective of sexual orientation or gender identity.
So the situation for LGBT people in socialist countries seems to be rapidly looking up. Cuba is on the verge of equality. China and Vietnam are moving forward by making access to health care and social services for LGBT people easier to obtain. These countries could take the next step forward by outlawing discrimination based on sexual orientation and gender identity.
Gay people like me are everywhere. We come in all shapes and sizes, colors and voices. We're diverse and we would like you to welcome us with open arms. These socialist countries are making steps towards that. The U.S. has made gains, but we have a ways to go.
Photo: Mariela Castro answers questions during a news conference in Havana, May 10, 2008, at the launch of a campaign to defend the rights of gay and lesbian minorities in Cuba. Javier Galeano/AP