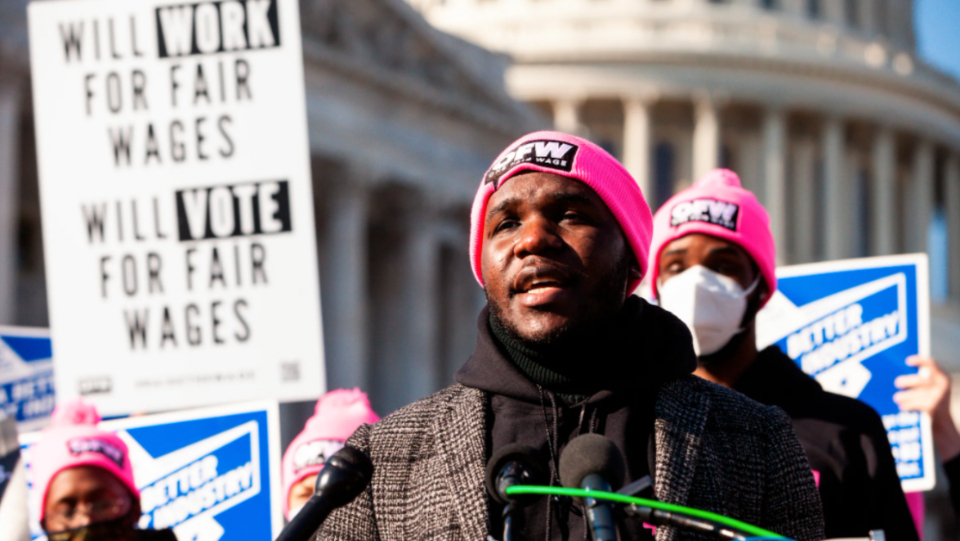 WASHINGTON—For the second time, District of Columbia residents overwhelmingly voted to phase out the subminimum wage for tipped restaurant employees, with 73.9% in favor.
The ballot measure, Initiative 82, will gradually raise the current tipped minimum wage of $5.35 per hour until it reaches the District's standard minimum wage of $16.10 by 2027.
The measure, passed Nov. 8, is set to go into law following a 30-day congressional review period, and will tentatively take effect in the spring. And this time, the City Council apparently will not ignore the voters and let it go through. Last time, the city's corporate class got the council to veto it.
I-82's passage marks the second time D.C. voters indicated their support for raising the tipped wage. The City Council repealed a similar move, Initiative 77, favored by voters in 2018.
This time around, the measure's success relied upon a strong network of grassroots organizing to rally worker support in the face of continued strong opposition from business owners and the restaurant lobby.
"I'm really proud of the way, you know, I was able to build a kind of a coalition of groups from all shades on the left," said Ryan O'Leary, a local organizer and former restaurant worker who proposed the initiative. "We have the DSA, we have CPUSA, DC for Democracy. We had labor unions and the D.C. Labor Council."
D.C. will join seven states—Alaska, California, Minnesota, Montana, Nevada, Oregon, and Washington—and the territory of Guam in eliminating a subminimum wage for restaurant employees.
The bill would require employers of the 68,500 hospitality and leisure industry workforce to pay their employees the District-wide minimum wage. That includes not just restaurant servers and bartenders, but any employees currently receiving a tipped wage, such as hotel and nail salon staff.
"We have plenty of evidence in the other seven states that have already gone ahead and done this that, you know, tipping remains the same," O'Leary said. "Incomes go up, poverty rate goes down amongst the workers. And the income gaps for women and people of color in the industry also tighten up."
Organizers are also attempting to avoid I-77's fate by asking councilmembers to sign a pledge not to repeal the initiative or change its language in any way that would fundamentally alter it.
Five councilmembers have already signed, one down from six, due to  incumbent Elissa Silverman's loss of her bid for an at-large council seat. The corporate chieftains also funded a strong bid to defeat her, one of their strongest critics. Only Councilmembers Vincent Gray and Trayon White are publicly expressing disapproval, according to O'Leary.
Seven councilmembers also confirmed their support to Washington City Paper, while two others and recently elected Kenyan McDuffie said at the least they would not support a repeal effort.
"Again, I'm really happy that we have some really strong allies on the council. Brianne Nadeau, Janice Lewis-George, Zachary Parker, and Matt Frumin and Robert White are all really staunch advocates for this. We're also really proud of Robert White because he was actually against this when it was I-77, but his mind has been changed just like many others, including tipped workers," he added.
Four years ago, the city council moved to repeal I-82's predecessor after it passed a ballot vote with 55% popular support.
Repeal came after the city's hospitality industry poured more than $400,000 into advertising and lobbying efforts led by Trump consultant-run "astroturf" organizations.
To counterbalance their repeal, the council mandated local restaurants to disclose all wages and tips paid to workers in order to prevent continued wage theft. A report conducted by D.C. Jobs With Justice and the Restaurant Opportunity ​Center of D.C. last month found that 65% of restaurants and bars with liquor licenses had failed to report employee wages.