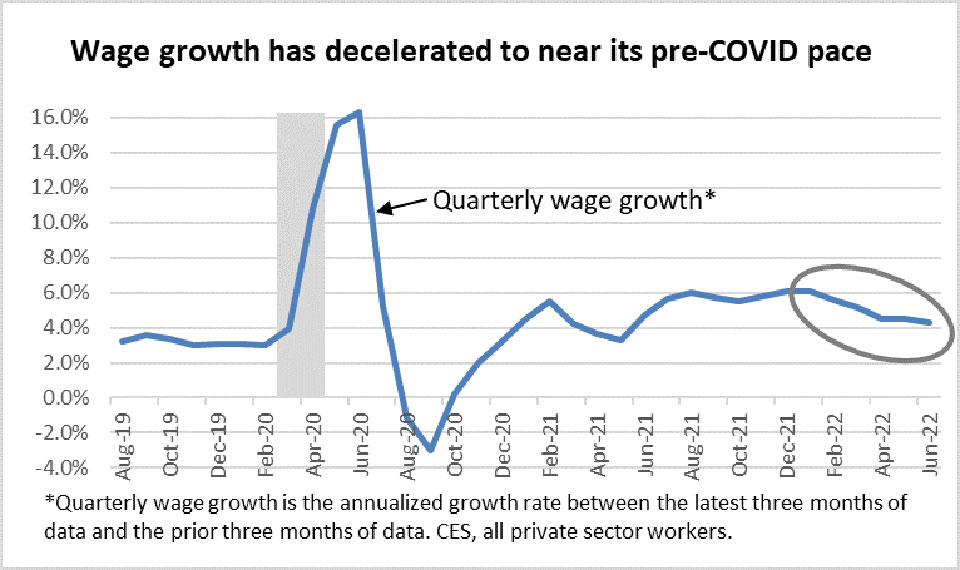 WASHINGTON —Businesses claimed to add a net of 381,000 new jobs in June, the Bureau of Labor Statistics reported. But even as firms claimed they can't find workers, the BLS data revealed one reason why: Wage growth has slowed—to pre-pandemic levels.
The nation's jobless rate held steady at 3.6% for the third straight month and the number of jobless declined by 38,000, to 5.91 million. The net number of new jobs overall was 372,000 because governments shed 9,000 workers, all in the federal government.
"Private-sector employment has recovered the net job losses due to" the mass closures forced by the coronavirus "pandemic and is 140,000 higher than in February 2020, while government employment is 664,000 lower," BLS said.
Companies have moaned for months they can't find workers to fill job vacancies, especially in low-paying occupations such as hotels, restaurants, and health care. Yet lodgings added 14,800 jobs in June, restaurants added 40,800 and health care added 56,700.
Even so, the bars and restaurants still employ 1.3 million fewer workers than they did in February 2020, the last month before the coronavirus-caused depression hit. And health care is 1.1 million jobs behind its February 2020 number, too.
By contrast, BLS reported factories claimed to add 29,000 jobs in June, to 12.797 million, and have now regained all the jobs they lost in the crash. No one industry within factories stood out for either large gains or losses.
Construction added 13,000 jobs in June, to 7.67 million, with 88% (11,400) of them with non-residential specialty contractors.
The catch to the corporate complaints, as Economic Policy Institute President Heidi Shierholz pointed out, is that the same firms yowling about the lack of workers in a booming recovery won't raise wages to attract new people. In so many words, try paying them.
"Quarterly wage growth ticked down in June and has dropped substantially in recent months. It is now near its pre-Covid range," Shierholz tweeted.
That range was just over 4% annually for all workers in June, but it was only 0.6% for the bar, restaurant, and hotel workers, calculations show, from $514.97 weekly to $518.11. That was the second-lowest growth among all occupations. Dead last: Transportation and warehouse workers. Their weekly wages actually dropped by $7.26 in June, but at $1,064.25 were still more than double the wages of the hotel, restaurant, and bar workers.
Restaurant, bar, and hotel workers still lag far behind every other occupation in weekly earnings. The second-lowest, retail trade workers, earned $690.67 weekly in June, almost four dollars more than in May.