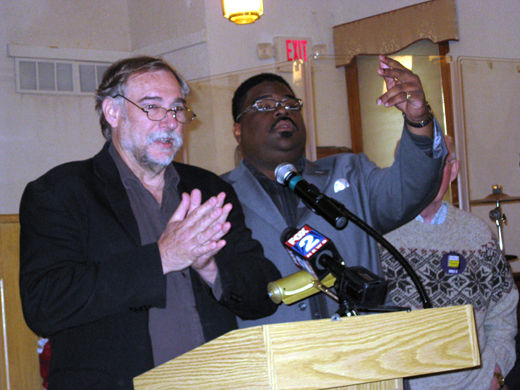 DETROIT – Some would say this city seems under siege. The unemployment rate of almost 50 percent is a catastrophe. Circling vulture like are corporate interests and developers whose plans for privatization, demolition, and union busting will push the city's "pain meter" ever higher.
But hope is not lost. One way Detroiters are fighting back is by taking advantage of the U.S. Social Forum, an event expected to draw tens of thousands. It's coming to Detroit from June 22 to 26 and its presence is being used to offer new solutions putting the interests of residents, families and children who live here at "the front of the line."
A press recent press conference sponsored by the Faith and Spirituality Committee of the U.S. Social Forum spoke to the issues residents are confronting.
"Our city is under assault in a way I have not seen in forty years" declared Dr Shea Howell of Detroit City of Hope. "We are under attack in the same way that Baghdad was attacked with one bomb after another."
She said bomb number one is our mayor telling us he's going to shrink the city by using eminent domain to "drive people from their homes they have preserved and protected."
Bomb number two is Detroit Public Schools emergency financial manager, Robert Bobb, telling us he's going to close 42 schools. "He doesn't care that they are some of our best schools," she added.
To back up that point she spoke about the Catherine Ferguson Academy, an alternative school for 300 pregnant teens and young mothers that Bobb wants to close. Ferguson graduates nearly all of its students and sends almost all to two or four-year colleges. In a district where high school students miss an average of 45 school days a year, Ferguson reports average daily attendance of 97 percent.
The Rev. Charles Williams II spoke of another bomb going off: the pending sale of the public Detroit Medical Center (DMC) to the for-profit Vanguard Health Systems. In buying the eight-hospital DMC, Vanguard would become the nation's fifth-largest for-profit hospital company.
Williams said the danger is we will be going from a hospital system that cares about people those who are in distress to caring about the bottom line. "For business, if it doesn't make dollars, it doesn't make sense," he said.
He called on the city council to make sure people have a voice at the table. "If this merger is going to happen it needs to make sense for the people of Detroit and continue to care for indigent people."
The Rev. Edwin Rowe, senior pastor at Central United Methodist Church, made an appeal to local clergy of all faiths and denominations to take action on the foreclosure crisis. He said churches, by doing business with the same banks that are taking peoples homes, means "we are foreclosing on ourselves." "We are making bankers even richer and then those banks are foreclosing on the very people we are supposed to be supporting."
He alluded to an action being planned during the Social Forum. "Imagine what it would be like if at this social forum we took our money out?"
Rev David Bullock, president of the Hamtramck NAACP and Greenation, said, "We don't just need jobs, we need good paying jobs that allow people to not be exploited, that allow people to send their kids to college."
Tying the need for a clean environment to job creation Bullock called for retrofitting empty auto plant to manufacture wind turbines.
To those who think a turbine is not a complicated piece of machinery, Bullock pointed out they have 8000 moving parts. Making those 8,000 moving parts could begin putting people back to work.
Photo: Pastor Bill Wylie-Kellermann, left, and the Rev. Charles Williams II. John Rummel/PW