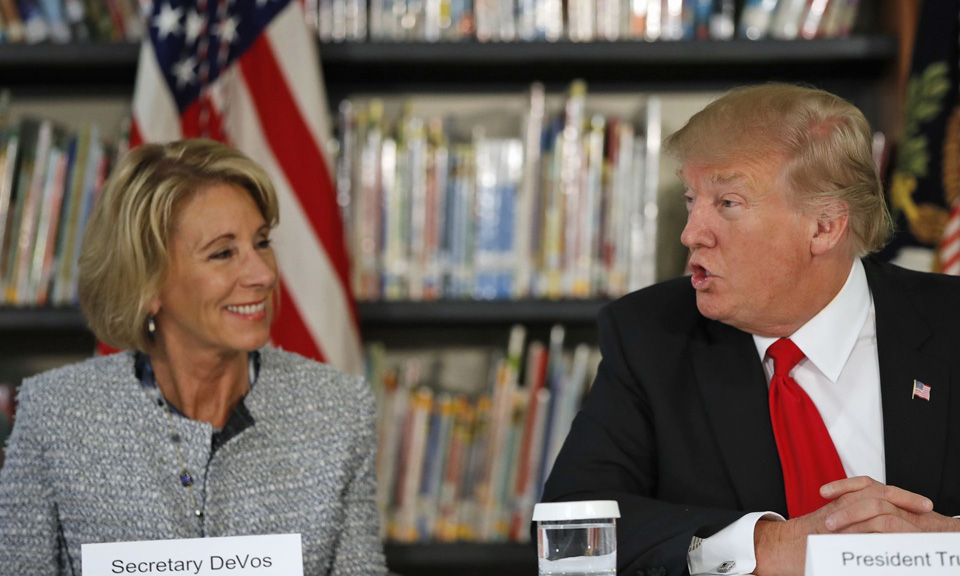 Earlier this month, Education Secretary Betsy DeVos threw out Obama administration rules designed to curb abuses by private student loan lenders, and on April 24, almost two dozen state attorneys general urged her to reconsider. In a letter to the secretary, the attorneys general told her that the decision to "roll back essential protections imperils millions of student loan borrowers and families."
The Education Department is revising contracts for student loan debt collectors. The Obama administration cut out private banks and lenders, which profited greatly from student loans, and put the federal government in charge of lending.
However, the Education Department contracted out to private firms to service the debt, putting in place rules that would safeguard borrowers.
The three memos DeVos tossed directed companies to reach out to people at greatest risk of defaulting and give them and all borrowers quality service, otherwise the companies would be financially penalized for poor service. Response time to answering calls, completing applications for repayment plans based on income, error-free communications and prompt processing of payments were all part of the government's compensation for quality service.
State attorneys general were also critical of DeVos for ending the directive that looked at servicers' past performance in divvying up the loan portfolio. Many of the attorneys general have had to set up special offices to deal with student loan complaints and said in their letter that their investigations have revealed "the havoc that student loan servicers' poor practices and servicing failures wreak on the lives of borrowers."
During DeVos' confirmation hearing, which the Republicans rammed through amid unprecedented protest for a presidential Cabinet pick, the billionaire's extensive financial holdings could not be completely vetted. But some red flags did appear, one of which was on student loans. One of DeVos' businesses, RDV Corporation, which she had served as director of, was affiliated with another company that made loans to a debt collection agency that had business with the Education Department.
College students and graduates are buried in student loan debt to the tune of $1.3 trillion, the second highest debt after mortgages, according to Forbes. Many of the Obama-era regulations tried to alleviate the burden, offering income-based repayment plans and loan forgiveness.
Appointee said she was discriminated against because she is white
In other Education Department news, DeVos named as the acting head of the department's Office of Civil Rights, an ideological warrior against civil rights, Candice Jackson. She was described by the investigative news site, ProPublica,  as a "longtime anti-Clinton activist and an outspoken conservative-turned-libertarian who has denounced feminism and race-based preferences."
As an undergraduate, she claimed she was discriminated against because she is white. Often called "reverse racism," many legal and civil rights experts dispute its existence. Jackson claimed the spotlight during one of the presidential debates when she showed up with women who accused Bill Clinton of sexual harassment and assault. To read more about DeVos' pick go to: https://www.propublica.org/article/devos-candice-jackson-civil-rights-office-education-department
Weingarten and DeVos visit rural Ohio public schools
In an effort to show that support for public education transcends politics, American Federation of Teachers President Randi Weingarten invited DeVos to visit a public school in rock red rural Ohio. Weingarten had staunchly opposed DeVos' nomination and the billionaire's campaigns for school vouchers in Michigan. The union president most recently criticized Trump's budget which cut $9 billion from Education Department programs designed to help poor students at the same time putting $1.4 billion toward "school choice," a cause near and dear to DeVos.
DeVos has been a frequent opponent to teachers and their unions, and a staunch supporter of "school choice" (vouchers), private, parochial and charter schools, all schemes that teachers and education advocates see as attempts to dismantle public education.
Yet, on April 20, the two went to Van Wert, Ohio, a town of 11,000 that sits two hours northwest of Columbus, the state capital, to visit the public school district there.
Weingarten said the visit showed that the support for public education in a typical Republican-leaning community is proof positive that "support for public schools transcends politics."
DeVos praised the district, saying "It was clear that this community has invested heart and soul into the students here."