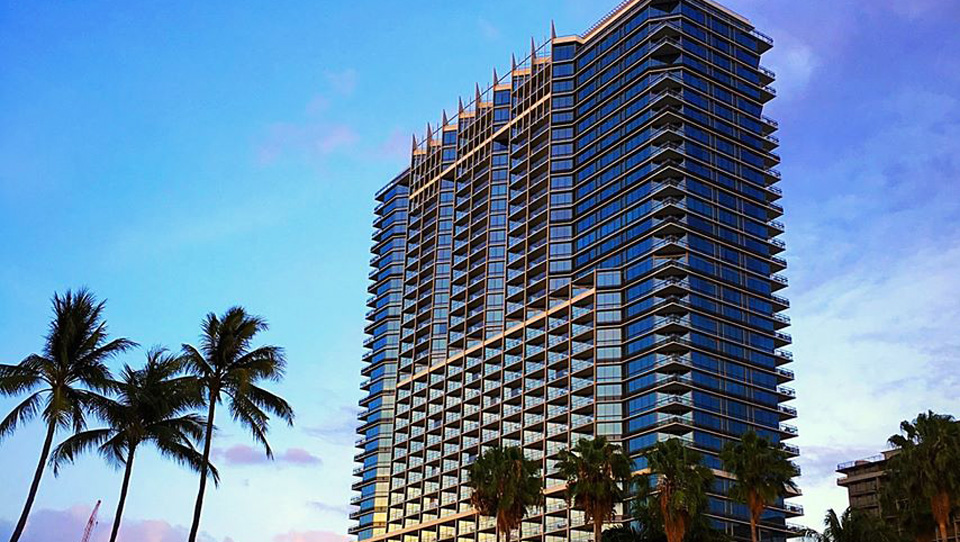 My article about the questions and troubles that surrounded the Trump International Hotel and Tower at Waikiki Beach Walk, which included my interview with Pulitzer Prize winner David Cay Johnston, was recently published in People's World. But in my opinion, a far bigger story is how I happened to stumble upon this story, years before Johnston wrote about it in The Making of Donald Trump.
This story is not one this journalist should be telling, because of my conflicts of interest in terms of friends and family, that prevent me from being impartial. Because I am personally too close to this story I have not thoroughly investigated the matters I describe, but with the election only days away, I feel that it's imperative for me to air my concerns publicly, with the hope that more dispassionate reporters can look and dig into whether or not the deaths of two attorneys may be tied to Donald Trump and his purportedly predatory business behavior. (That is, presuming we still have a free press in the days to come.)
Throughout the campaign, much has been made about Trump's character (or lack) and fitness for high office; to some he's a savior, to others a flimflam man. Hillary Clinton and many others have charged that Trump has ruined small businesses and lives with his dubious business practices. But what if Trump has literally caused loss of life? Here's the sorrowful saga which, in essence, I revealed to my relatives at a Labor Day family gathering:
My best friend, Richard Pafundi
In the early 1970s, I attended Richmond Hill High School in Queens, New York (where Trump is also from) with Richard Pafundi. We were friendly, but not particularly close. After graduating from Hill we went our separate ways but one day, circa 1980, while I was body surfing or boogie boarding at Makapuu Beach, Oahu, I looked to my side and lo and behold, there was none other than my former high school classmate. It turned out that like me, Richard had moved to Hawaii.
Rich had become an attorney and after practicing criminal law, moved on to the more lucrative field of personal injury law (which included representing me in connection with two car accidents). He married and eventually had three children. A devoted husband and father, Rich also invested in a handful of select Hawaii real estate properties. After I moved from Hawaii to Los Angeles in 1999, Rich and I stayed in touch.
In 2007 Richard told me that after a complex, laborious process he bought a unit at the Trump International Hotel and Tower at Waikiki Beach Walk. The units at this 38 story luxury hotel-condominium tower were reportedly priced at from $500,000 to more than $5 million each. As a "native" New Yorker, at the time Richard was well aware of who Trump was and of his reputation as a sort of "golden boy" of Manhattan's real estate scene. I'm confident Trump's razzle-dazzle beguiled Rich into making what he presumably believed was a rather hefty investment, but one that would pay off in the future.
However, this dream project seems to have turned into a nightmare for Richard, as well as others, who went on to file lawsuits in connection to the Trump International Hotel and Tower at Waikiki Beach Walk. As Johnston told me in an interview: "Trump promoted this project… at Waikiki as a Trump development. And as with many other projects he referred to himself as the 'developer' or the 'builder.'"
However, as Johnston went on to say, "In fact, all he did was license his name to be on the building… After people bought into this building they made a rather disturbing discovery: The name was not permanent. Trump could remove it, he could demand future payments. In fact, he could remove his name and put it on a building right next door. So if you paid a premium price because you thought the name Trump justified that as an investment, you were actually at a great deal of risk."
From around 2012 through part of 2014, every time Richard phoned me he'd circle around to a recurring refrain: How this Trump International Hotel and Tower at Waikiki Beach Walk investment had become a monkey on his back. He'd confide in me that no matter how big a settlement he won in court against an insurance company, etc., it all went to paying off the huge amount he owed for this project that was draining him.
In Christmas 2013 my pal went into a coma. After 10 days he rallied and revived, and eventually went back to work. His phone calls to me continued, always lamenting how he couldn't get ahead in hyper-inflated Hawaii with its high cost of living because he still had to pay off his expenses in connection with Trump International Hotel and Tower at Waikiki Beach Walk. In retrospect, Richard's lamentations sounded like premonitions, a mantra of doom.
In June 2014, only a couple of months after turning 59 years old, my best friend died. He seems to have worked himself to death, at least, in part, to pay off the enormous debt he'd incurred by buying into the Trump-related project – and persona, as New York's fair-haired crown prince of real estate.
Another attorney: Suicide in San Diego
When I told my tale of woe to my nephew at a Chinese restaurant over Labor Day, he shot his wife a surprised, knowing glance then asserted that the San Diego attorney he'd worked for had invested in the Trump Ocean Resort in Baja California circa 2006. Similar to the Waikiki situation, according to the chapter Down Mexico Way in Johnston's book, Trump purported himself to be "the builder and developer" of this Baja California property. Johnston details how Ivanka Trump personally courted investors. Although the Trump International Hotel and Tower at Waikiki Beach Walk ran into legal entanglements and other concerns, it was actually built and opened in 2009.
However, such was not the case with the promised Trump Ocean Resort, which, according to the L.A. Times, "The 525 condos cost $275,000 to $3 million" apiece. The would-be Baja project went bust and buyers lost $32.5 million in deposits – among them, my nephew's employer, an attorney who ran a small law practice in San Diego. In 2012 this lawyer jumped in front of a moving train, killing himself. In addition to whatever grief his family experienced, this also caused great hardship for my nephew, who had a toddler to care for. My nephew believes that financial problems led to his employer's suicide and that the loss incurred due to the failed Trump Ocean Resort was part of this. (See: http://www.latimes.com/politics/la-na-pol-trump-baja-snap-story.html.)
Did Trump cause these deaths?
Did Trump – who bragged in the Access Hollywood videotape that "when you're a star, they let you do it. You can do anything" and boasted last January that "I could stand in the middle of 5th Avenue and shoot somebody and I wouldn't lose voters" – fraudulently misrepresent himself and his role in the Hawaii and Mexico projects? Did Trump deliberately purport himself to be the builder, developer, owner, et al, of these projects in order to lure buyers? Were buyers deceived by a man who meticulously cultivated a brand name – which he then licensed out for fees – to invest in properties under false circumstances?
So, did Trump cause the death of my best friend, as well as the suicide of a San Diego attorney? I don't know – but inquiring minds want to know. Obviously, I cannot be impartial, fair and balanced when it comes to reporting on my closest friend and an employer of a close member of my own family.
But consider this: Richard and the San Diego suicide victim were both attorneys trained to read contracts in law school. Their courtroom expertise presumably necessitated their understanding of contractual agreements. Yet they both seem to have been bamboozled as to what the so-called real estate tycoon's actual roles were in regards to the Hawaii and Mexico properties. If lawyers, whose work often involves contracts, are misled, what about laymen buyers?
(As recently as March 2016, Trump was still disputing who actually owned and managed Trump International Hotel and Tower at Waikiki Beach Walk. See: http://www.hawaiinewsnow.com/story/31421181/who-owns-trump-waikiki-not-the-donald .)
I don't know the answers to all of the above the questions raised by the untimely deaths of my best friend and a San Diego attorney. But what are the odds that I'd actually have direct and indirect ties to two men who both invested in Trump projects and died years before their time? How many other people may have died as a result of Trump and his business operations?
I think the American people will at least be as interested in what appears to be Trump-related deaths as they are in how many women he allegedly molested. I may not know all the facts, but I do know what my friend told me time and again. In any case, reporters without my conflicts of interest should look into my best buddy's death and the SoCal attorney's suicide. If Trump is guiltless he should be cleared of any lingering suspicions in regards to these matters. But if he did dubiously, deliberately manipulate unsuspecting buyers into making disastrous decisions that led to the loss of life, he should be held accountable – and Americans should know who the man-who-would-be-president really is and what he does.
Aloha oe (farewell to thee), my dear Friend, Richard Pafundi. RIP, RP.