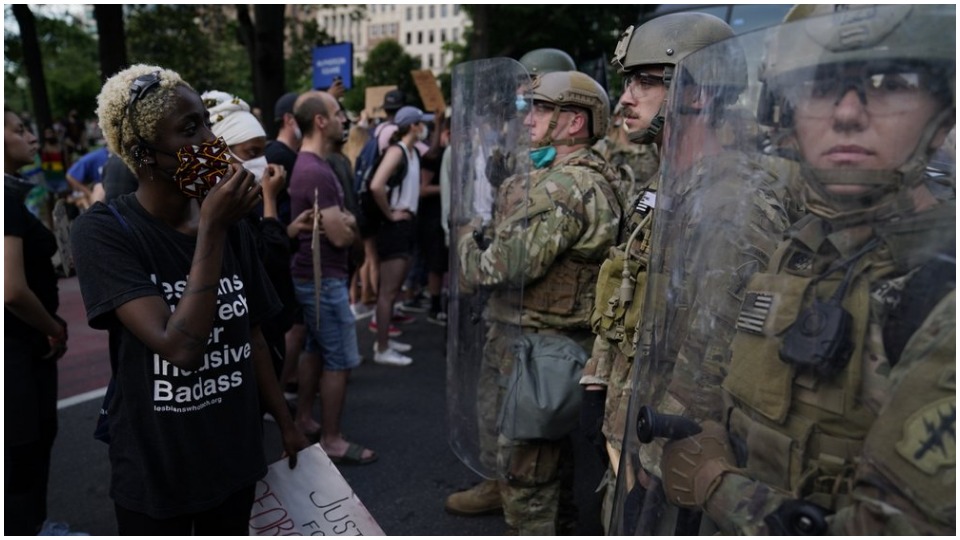 President Trump's desire for an authoritarian crackdown on the nationwide uprising against systemic racism and police violence is causing dissension in the ranks at the Pentagon. Segments of the military establishment are breaking with Trump over his decision to send the army into America's streets to crush the protests sparked by the murder of George Floyd.
Defense Secretary Mark Esper publicly disagreed with Trump's threat to invoke the 1807 Insurrection Act to overrule governors and flood U.S. cities with troops to, as Trump put it, "dominate" protests and "quell" unrest. Esper's dissent has likely placed his position in the administration in peril.
Trump's own defense secretary said on Wednesday that he opposed deploying troops within the U.S. to carry out law enforcement tasks and said the Insurrection Act should only be used "in the most urgent and dire of situations." He then definitively declared, "We are not in one of those situations now."
After having called up 1,300 soldiers of the U.S. Army's 82nd Airborne Division to carry out Trump's plan to clear Washington, Defense Department officials said those forces would begin standing down and returning to their bases—in line with Esper's statement. But after the defense secretary visited the White House Wednesday afternoon, that decision was abruptly reversed, with no explanation given as to who exactly had given the order.
The conflicting moves suggest a serious break between Trump and Esper and increased confusion around what the president's next move might be. With reports circulating that Trump was intensely angered over his defense secretary undermining him in public, speculation swirled overnight that Esper may soon be fired.
Esper's refusal to carry out the president's scheme came in the wake of an explosive rebuke of the administration's repressive approach by Trump's first defense secretary, Gen. Jim Mattis. In an unexpected broadside Wednesday, Mattis came down on the side of protesters, saying, "The protests are defined by tens of thousands of people of conscience who are insisting that we live up to our values." He recalled the words "Equal Justice Under Law" carved on the front of the Supreme Court building and said, "This is precisely what protesters are rightly demanding."
Mattis implied the president was making "a mockery of our Constitution" with orders to violently suppress protesters exercising their First Amendment right to assemble. Referencing the oath that soldiers take to defend the Constitution, Mattis wrote, "Never did I dream that troops taking that same oath would be ordered under any circumstance to violate the Constitutional rights of their fellow citizens—much less to provide a bizarre photo op for the elected commander-in-chief, with military leadership standing alongside."
Perhaps embarrassed by being required to tag along for the Trump Bible photo op outside St. John's Church in Lafayette Park on Monday, Esper has claimed he didn't know that federal forces had been used to violently disperse demonstrators or that Trump's Bible stunt was planned.
Regardless of Esper's efforts to distance himself from Trump, his predecessor Mattis did not hold back in criticizing him, either. Though he did not name the current defense secretary, he quoted Esper's words and called on U.S. troops to "reject any thinking of our cities as 'battlespace' that our uniformed military is called upon to 'dominate'."
People's World Coverage:

'I can't breathe!': Minneapolis erupts in protest after George Floyd murder

Nationwide uprising against racist police violence

'When the looting starts, the shooting starts': Trump revives segregationist war cry

Turning point: Trump threatens military rule, turns country toward fascism
Neither Esper nor Mattis is a hero of progressive politics or outspoken enemies of systemic racism; they are Trump appointees, after all. But their public statements suggest a possible split in the right-wing coalition.
Esper served as an army officer after graduating West Point and has worked as chief of staff for the conservative Heritage Foundation think tank, as a Republican Senate staffer, as a defense official in the George W. Bush administration, and as top lobbyist for missile manufacturer Raytheon.
Mattis is a career military man, having led forces in both of the two Iraq wars and the war in Afghanistan as a Marine general. He served a number of roles in the U.S. and NATO military command structures before being appointed Secretary of Defense by Trump in 2017. Mattis was known to disagree with a number of Trump foreign policy moves during his time in office, including the withdrawal from the Iran nuclear deal and budget cuts to curtail climate change monitoring, but did not speak out.
The real parting of ways with Trump came, however, because Mattis wanted to keep U.S. troops as an occupying force in Afghanistan, and especially Syria. He resigned from office in February 2019 but has kept quiet about his differences with the Trump administration—until yesterday.
Precisely because of their sterling right-wing credentials, the public break with the president by these two top representatives of the military-industrial complex suggests that Trump may have overplayed his hand with his dictatorial roleplaying.
And they're not the only ones recoiling from Trump's eagerness to crack skulls in the streets. Some in his camp appear scared that the president's blatant moves against democracy may be endangering the GOP's grip on power.
Responding to Trump's order to send in the troops, evangelical Christian leader Pat Robertson on Tuesday disagreed, saying, "You just don't do that, Mr. President." His statement was a departure from the declarations of support for strongman tactics made by other evangelical leaders, including Franklin Graham and Southern Baptist pastor Robert Jeffress.
In the halls of the Senate, meanwhile, several Republicans were compelled—perhaps by opinion polls—to also criticize Trump. The elections are now only five months away, and public opposition to the president's authoritarianism appears strong in the swing districts the GOP has to hold onto if it wants to keep control of the Senate.
Sen. Ben Sasse of Nebraska said he was "against clearing out a peaceful protest for a photo op that treats the word of God as a political prop." Alaska Sen. Lisa Murkowski told reporters that "militarization" is not the answer and said that the scenes from Lafayette Park on Monday night did not reflect "the America I know."
A broader turn against Trump by GOP elected officials still appears unlikely, for the moment. Senate Majority Leader Mitch McConnell blocked a resolution put forward by the opposition Democrats that would have condemned violence and Trump's actions, calling it part of Democrats' "myopic obsession with the president." Sen. Lindsey Graham of South Carolina, a dutiful Trump supporter, simply said Monday "was a bad night and we need less bad nights."
Some Republicans thought Trump wasn't going far enough and encouraged even more drastic military measures to be taken against the American people. Arkansas Sen. Tom Cotton penned a New York Times op-ed Wednesday entitled "Send In the Troops," in which he called for "an overwhelming show of force." He claimed the protests have "nothing to do with George Floyd" and that they consisted of "criminals…simply out for loot and the thrill of destruction, with a cadre of left-wing radicals…infiltrating marches…." Times staff are in public revolt over the paper's decision to publish Cotton's screed, saying it puts their Black colleagues in danger.
Most Republican officials and others in the president's base will no doubt continue to stand by his obstinate racism and militarism. Some, like Cotton, will cheer on the president's most extreme fascist-like moves. But the right-wing coalition built around Trump is showing cracks—cracks which could end up splitting off support for the president in the run up to the November elections.
Like free stuff? So do we. Here at People's World, we believe strongly in the mission of keeping the labor and democratic movements informed so they are prepared for the struggle. But we need your help. While our content is free for readers (something we are proud of) it takes money — a lot of it — to produce and cover the stories you see in our pages. Only you, our readers and supporters, can keep us going. Only you can make sure we keep the news that matters free of paywalls and advertisements. If you enjoy reading People's World and the stories we bring you, support our work by becoming a $5 monthly sustainer today.