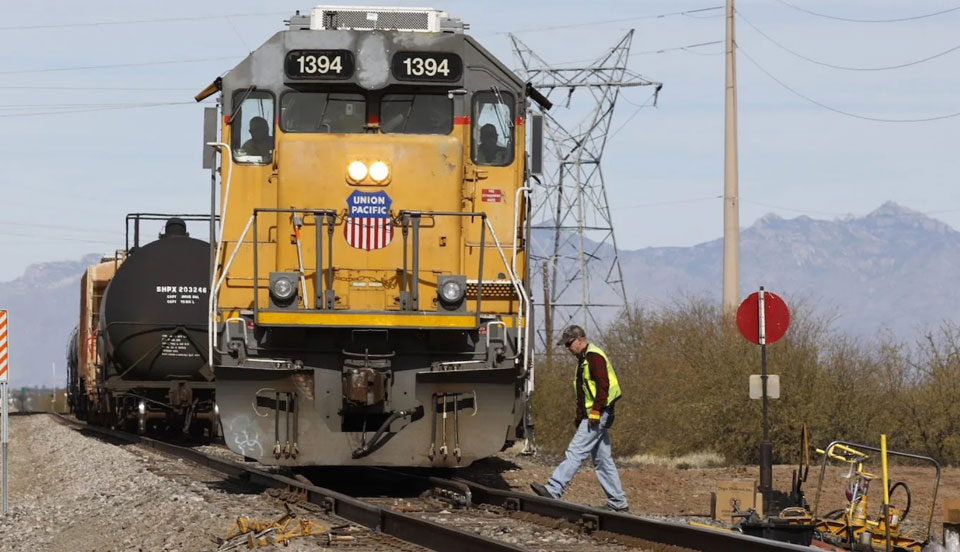 WASHINGTON—The one rail union whose members rejected the proposed national contract between the nation's big freight railroads and unions representing their 115,000 workers has negotiated a new and it says a better deal. And now those 4,900 members of Machinists District 19 will vote on it.
Their agreement, announced September 26, follows the basic plan all 13 rail unions worked out with the freight rail bosses earlier in September, after jawboning by Democratic pro-worker President Joe Biden and mediation by his Labor Secretary, Marty Walsh.
The differences are in the details added, District 19 says, to satisfy its members.
"Your solidarity and strength made national headlines and, most importantly, given your District 19 negotiating team the power we need at the negotiating table to make the carriers listen to your needs," its bargainers said in their letter to members. "In the meantime, we continue to work with (union) coalition partners to secure the best deal possible."
With all unions now on board with either the mass pact Walsh worked out or with District 19's pact, there will be a new 60-day "cooling-off" period through December 9. During that time, rail union members or boards will vote, railroads can't lock workers out and workers can't strike.
That's important for the economy. The big freight railroads carry 30%-40% of U.S. goods between production sites and/or cargo docks and final destinations. They transport everything from coal to cars to cattle feed to oil and are vital to the nation's already creaky supply chain.
The skeleton deal featured a 24% raise over five years, retroactive to July 1, 2020, a $5,000 recognition bonus spread over its life, retroactive pay within 60 days of ratification, an additional paid day off, and enhanced hearing benefits. Those remain in the D19 pact. Also remaining: A $398.97 cap on monthly employee health care premiums through 2025.
The stumbling block for all railroad workers in years of talks was no change in working conditions. Those conditions often put rail workers, especially engineers and conductors on their trains for two or more weeks straight—including weekends and holidays—without a day.
And the big Class I freight railroads, including CSX, Burlington Northern Santa Fe, and the Union Pacific, could call the workers back to their trains at a moment's notice. If the worker didn't report and didn't say why he or she got docked "points" off their records. Too many docked points and the railroad could fire the worker.
The tentative pact had no changes, either. Other unions grumbled but are still mulling it or sent it to their members. So did District 19, and it called a vote. The pact lost 37%-63%.
The new tentative pact with District 19 forces the carriers to bargain with the union over travel expenses and per diem pay. D19 roadway mechanics will get single rooms in hotels when forced onto long rail trips. "Previously, this could have been changed by the employers without further negotiation," its bargainers reported.
And "for the first time, we also got the carriers to agree to a joint study on overtime, forced overtime policies and overtime meal options," they added.
"With today's announcement, all unions in the national bargaining round have ratified or are in the process of ratifying new collective bargaining agreements," said the National Carriers Conference Committee, which spoke for the rail bosses.
Other rail unions announced ratifications, such as this one from Electrical Workers President Lonnie Stephenson: "The wage and benefits gains achieved under this agreement would not have been possible without the hard work of our Railroad Department staff, the solidarity of our members, and the intervention of President Joe Biden and his administration."
Separately, the advisory board for the bargainers from the Brotherhood of Locomotive Engineers & Trainmen, a Teamsters Rail Sector union, sent the larger pact to its members, recommending its ratification.
BLE&T and Smart Union's Transportation Division (Smart-TD) represent the key workers—the engineers and conductors—on the freight trains. Together, they account for about half of all unionized rail workers.
"Our bylaws require that the membership be given the right to vote on the contract, and fully respects their right to vote in favor of or against the tentative agreement," the BLE&T advisory board said on September 26. "Should the tentative agreement fail ratification, every board member…will be on the picket line with the membership when the cooling-off period ends."