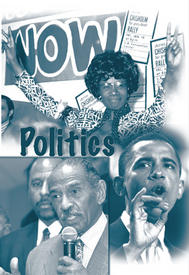 CHICAGO — A founder of one of the oldest African-American history museums in the country has died.
A spokesman for the DuSable Museum of African American History in Chicago, Raymond Ward, says Margaret Burroughs died in her sleep at her Chicago home Sunday morning, Nov. 21.
The Associated Press reports President Barack Obama said in a statement that Burroughs was "widely admired for her contributions to American culture as an esteemed artist, historian, educator, and mentor."
Burroughs founded the museum with her husband and others on Chicago's South Side in 1961.
The museum has pieces of art, exhibits on civil rights and a display on Chicago's first black mayor, Harold Washington. It was named after Jean Baptiste Point du Sable, widely regarded as Chicago's first permanent resident.
The following is a brief biography about Burroughs, along with her poem, "What Will Your Legacy Be?" originally published by this publication in 2007.
---
Internationally prominent as an artist, educator and writer, Margaret Burroughs is renowned as the founder, along with her late husband, Charles, of the DuSable Museum of African American History in Chicago. Opened as a modest display in the couple's South Side house in 1961 as the Ebony Museum of African American History, the collected artifacts expressed Burroughs' commitment to exploring and sharing the cultural heritage of African Americans.
Born on Nov. 1, 1917, in St. Rose Parish, La., Margaret Burroughs graduated from Chicago Teachers' College in 1937 and then received an MFA from the Art Institute of Chicago in 1948. During the '40s she taught art in Chicago elementary schools, and published her first children's book, "Jasper, the Drummin' Boy."
In 1967, she and Dudley Randall edited an anthology called "For Malcolm: Poems on the Life and Death of Malcolm X" and published several volumes of her own poetry.
Burroughs' art works have been exhibited internationally.
In her biography of Burroughs, writer Marion Tumbleweed Beach describes this vibrant, gifted woman as an "African American and citizen of the world … a universal woman with golden fingers that capture time, human passions and record the landmarks of the triumphs, foibles, and calamities of the African American people. These golden fingers can sketch, chisel, tie, brush, carve, mold, or write while she sits visiting with friends, attending meetings in a corporate board room, on an airplane, train, or even on the back of a camel. She has a high level of controlled energy that enables her to create quality art while making it all look so easy to do."
Although Burroughs has worked in sculpture, painting and many other art forms throughout her career, it is her exceptional skill as a printmaker that has earned her a place within the history of art. For many years, she worked with linoleum block prints to create images evocative of African American culture.
Burroughs' work has been featured in exclusive shows at the Corcoran Art Galleries in Washington, D.C., and at the Studio Museum in New York. She has served as art director for the Negro Hall of Fame and has illustrated many books. She did her own illustrations for her celebrated poem "What Shall I Tell My Children Who are Black?"
In 1975 she received the President's Humanitarian Award and in 1977 was named one of Chicago's Most Influential Women by the Chicago Defender. February 1, 1986, was proclaimed "Dr. Margaret Burroughs Day" in Chicago by Mayor Harold Washington. Today, she remains active in the institutions that she created in her lifetime.
At 90, she recently visited Venezuela, in part to witness the Bolivarian Revolution and its impact on Afro-Venezuelans.
Burroughs, who wrote the poem "What will your legacy be?" for all young people to consider the dignity and contributions African Americans have given to humanity — and to consider their own contribution to society — is available for speaking engagements.
"I wish my art to speak not only for my people but for all humanity … my subject matter is social commentary and seeks to improve the condition of life for all people," Dr. Burroughs once said.
---
What Will Your Legacy Be?
Legacy? Legacy?
Do you know what the word "Legacy" means?
Well, if you don't know, let me tell you what the dictionary says it means.
Legacy: property or money left to someone by a will; something handed down from those who have gone before; a legacy of honor, our legacy, of freedom.
In this poem, I'm not referring to material things like property or money, either of honor or of freedom.
I am referring to what a person has done with this life that God has given to him or her.
Yes, I want to know what will your legacy be? This is a question that I would like to put to each and every one of you?
What will your legacy be?
When you have finally cast off these mortal coils?
When you have crossed the great divide?
What will your legacy be?
When you can no longer run life's race.
When you no longer have a place; when you have at last completed the circle round and when an escape is no longer to be found.
What will your legacy be?
When you walk into the unknown all by yourself and alone,
What will your legacy be?
Stop for a moment and listen to me and answer this question if you can.
What will your legacy be?
When you must cross that great divide into an area from which none can hide. When you, alone, with no one by your side with no friend to lead you or to hold your hand?
What will your legacy be?
What deeds have you done in your lifetime which will be left for you to be remembered by?
Will it be just a gray decaying tombstone standing alone in a cemetery or will it be, as it should be some act, some service or some deed that will insure that you will be remembered on and into the eternity of life's game?
I ask you. What will your legacy be?
Will it be the fact that you helped somebody along the way, during the time while you were here on earth?
What will your legacy be?
Will it be similar to the legacies left to our generation by people like Harriet Tubman, Sojourner Truth, Frederick Douglass, John Brown, Ida B. Wells, Mary Bethune and so many others who made of their lives a bridge for us to cross over on and whose lives were an inspiration for us of today to make of our lives bridges for future generations to cross over on?
What will your legacy be?
Legacy! Legacy!
Let us stop for a moment and recall some of our people who left their lives as legacies to us, and who always will be honored and remembered. They were people like:
Harriet Tubman: her legacy was the work that she did on the underground railroad in which she brought hundreds of our ancestors out of the bonds of slavery; and,
Frederick Douglass: his legacy was the work that he did to help abolish slavery; and, fought against the evil of black men being lynched in this country; and,
Mary McLeod Bethune: her legacy was that she worked for the education of our youth by starting on faith, a small school which grew to be a great university; and
Dr. Martin Luther King's Jr.: his legacy was that he devoted his life to fighting for full equality for our people; and,
Sojourner Truth: her legacy was her fight for the liberation of and full equality for all women in our country; and,
John Brown: his legacy was that he sacrificed his life for an end to slavery and for freedom of our people; and,
Bessie Coleman: her legacy was that she became the first woman in America, black or white, to acquire a pilot's license; and,
Paul Robeson: his legacy was that he was a renaissance man. He was a concert and folk singer, an athlete and a linguist and that he fought for the liberation of all oppressed people all over in the world; and poets,
Langston Hughes and Margaret Walker: their legacies were the many inspirational poems that they wrote which expressed the soul of our people; and
Dr. W.E.B. Du Bois: his legacy was his life long struggle for the liberation of our people in his actions, his speeches and his writings; and,
Dr. Carter G. Woodson: his legacy was the fact that he early brought to the attention of the world the numerous and significant contributions of people of Africa and African descent to the attention of the world; and,
Booker T. Washington: his legacy was the fact that he worked for the education of our people when he founded and opened Tuskegee Institute in Alabama; and,
George Washington Carver: his legacy was his significant and important accomplishments in the field of science; and,
Jean Baptiste Point DuSable: his legacy was the fact he, a black man, was the first person to settle in the area that became Chicago and grew into a great trading center from the little post that DuSable of African blood started over 100 years ago; and, last but not least,
Charles Gordon Burroughs: his legacy was the first black history museum in the world which he as co-founder started in his living room at 3806 South Michigan Avenue in Chicago.
This act inspired many who were interested in the recognition and preservation of black history to the point that today there are over 100 black history museums in our country.
These are just a few as you well know.
There are many, many others who like these, left, though their contributions in their lifetime, their legacies as bridges for us to cross over on. So, I ask you, what will you leave as your legacy, as a bridge for those now and those coming on to cross over on. What will your legacy be?
I ask you, what will your legacy be? Do you know? Have you thought about it? Do you have an answer? What will you leave as your legacy? If you have no answer, if at this point, you cannot say: Hearken! Listen to me! This is the moment. This is the prime moment for you to think and to get to work and identify what you will leave as your legacy for you to be remembered by. You are here. You are still here, alive and quick and you have time. You have time on your side. You have time to begin even now so get busy and do something to help somebody. To improve the conditions of life for people now and for those who come after. To build institutions to educate and broaden the minds for people now and for those who came after and to make your life a contribution that will be your legacy. Do this and your name will be remembered from now on and into eternity.
What will your legacy be? Hopefully, it will not be just a gray and decaying tombstone.
Think now! Act now! To insure that your legacy will be a positive contribution to humanity and you will be remembered, yes you will be remembered, on and on and in eternity as God wills it.
Photomontages by PWgraphic artist Marguerite Wright.
Sources: Chicago Public Library, Historymakers.com, Dr. Margaret Burroughs
Updated: Nov. 21, 2010.