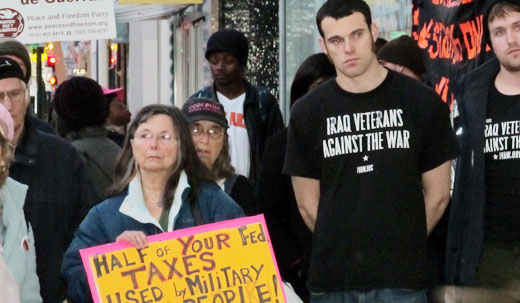 Now in its eleventh year, the United States' longest-ever war has been the scene of many horrendous crimes against innocent Afghan people. Among them, the mass killings of civilians during bombing and drone raids, home invasions and more.
But never a crime like the one committed March 11, allegedly by a staff sergeant who left his base in the middle of the night to force his way into homes in nearby villages in southern Afghanistan's Panjwai district, near Kandahar, slaughtering 16 Afghan civilians. Eleven were members of one family and nine were children. Some eyewitnesses said more than one gunman was involved. Ironically, the accused gunman was assigned to a unit engaged in a "village stability" operation.
Adding to concerns about multiple deployments of U.S. troops in Iraq and Afghanistan, the accused sergeant — a trained sniper — had served three deployments in Iraq, suffering a traumatic brain injury there, before being sent to Afghanistan.
Just days earlier, four villagers were killed and three others wounded when helicopters said to be hunting armed insurgents fired on them in eastern Afghanistan. Other widely-publicized occurrences this year included a video showing soldiers urinating on corpses of dead insurgents, and the "accidental" burning of Korans. In 2010, a group of U.S. soldiers purposely killed three Afghan civilians.
In their early responses and apologies to the Afghan people for the Panjwai killing spree, President Obama and other administration leaders pledged a full investigation. At the same time, the president emphasized that the incident underscores the need for a "responsible" withdrawal of U.S. forces in accord with the administration's already-announced plans for Afghans to be in control of security by the end of 2014.
Over 1,900 U.S. soldiers have been killed in Afghanistan, and over 14,000 wounded. More than 91,000 U.S. troops are still there. The administration has promised to withdraw another 23,000 by the end of summer, and to remove most combat troops by the end of 2014. At a time when federal spending on human services is being drastically cut, the war is costing an estimated $10 billion a month, and total spending is on track to reach at least $650 billion.
Many thousands of Afghan civilians have been killed by U.S. and NATO forces, and thousands more have died after being driven from their homes during the fighting.
If any good can emerge from the latest tragedy in Panjwai, it will be because the resulting waves of shock and grief among the American people will galvanize millions of us to demand speedy and complete withdrawal of all forces and contractors from Afghanistan.
The framework to express that demand exists. Public opinion has long favored withdrawal; polls have repeatedly shown large majorities of Americans believing the war isn't worth fighting.
Just last week a bipartisan group of 24 senators led by Senators Max Baucus, D-Mont., and Jeff Merkley, R-Ore., sent a letter to President Obama, saying "It is time to bring our troops home from Afghanistan." The Friends Committee on National Legislation (a Quaker lobby in the public interest) asks that we press our senators to sign on.
Early in 2011, Representative Barbara Lee, D-Calif., introduced H.R. 780, to limit funding for U.S. troops in Afghanistan to that which is needed for the "safe and orderly withdrawal" of all troops and contractors. The measure now has 67 co-sponsors.
In the wake of the latest tragedy, Afghanistan Veterans against the War and Iraq Veterans against the War are calling on us to urge our representatives in Congress to sign onto H.R. 780, and to take other actions for U.S. withdrawal.
Also early last year, U.S. Senator Barbara Boxer, D-Calif., introduced S. 186, calling on the president to submit a plan for "phased redeployment of U.S. combat forces" starting July 1, 2011, with an end date for withdrawal.
And Rep. Lynn Woolsey, D-Calif., introduced H.R. 651, to ban "permanent basing or military presence" of U.S. forces in Afghanistan, with a date for "complete, safe and orderly" withdrawal of all troops, contractors and Defense Department employees. That bill now has 69 co-sponsors.
The finest memorial to the victims of the Panjwai massacre and the thousands of Afghan civilians who preceded them, and to the U.S. and NATO troops who have died or been wounded in Afghanistan, will be the speedy withdrawal of all foreign troops and contractors from the country, and the Obama administration's commitment to a policy of peaceful resolution of conflicts, not only in south Asia and the Middle East but around the world as well.
Photo: At a March 12 vigil in Oakland, Calif. Marilyn Bechtel/PW