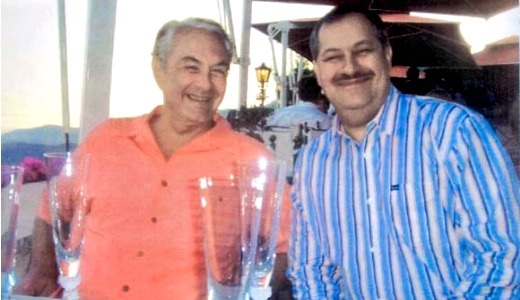 Former West Virginia Judge Eliott "Spike" Maynard, who spent a week or so frolicking on the French Riviera with Massey Energy CEO Don Blankenship a couple of years ago, is now running as a Republican to unseat incumbent Democratic Rep. Nick Rahall in the U.S. Congress.
Blankenship, a Tea Party backer, is being assailed as a notorious mine safety violator, responsible for the April 5 deaths of 29 miners in Massey's Upper Big Branch mine. United Mine Workers President Cecil Roberts called for jailing Blankenship for sacrificing miners' lives to squeeze out maximum profits.
Maynard sent out a press release March 26 inviting former Alaska Gov. Sarah Palin to a rally at a West Virginia mine in his campaign for the Republican nomination to oust Rahall, a strong proponent of coal miner safety and health. Rahall, one of a handful of Arab Americans in Congress, is on Palin's infamous rifle scope "crosshair map" of 20 incumbent Democrats she has targeted for defeat in this fall's midterm election.
"We would love to have Sarah Palin showcase modern mining as a clean, safe, and cheap way to produce energy," said Maynard. "She'll have to put on a hardhat but I'm sure she won't mind."
Maynard said he "welcomes Governor Palin and her extensive Tea Party network," adding that Palin will "help us engage and energize the voters that don't understand Obama, Pelosi, and Rahall's liberal agenda."
West Virginians, he continued, "love Sarah because she has the same values we have. She is against Obamacare and is for smaller government and she strongly supports coal and all other forms of cheap energy. Remember, Sarah is the one who said, 'Drill baby, drill.'"
Maynard proclaims that the first bill he will introduce if elected will be to terminate all funding for the Environmental Protection Agency, which he accuses of waging "war against coal."
After the Sago, W. Va., mine disaster that killed 14 miners in January 2006, Rahall was a leader in the drive to strengthen mine safety and health enforcement through mandatory penalties for mine owners guilty of "reckless disregard for safety rules."
Rahall's bill would have sharply reduced permissible coal dust in mines, the cause of pneumoconiosis, or black lung, that has killed more than 10,000 miners in the past decade. A 2007 report by the National Institute for Occupational Safety and Health warned that the rate of black lung has more than doubled in five years, especially among younger miners. Yet Republican obstruction forced the severe weakening of the bill in the face of a veto threat by then-President George W. Bush.
If the bill Rahall was pushing had not been gutted by GOP obstruction, the 29 miners who died in the April 5 explosion at Massey's Upper Big Branch mine might be alive today.
Maynard took the all expenses-paid vacation to Monte Carlo with Massey Energy CEO Don Blankenship in 2006, while serving as a justice on the West Virginia Supreme Court. The court was then hearing an appeal by Massey Energy against a $50 million jury verdict for Massey's unsafe, environmentally disastrous mining practices. See
Blankenship had poured millions of Massey Energy money into electing Maynard and another handpicked candidate, Brent Benjamin, to the court. Both Maynard and Benjamin voted to overturn the jury verdict – so brazen that the U.S. Supreme Court reversed that decision on grounds the West Virginia court violated rules requiring justices to recuse themselves in cases involving their own self-interest. (See Crooks and Liars video: "Massey Energy CEO So Determined To Win, He Financed Campaign For His Own Judge.")
Maynard served as chief justice of the West Virginia Supreme Court until 2008, when he was defeated in the Democratic primary by two women, Margaret Workman ad Elizabeth Walker, who are now serving 12-year terms.
Maynard claims he decided to switch to the Republican Party "because of an illness. I got sick of Nancy Pelosi." In fact, he switched after his primary defeat.
Photo: This photo of Maynard, left, and Massey CEO Don Blankenship on the Riviera was included in a motion asking the judge to recuse himself from the appeal of a $50 million award against Massey. http://blogs.dailymail.com/donsurber/archives/8644