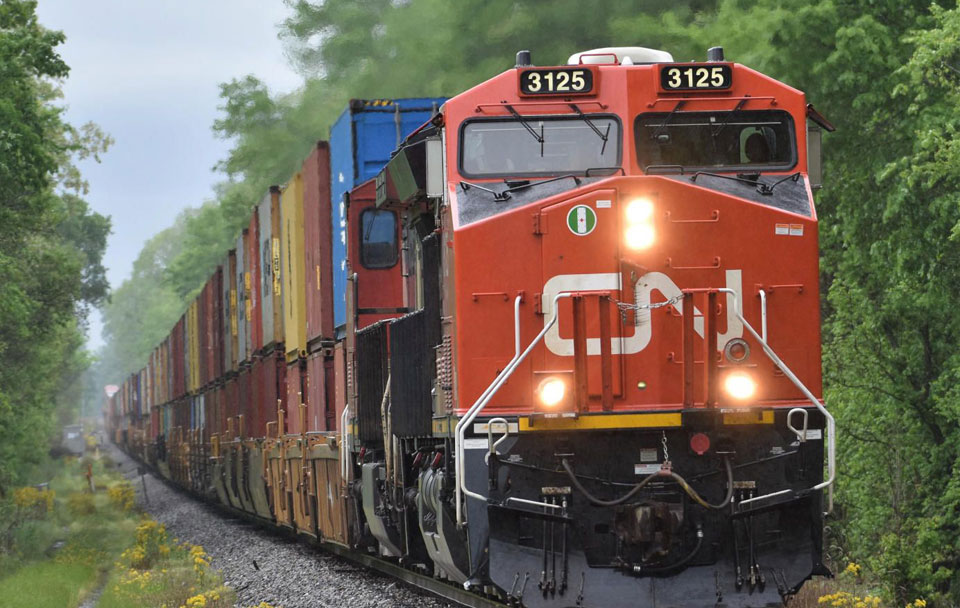 Imagine the public outcry if airline companies eliminated co-pilots as a first step toward a long-term goal of flying planes by remote control.
What could go wrong, right?
Well, railroad companies really do want to get rid of conductors, in effect, co-pilots, in freight trains. If the rail industry has its way, only the engineer, alone in the cab, will have to manage multiple locomotives that don't just pull trains. Sometimes, engineers have to control locomotives that help stabilize trains from the middle of the cars and push from the rear.
These days, trains weigh up to 18,000 tons or more, stretch for up to three miles and hit speeds approaching 80 mph. Ultimately, the companies hope to run trains by remote control.
What could go wrong, right?
The main motivator behind rail companies wanting to halve crews is, of course, boosting revenues, which, in turn, means fatter wallets for corporate execs and stockholders. At least the railroad companies are consistent. They have a long history of elevating profit over the safety and welfare of rail workers and the public they're supposed to serve.
From the time the railroad industry rose in the 19th century to the advent of rail unions soon after, railroad owners forced their employees to work long hours at low pay in miserable conditions that threatened — and often cost them — their lives and limbs. The result was the Great Railroad Strike of 1877, the first major strike in American history.
The railroad companies convinced President Rutherford B. Hayes to send in federal troops to break the strike. Afterwards, railroad companies continued stubbornly, and sometimes violently, resisting unions.
Maybe I missed it, but plans to eliminate conductors haven't grabbed a lot of newspaper headlines or rated significant coverage on the TV news. Yet.
But an organization called "Fight for Two Person Crews: Safety Above Profits" is trying to spread the word.  "Big railroad corporations are pushing to eliminate the second person in the cab of freight trains," explains the group's webpage. "These trains consist of hazmat and other dangerous materials. Despite the millions of dollars these companies make in profit, they are willing to risk the safety of your community and railroaders to make more. We are fighting to pass legislation to keep two people in the cab. This page is meant to spread information about why we need two in the cab and let you know how you can help. Please watch the …video for more information."
You can click here to see the video.
"Fight for Two Person Crews" is allied with the Sheet Metal, Air, Rail and Transportation (SMART) and Brotherhood of Locomotive Engineers and Trainmen unions. BLET is part of the International Brotherhood of Teamsters (IBT). They want Congress to pass legislation that would make the railroad companies keep two-person crews. Their goal is protecting public safety, not just saving union jobs.
Says the website: "One of the most important ways you can help is by contacting your Congressmen and Senators to let them know you support two person crews." The website includes a link to make it easier for constituents to email Congress.
Thousands of miles of railroad tracks crisscross the country. I live in Arlington, Kentuckyy., population 300. The main Canadian National line between Chicago and New Orleans bisects our little town. Freight trains travel through Arlington 24-7; Amtrak passenger trains pass through in the wee-morning hours.
Okay, I'm a rail fan who spends considerable time trackside photographing trains. I know a little about trains.
Everybody understands that the engineer operates the train. But I suspect few people know how vital the conductor is to its smooth and safe operation. Railroad companies and union-haters want you to believe the baloney that conductors draw a big salary for doing nothing but riding shotgun for the engineers.
I know what you're thinking, too. Aren't conductors the men and women who take tickets on passenger trains?
On freight trains, modern conductors are descended from firemen and brakemen in the old steam engine days. The fireman's main job was to shovel coal in the firebox to keep the locomotive running. The brakeman manually set brakes on train cars.
Modern technology has changed freight trains — the vast majority are diesel-powered. So you might ask, Why do you need a conductor?
"Engineers are in charge of running the motors of a train," the website notes. "Conductors are in charge of throwing switches, picking up and setting out cars, inspecting brakes, knowing what is in each car and how each car can be shipped.
"In the event of an accident, the conductor is often the first responder and has the ability to cut the train to allow emergency vehicles through a crossing. There have been incidents in which this has saved lives after accidents at crossings."
Here's more: "It takes two people to cut a train. Conductors and engineers have also been able to pull hazardous cars away from derailments in emergency situations. Having two sets of eyes can also prevent many of these accidents. Having two people in the cab is common sense in air travel just as it should be common sense when shipping thousands of tons [of freight] through your hometown."
Indeed it does. "We've seen this happen over and over — the two people working together as a crew to prevent an accident from becoming a catastrophe," said Ben Nagy, senior communications coordinator of the SMART Transportation Division. "So, for your community's sake, join the fight to save two-person crews."