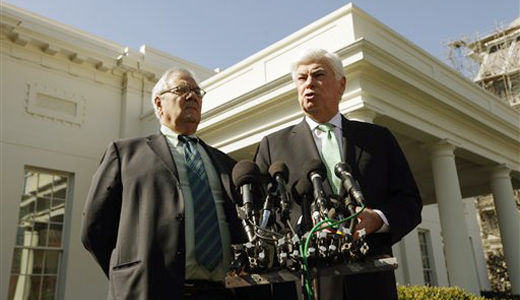 As they celebrate their success with health care reform labor and its allies are already focusing on strengthening the financial reform legislation just approved by the Senate Banking Committee.
Progressives are saying that many of the concerns they had when Sen. Christopher Dodd, D-Conn., first introduced the bill remain unfixed. The drive to improve the legislation is being led by Americans for Financial Reform, a coalition of more than 200 labor unions and allied groups.
"At the top of our list," said Heather Booth, the group's executive director, "is our concern about the independence of the Consumer Financial Protection Agency." The Dodd bill would allow decisions by that agency to be appealed to a council dominated by the banks and financial institutions that are the target of its regulations.
The coalition says that, in addition, derivatives and other elements of the shadow markets – including hedge funds and private equity – are not adequately regulated and that there should be stronger curbs on the so-called "too big to fail" banks.
The AFL-CIO, which is part of the coalition, has called for measures that include institution of the so-called "Volcker rule," which would restore rules that strictly separate the activities of commercial and regular banks and a financial transactions tax.
Democrats, meanwhile, are expressing confidence that the Banking Committee's financial reform package will pass in the Senate this year and are publicly, at least, urging Republicans to help shape it rather than trying to block it.
It is widely acknowledged, however, that President Obama has already told Democratic leaders to move ahead with or without Republican backers. The president is reported to have said at a strategy session this week that Democrats have the upper hand and should not give too much ground.
Indicative that it will be politically uncomfortable for the GOP to oppose finance reform are statements yesterday by two Republicans on the banking committee, Sens. Judd Gregg, R-N.H., and Bob CorkerR-Tenn., saying they expected the bill to pass this year despite concerns they have about some of its provisions.
Dodd directly challenged the Republicans yesterday to get on board with finance reform or face voter wrath. "My hope is that they'll want to talk about solutions," Dodd said. "Or they can just sit there and explain to people why they want to side with the largest financial institutions. So we'll see how they respond, and I hope they don't make the same mistake they made on healthcare."
In an unusual breaking of ranks among Republicans Sen. Corker said "now that Democrats are on a roll" there was a missed opportunity for a bipartisan deal. Corker took a rare public swipe at a fellow-Republican, Sen. Richard Shelby, Ala., the ranking GOP'er on the banking committee. "It would have been better, in fairness, had Sen. Shelby been negotiating a bipartisan bill last September, October, November. Instead," Corker said, "Republicans now confront Democratic officials who are emboldened, the testosterone and other juices are flowing after the enactment of the health-care bill."
Big business groups, meanwhile, are coming under attack for their efforts to sabotage finance reform.
The Treasury Department directly criticized the Chamber of Commerce for its campaign against the creation of a Consumer Finance Protection Agency. In a speech at the Chamber of Commerce, Deputy Treasury Secretary Neal Wolin blasted the Chamber's $3 million ad campaign against financial regulation legislation, charging that its efforts were aimed at "killing any new regulation."
Photo: Senate Banking Committee Chairman Sen. Christopher Dodd, D-Conn., right, accompanied by House Financial Services Committee Chairman Rep. Barney Frank, D-Mass., talks to reporters outside the White House March 24, 2010, after meeting with President Obama to discuss financial reform. Charles Dharapak/AP