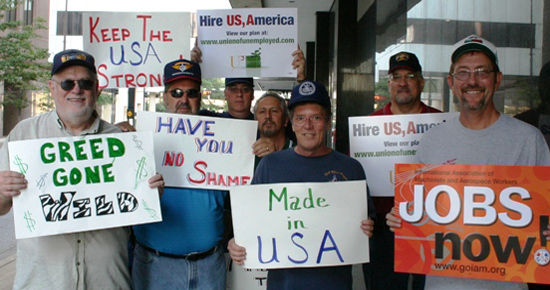 On June 18, 2014, the United States Patent and Trademark Office canceled six registered trademarks which it had previously granted to the Washington football team for its name. The ruling said the name is "disparaging to Native Americans."
It is critically important to note that the Patent and Trademark Office has the power and authority to both grant and rescind when that license is used to injure people of this country. Patents and trademarks are not a god-given right. They can only be obtained from the U.S government. They are a protection against theft or infringement of ideas, inventions or logos. When a corporation operating under protection of a U.S. patent grant ceases production in this country, it is "disparaging" and destructive to the working people of this country who granted the patent in the first place.
When a company takes its production overseas, it violates the trust and good will of the American people. The Patent and Trademark Office cancelled the Washington football team's trademarks because these trademarks are disparaging to Native Americans, thus they are disparaging to all people in our country. Similarly, when a U.S. company outsoursces its jobs, it is injurious and disparaging to all workers. Therefore, like in the decision of the Washington football team, patents should be rescinded from corporations which move their production abroad. In such cases, (as I wrote in an article on January 2, 2013) "any entrepreneur or the government or a combination of the two could manufacture those products in the U.S." The threat of rescinding patents could be the lever to move runaway companies to bring many of the 6-million out-sourced jobs back home.
Furthermore, issuance of new patents should be done under new conditions. First, all production under these patents should be done in the U.S. for the duration of the patent. Second, the public interest must be protected: If such new products result from the use of U.S. taxpayer funds, then the public should receive an appropriate share of the profits.
The injured parties in the Washington football suit brought legal action to correct the injury. This could be a useful tool for unions and other people's organizations to open a struggle to reverse and rescind run-away patents.
Photo: Texas machinists protest outsourcing of jobs. goiam.org