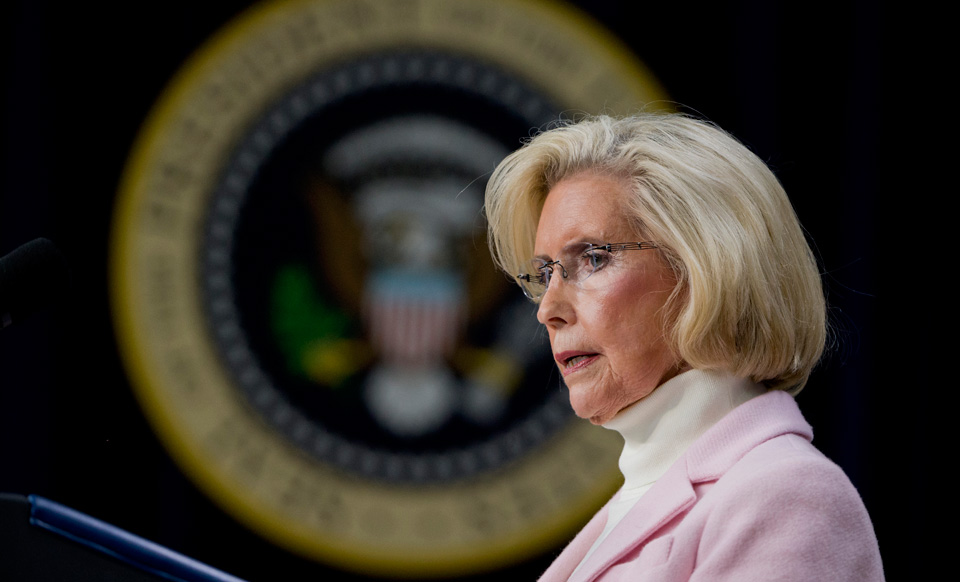 JACKSONVILLE, Ala.—For Lilly Ledbetter, who came to national prominence when she lost a sexual pay discrimination case at the U.S. Supreme Court a decade ago, stumping for Doug Jones was personal.
That's because Ledbetter, the gentle but steely grandmother who suffered sexual pay discrimination at Goodyear Tire's Gadsden, Ala., plant when she was a supervisor there, suffered sexual harassment from male co-supervisors at Goodyear, too.
It was the combination of both that led her to back Jones against his GOP foe, former state Supreme Court Chief Justice Roy Moore, in the Dec. 12 special election for an open U.S. Senate seat. She was one of the tens of thousands of Jones volunteers who stumped the streets and made 1.2 million phone calls in the Jones-Moore race.
But she was also the first prominent Alabamian to endorse Jones in the race.
Jones beat Moore by 1.5 percentage points, thanks in large part to strong turnout among African-American voters, who comprised 30 percent of the electorate and went 96 percent for Jones. They had good reason to do so.
Besides hammering Moore for his alleged sexual predations on teenage girls when he was a 30-ish local prosecutor, Jones emphasized his own success at prosecuting two of the racists who firebombed Birmingham's 16th Street Baptist Church during the height of the civil rights movement, killing four young African-American choir girls.
The other key to Jones' victory was the city of Mobile, where Jones beat Moore by 14 percentage points, after a massive and successful Steelworkers effort to turn city voting patterns around, USW District Director Daniel Flippo said in a telephone interview (see separate story).
"I had followed him [Jones] and knew he was a good prosecutor and had integrity and dignity," Ledbetter said in a telephone interview with her from her home in Jacksonville, Ala. And the sexual harassment on the job played a role in her early endorsement, she added.
Ledbetter is well-known for taking her case on sexual pay discrimination to the U.S. Supreme Court, where she lost 5-4 with all five male GOP-named justices voting against her, and Justice Ruth Bader Ginsburg urging Congress to fix flaws in the equal pay law.
But before that, Ledbetter had to take her case to the federal Equal Employment Opportunity Commission (EEOC), which ruled in her favor. The justices overturned that decision in 2007. The first law then-Democratic President Barack Obama signed in 2009 was the Lilly Ledbetter Fair Pay Act. It reversed the High Court and restored the right of women and minorities to sue at any time.
Ledbetter's equal pay case was her second trip to the EEOC. Her first was for sexual harassment on the job.
"It was the same thing at Goodyear," she said of her male co-supervisors there. "I asked to be moved away from one" after "I was given an ultimatum to go to bed with him or I wouldn't have a job. The EEOC found I had been discriminated against and ordered the move" away from him, she added. "But I had to file that charge to keep my job."
Other male supervisors commented, "She has a husband; she doesn't need a job," Ledbetter, widowed in 2007, said. "It's been a long journey."
A big reason Ledbetter suffered sexual pay discrimination at Goodyear's Gadsden plant was because she was a supervisor there for 19 years, and thus unprotected by labor law—or by the contract Steelworkers Local 12L has with Goodyear there. The union, both locally and nationally, backed her all the way in the sexual pay discrimination case, she said.
From her perch on the campaign trail, Ledbetter praised the quality of Jones' drive. She said it included "professionally done ads" which hammered at the contrast between Jones and Moore, "a massive get-out-the-vote effort," and engaging young people in the drive.
"Their campaign down at Auburn (University) in Tuscaloosa gave the entire state a jolt," she said. But, like Democratic successes in Virginia on Nov. 7, it takes a lot of shoe leather.
"It's said that 'It takes a village to raise a child,'" Ledbetter said, citing the title of one of Hillary Clinton's books. "Well, getting someone elected takes a lot of villages."