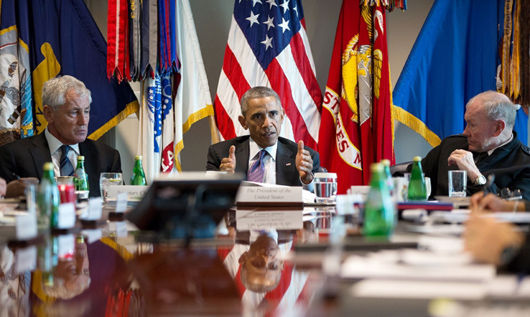 Experts can't seem to agree about why President Obama told Defense Secretary Chuck Hagel to step down. Was Hagel too "dovish," as some argue, or too interventionist on Syria, as others suggest, or just an incompetent manager, as still others say? And what does the president's new choice for the job – Pentagon official Ashton Carter – say about Obama's foreign policy?
If you haven't been following the news, Hagel announced his resignation from the top civilian Pentagon post on Nov. 24, reportedly at Obama's request. This week Obama named Carter to replace Hagel.
It has sparked a flurry of often contradictory interpretations.
Hagel, a former senator from Nebraska, is one of the few "moderate" Republicans and was the only Republican in the president's Cabinet. As a senator he opposed the Iraq war. Commentator Robert Parry suggests that Hagel's departure may mean Obama is bending to the will of "liberal interventionists" and neoconservatives. Harvard professor Stephen Walt says he saw Hagel as "a bit of a more realist voice … a bit of a skeptic about America's penchant for unthinking interventionism."
But a New York Times editorial says one factor spurring Obama's dissatisfaction may have been a memo Hagel sent to the White House that echoed a key complaint of the interventionists – criticizing Obama for not moving to oust Syrian President Bashar al-Assad while combatting the Islamic State in Syria.
Many pundits cite complaints that the White House has been "micromanaging" the Pentagon. The Associated Press reports: "The level of control the White House has exerted over the Pentagon in particular has rankled those who have held the agency's top job …." Yet a number of commentators, for example veteran Washington Post journalist Thomas Ricks, say Hagel was a poor manager.
More profoundly, however, it is in fact the president's job to control the Pentagon – civilian control of the military is a core democratic principle in our country.
"While the White House has denied that it has negatively interfered with the Pentagon, officials made clear this week that Obama had no plans to loosen his reins on the Defense Department," the AP reported. "The president of the United States is the commander in chief and sits at the top of the chain of command," Obama spokesman Josh Earnest said. "That means the president bears significant responsibility for what happens at the Pentagon and the Department of Defense."
Also worth considering in regard to complaints from the Pentagon: Military leaders, defense contractors and their partners in Congress are upset about cuts in military spending – among an array of federal cuts mandated by Obama's 2013 budget deal with Congress. In addition, many at the Pentagon don't like Obama's efforts to close the Guantanamo Bay prison.
On Sunday the White House announced that six Guantanamo prisoners who had never been charged with any crime were transfered to Uruguay over the weekend, the largest release of Guantanamo detainees since 2009, early in Obama's first term. According to the New York Times the arrangement had been finalized last spring. "Significantly, however, delays by Secretary of Defense Chuck Hagel in signing off on the arrangement placed it in jeopardy. Mr. Hagel's slow pace this year in approving proposed transfers of low-level detainees contributed to larger tensions with the White House before his resignation under pressure last month."
"Although President Obama vowed in 2013 to revive his efforts to close the prison, the military had transferred just one low-level detainee in the first 10 months of this year … But the bureaucratic logjam appears to be clearing: Since November, it has transferred 13 more."
Hagel's replacement, Ashton Carter, was a Pentagon official in the Clinton administration and more recently served as deputy defense secretary. According to a Times analysis Carter is "widely viewed as to the right of the president on issues like the administration's policy in Syria and the pace of the release of prisoners from the military prison at Guantánamo Bay." The Times reporters suggest that he "may advocate a stronger use of American power overseas." At the same time other analysts say Carter does not advocate unilateral U.S. action.
Carter is seen as easily gaining Senate confirmation as the next secretary of defense.
What does this mean for President Obama's foreign policy in the remaining two years of his term? It is hard to believe that Obama would choose someone who would oppose him on key foreign policy matters like Syria. In a Nov. 5 press conference, Obama, emphasizing that his "number one focus" in Syria is to block the Islamic State (ISIS), projected "eventual political negotiations" rather than removal of Assad. Is Obama now buckling to pressure to aggressively pursue regime change in Syria? Is the pressure for American interventionism too strong for any president to resist? Some think so.
Tom Engelhardt, who runs the Nation Institute's Tomdispatch blog, argues that "there is "really only one party in the nation's capital, and that's the War Party." Obama, he writes, is "resigned to war presidency status." If the next secretary of defense is a warhawk, Engelhardt says, the explanation is that "no other candidate nominated by a Democratic president would have a hope in hell of making it through a confirmation process overseen by the assumed new head of the Senate Armed Services Committee, John McCain."
In the view of Harvard professor Walt, Obama's "natural instinct" and "great political strength" has been caution: to want to "look at the long view when other people were hyperventilating." Obama has an "appreciation for the realities [in other words, the limits] of American power," but he inherits a "foreign policy establishment" of interventionist Democrats as well as Republicans, says Walt. This "built-in national security establishment" includes not just government institutions but also think tanks and other organizations that promote the idea that, as Walt puts it, "if the U.S. isn't running things in many parts of the world Americans aren't going to be safe."
Neither Walt nor Engelhardt identifies any significant opposition in Washington to this bipartisan interventionism. And they don't probe the root causes of this policy. The two are related, though. If the interventionist drive comes out of the logic of U.S. capitalism in today's globalized phase, as some believe, are there some more far-seeing parts of corporate America who see that as a problem? Meanwhile polling after last month's midterm elections indicates that foreign policy is low on voters' minds. Yet the choices Obama makes on foreign policy in his remaining two years in office – the extent to which he will buck the "establishment" – will depend in part on public opinion.
Photo: President Obama meets with then-Defense Secretary Chuck Hagel, left, and other top Pentagon officials, Oct. 8, 2014. Official White House photo by Pete Souza