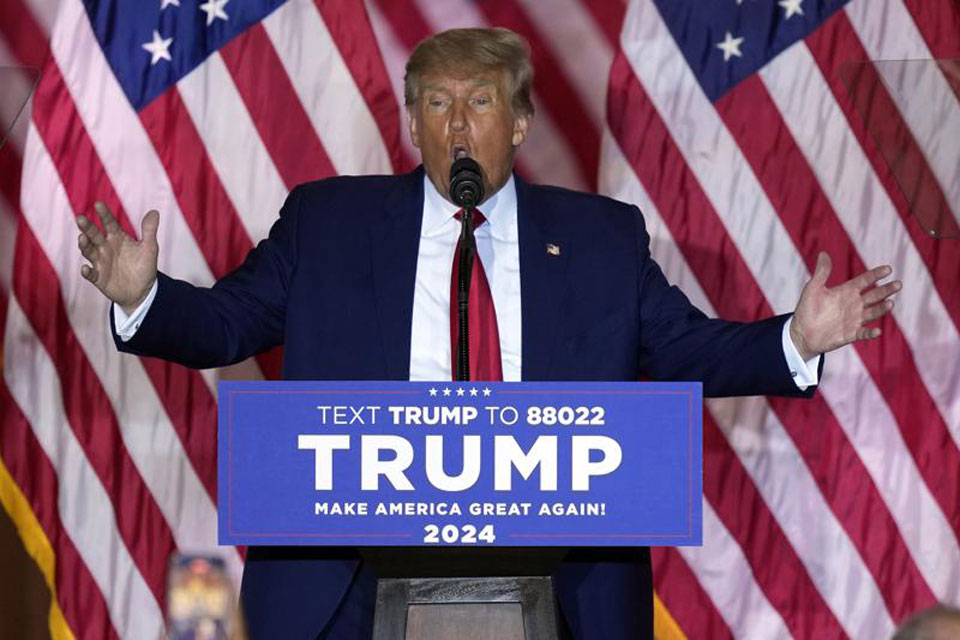 WASHINGTON—Former Oval Office Republican occupant Donald Trump has announced yet another run for the White House, even as many Republicans expressed unhappiness with their master, not because they reject his politics, but because they think it is his style that caused mass rejection of his endorsed midterm candidates by the voters.
What is making voters unhappy with Trump of course is far more than his style. His two impeachments, his leadership of an insurrection and attempted coup at the Capitol, his attack on free elections in states all over the country, his bragging about assaults on women and his call for punishment of women who have abortions, are only a few of the things voters reject about him and other politicians who support the same things.
Instead, increasing numbers of Republicans, though not a majority yet, prefer Trumpism but without Trump himself in 2024. No matter their concerns, however, it must be understood that MAGA Republicans, in addition to studied supporters of right wing extremism, are notorious cowards and they may, in the end nominate him as their candidate two years from now. Many will fear that if they pick another candidate, even another MAGA Republican, Trump, who cares only about himself, may sabotage that person's campaign in any number of ways including by supporting efforts against the GOP candidacy in various states – enough to bring them down to defeat.
The rejection of Trump by growing numbers of Republicans and of course the rest of the country hasn't stopped him.  Nor did losses in the midterm elections among candidates he hand-picked. Nor did enormous opposition among independent voters in key swing states, notably Pennsylvania and Georgia.
Instead, "I'll make America great and glorious again!" Trump proclaimed before a crowd of worshipers gathered at his Florida estate, Mar-A-Lago.
That mob and opinion polls show Trump still holds sway over most rank-and-file Republicans. He's converted the party into a cult.
Polls show 60% of Republicans support him, including 40%-44% who strongly support him, his xenophobia, his racism and his lies about the 2020 presidential election outcome. The catch is 61% of Republicans "strongly favored" Trump in June, and 41% do now, Pew Research reports. Strong opposition in the Pew poll rose from 9% in June to 15% now. Other polls show similar changes.
The Republicans dissatisfied face a plethora of choices. For starters, the others include Govs. Ron DeSantis of Florida, Glenn Youngkin of Virginia and Kristi Noem of South Dakota, former New Jersey Gov. Chris Christie, Trump's VP Mike Pence, Trump's last Secretary of State Mike Pompeo and former Trump UN Ambassador Nikki Haley.
Trump and DeSantis are already trading potshots. After he led a Republican sweep in Florida, even carrying Miami-Dade County, the governor took note of the losses elsewhere by Trump-picked candidates. "At the end of the day I would just tell people to go check out the scoreboard from last Tuesday night," DeSantis said. He's also the sole hopeful with a warchest similar in size to Trump's.
That still doesn't solve the basic problem: A fractured Republican field.
Trump confronted that in 2016, against 15 other hopefuls. He won pluralities in primaries, eliminating foes one by one with personal invective and popular pressure from white nationalist legions. By the time only one opponent was left, Ohio Gov. Mike DeWine, it was too late to stop the Trump train(wreck).
It's called divide and conquer.
Trump's got more problems he didn't face in his prior runs. His corporate empire is under threat from both financial losses and legal problems. He's been impeached twice. And he faces potential civil and criminal fraud charges from the New York Attorney General's office, an Atlanta DA's investigation into his lies about 2020 vote fraud in Georgia, and ongoing and intensifying U.S. Justice Department probes of his election lies, his insurrection and his illegal theft of classified documents, transferred from the White House to Mar-A-Lago as he left the Oval Office.
Not to mention the damning and voluminous evidence, gathered by the House's January 6 Committee, about Trump's instigation, encouragement and planning of seven plots to overthrow the U.S. Constitution to keep himself in power, culminating in the Trumpite invasion, insurrection and attempted coup d'etat at the U.S. Capitol on Jan. 6, 2021. All his plots failed, the last barely so.
All that makes Trump anathema to the rest of the country. Consider the words of conservative political scientist Merrill Matthews of the Institute for Policy Innovation in Dallas. Matthews backed Trump before, but now says Trump could lose to Biden in 2024. GOP focus groups Matthews convenes agree.
President Biden spent the last months of the mid-term pre-election campaign denouncing Trump, though not by name, and "the MAGA Republicans" and their threat to small "d" democracy. Being kind, Biden said the MAGA Republicans are "a minority" in the party. As the polls, the White House invasion and the Mar-A-Lago mob showed, that "minority" is probably a majority.
Democrats and their allies are already using the threat of Trump to raise funds from their small-donor base. That base outraised the Republican big givers in the 2022 election cycle. The pitches for money aim for a rerun of that financial success, using Trump as the bait.
Consider one sample, from Sen. Gary Peters, D-Mich., current chair of the Democratic Senatorial Campaign Committee, the party's campaign finance arm for senatorial hopefuls. Peters is making a money pitch for re-election of Sen. Raphael Warnock, D-Ga., in the Peach State's Dec. 6 runoff against Trump-picked abortion hypocrite Herschel Walker, a former famous football running back:
Peters began: "You don't need me to tell you how bad he is, but we're speaking about a man who premeditated a plan to claim the election was stolen before Election Day, sought to replace real Biden electors with fake Trump electors on Jan. 6, summoned his supporters to the White House, riled them up, got them angry, then had them to march to the Capitol–knowing they were armed–and watched as an insurrection ensued…and more.
"Here's the bottom line: What we do right now in this critical moment will determine our future in the coming months. So while we have a Senate majority, we're still waiting on results for the House elections and looking ahead to Georgia's Senate runoff in December, which will be Trump's first big test" after his presidential run announcement.
"That means right now, we have a rare opportunity to weaken Trump's position. We need to do everything we can to EXPAND our majority – and we can't do that unless we ALL step up" and, of course, contribute.
Expect, for the next 24 months, much more of the same. Trump, the white nationalist leader and fascistic bogeyman, is running for president.