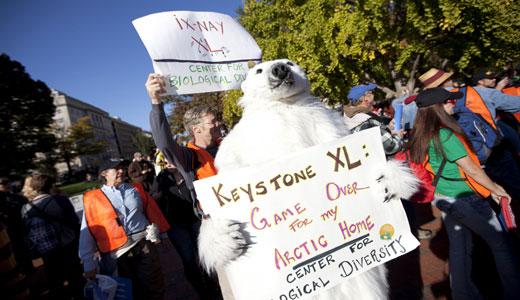 Republicans are holding extension of payroll tax cuts hostage to their scheme to approve an environmentally devastating oil pipeline extension through vast parts of the country.
As they put the pressure on Senate Democrats to go along with an extension of the Keystone XL pipeline that President Obama has put on hold, members of CREDO Action swamped Capitol Hill with more than 10,000 calls to Senate offices on Friday.
Republicans intend to force their pipeline through by adding a clause to the President's payroll tax cut and unemployment benefits extension package. It would strip the President of the authority he exercised recently to put an environmentally problematic project on hold, says CREDO.
The House measure would force the Federal Energy Regulatory Commission to decide on the Keystone issue in 30 days' time, and in the process, would restrict FERC's discretion to reject the project.
Elijah Zarlin, campaign manager of CREDO Action, elaborated on why this could be a serious blow to the U.S. labor movement: "During the worst economy in generations," he said, "Republicans are holding hostage benefits that their constituents urgently need in order to force a decision on an oil pipeline that kills more American jobs than it creates.
"Republicans are profoundly un-American, and Democrats who can't draw a line in the sand and say so ought to seriously question whether they are qualified to serve in public office."
CREDO is urging progressives everywhere – and simply anyone concerned on this vital issue – to take their concerns to those Democrats who are willing to compromise; to say, "No back room deals on Keystone XL."
House Speaker John Boener, R-Ohio, who is apparently acting under the pretense that the bill is fair in exchange for passing the President's preferred tax cut, said that the package will "turn chicken sh*t into chicken salad."
Not so, those in protest believe. What it is, they note, is a clear act of extortion on behalf of a foreign oil company.
Furthermore, Becky Bond, political director of CREDO Action, remarked, "Look, Republicans are not just going after Keystone XL because they are tools of the oil industry. It's because we beat them on Keystone, and they will settle for nothing less than total domination.
"With over 10,000 phone calls in less than six hours, CREDO members are sending an unmistakable message to Senate Democrats that – this time – we will not allow them to snatch defeat from the jaws of victory."
Photo: "Protesters outside the White House on Nov. 6 demand a stop to the Keystone XL pipeline." Evan Vucci/AP Photos