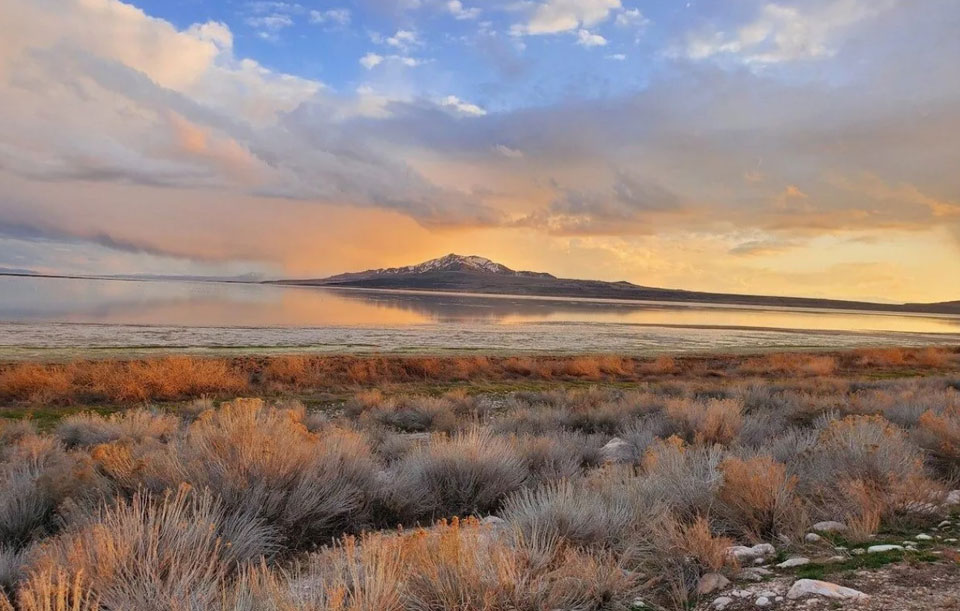 Amid a mega-drought across the western U.S., the Great Salt Lake in Utah has now reached a record-low water level, its second record low in less than one year. The water level plummeted to an average daily surface water elevation of 4,190.1 feet.
This is the lowest water level since recording began in 1847, as explained in a press statement from the Utah Department of Natural Resources. The previous low water level record from October 2021 was 4190.3 feet.
But experts believe the worst is yet to come. With the continuing dry conditions, it is expected the lake water level will drop further through summer, and it won't see any relief until early fall or even winter, when incoming water will match or exceed water lost to evaporation.
"This is not the type of record we like to break," said Joel Ferry, executive director of the Utah Department of Natural Resources. "Urgent action is needed to help protect and preserve this critical resource. It's clear the lake is in trouble. We recognize more action and resources are needed, and we are actively working with the many stakeholders who value the lake."
To make matters worse, with every one foot decrease in the water level, 150 square miles of lake bed is exposed, as reported by ABC4. Natural toxins and human-caused pollution is then exposed and worsens air quality.
Further, the decreasing water levels are dangerous for migratory birds and risk losses in the local economy, which relies on the lake for recreation as well as mineral extraction and brine shrimp.
The decreasing water levels have prompted overdue legislation, HB410 or the Great Salt Lake Watershed Enhancement, to pass this year, which issues a $40 million grant to the Great Salt Lake Watershed Enhancement Program for protecting and restoring wetlands around the lake and to enhance water flows.
The Great Salt Lake is not alone in experiencing unprecedented water losses. In California, Shasta Lake and Lake Oroville have reached critically low levels after the state's driest year ever. Lake Mead, located in Arizona and Nevada, has made headlines this year as well after the shrinking lake revealed newly discovered human remains.
Experts believe similar discoveries of animal and human remains will be unearthed as worsening droughts continue to cause lake and reservoir levels to plummet to historic lows. The dropping water levels also expose the air we breathe to toxins stored in the lake beds, leading to new threats to public health.
This article was reposted from EcoWatch.