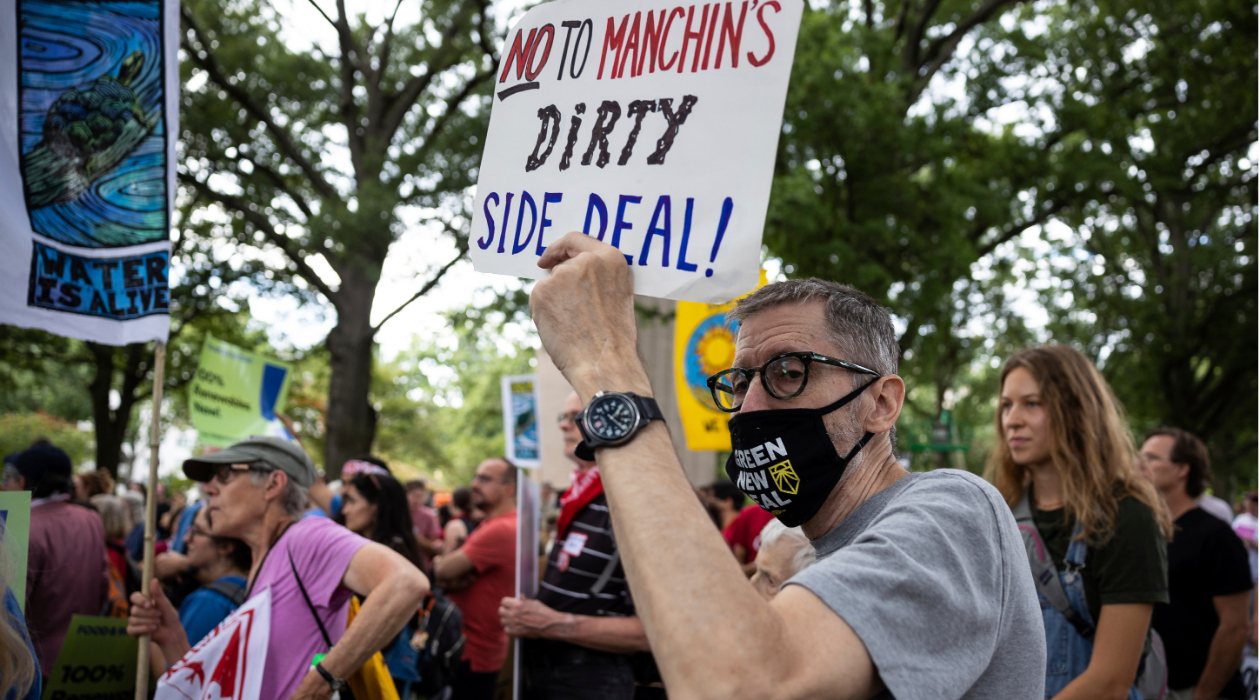 WASHINGTON—Pressure from progressives and green group helped force a controversial pro-fossil fuel anti-environment plan out of a must-pass money bill to keep the government going, clearing the way for Congress to approve it by a September 30 deadline,.
The plan, by Sen. Joe Manchin, D-W. Va., would have cut public participation and environmental review and speeded up permits for oil and gas pipelines and other fossil fuel projects. But Greenpeace, Our Revolution, their allies and progressive senators launched a blitz against it.
Faced with the fact that he didn't have the votes for his plan, a favorite of the coal, oil and natural gas industries that back him politically, Manchin threw in the towel late in the afternoon of September 27 and withdrew it.
"People power won, and the fossil fuel industry lost," declared Tefere Gebre, the former AFL-CIO executive vice president who is now Greenpeace's chief program officer. "This is a major cause for celebration, and I could not be more proud of Greenpeace USA and the climate justice community right now."
But he—and the others—warned Manchin might try, try again, so they must remain vigilant.
Cleared the way
Manchin's withdrawal of his plan cleared the way for the money bill to pass Congress by a deadline of midnight September 30. If it isn't passed and signed by then, the government, except for "essential" workers such as air traffic controllers, would have to shut down.
Manchin lost because the evenly split Senate's 50 Republicans, after advocating for years variations of Sarah Palin's "Drill, baby, drill!" slogan for fossil fuel projects, including oil and gas pipelines, flip-flopped. They said "No," because the fossil fuel firms' champion is their frequent Democratic ally, Manchin. And because Democratic President Joe Biden won, too.
Manchin needed the 47 other Democrats and both Democratic-leading independents, too. He didn't get them. Congressional progressives, led by Sen. Bernie Sanders, Ind-Vt., and a group of House members, opposed him. Sanders summed up their case in a tweet:
"It may be a radical idea to some of my Senate colleagues & in the editorial rooms of newspapers owned by Rupert Murdoch & Jeff Bezos, but I do believe the future of the planet is more important than the short term profits of the fossil fuel industry. Defeat the Big Oil side deal," Sanders declared.
Faced with those 51 foes, Manchin withdrew his pro-pipeline, anti-environment scheme.
The bill had many other key measures besides Manchin's pipeline plan. The U.S. people would have been affected if lawmakers forced the government to shut down again.
The nation's two million federal workers in particular would have lost. In shutdowns, "essential" federal workers must report to their jobs without pay, and the rest are sent home, also without pay. With no shutdown, the bill includes a $1 billion increase in federal energy aid for low-income families. And $20 million will help, only a little however, reduce water problems in Jackson, Miss. Biden gets $12 billion more in emergency aid—including $3 billion for more weapons for Ukraine.
Biden didn't get all he wanted, however. He sought money for monkeypox vaccines and to further fight the coronavirus. But he mistakenly said on 60 Minutes days before that the modern-day plague was over and the Republicans hung that statement around his neck. Result: No money to fight the two viral threats.
Had the Senate Republicans shut the government by stalling the money bill, it would have been in character. The last two shutdowns occurred under the Republican Trump regime. The longest, for 35 days, happened because Oval Office occupant Donald Trump tried to force Congress to approve more than $8 billion for his anti-Hispanic Mexican Wall. He failed.
Until Manchin withdrew his pipeline anti-environment scheme–his plan pleased his fossil fuel company campaign contributors—the Republicans took out their pique on the West Virginian, and Sanders said Manchin would virtually junk environmental protections.
Vote to open debate
As a result of the decision, senators voted 72-33 on the evening of September 27 to open debate on the money bill. Further votes were planned through the week, in the House, too.
Faced with the closure threat, the Government Employees (AFGE), the Treasury Employees (NTEU), the Professional and Technical Engineers (IFPTE) and other unions swung into action. NTEU posted an on-line letter for members and allies to send to lawmakers.
"I am writing to ask that you pass government funding legislation and keep the government open," the union's suggested letter text began.
"I am a federal employee in your state. Federal employees work and live in every part of the country and are proud to work for the federal government. We perform a multitude of jobs, including working as scientists, accountants, engineers, inspectors, and law enforcement.  It is imperative that Congress pass legislation to keep government agencies open so we can continue to serve the American people," it declares. Then it asks writers to sign.
IFPTE President Matthew Biggs, whose union also represents thousands of U.S., workers, called a shutdown "absurd." He reminded lawmakers it would endanger not just finances of "essential" federal workers, but for specific sets of workers, security clearances.
This bill, called a continuing resolution (CR), runs through December 16. But AFGE also is lobbying for legislators to approve the regular money bills—not a CR—to fund the government in all of fiscal 2023, which runs from October 1 through next September 30.
Those measures, AFGE notes, include a 4.6% pay raise for all federal workers, basic worker rights for the nation's 45,000 airport screeners and, since their pay is far below that of all other federal workers, raises as high as 30%. It also would beef up federal railroad safety, a key issue in the current struggle between the 115,000 unionized rail workers and the nation's big Class I freight railroads.
IFPTE's Biggs said a shutdown would also end free school lunches for millions of poor kids and Trade Adjustment Assistance for workers who lose their jobs to subsidized foreign exports to the U.S.
Manchin was holding out for fast-tracking pipelines and other fossil fuel projects by speeding up the permits for them. The main way he would do this would be to cut down citizens' chances to object and shorten the time for required environmental reviews.
All the reviews would be junked in the case of a particular natural gas pipeline from Kentucky, across West Virginia and through Virginia to Newport News—where the gas would be loaded on tankers headed for Europe to replace Russian gas. Energy firms, which are big givers to Manchin's campaigns in deep-red West Virginia, lobbied hard for Manchin's scheme.
Greenpeace retorted Manchin "jeopardizes communities in the frontlines of fossil fuel infrastructure and once again puts D.C political deal-making above the health and safety of our communities. We need leadership, not bending to fossil-fuel influence." It congressional Democratic leaders "ensure this permitting reform legislation does not pass.
"At a time when climate chaos and damage is impacting numerous Americans through heat waves, record flooding, and increased energy bills, you cannot give fossil fuel CEOs more power to put us towards the path of planetary-collapse."