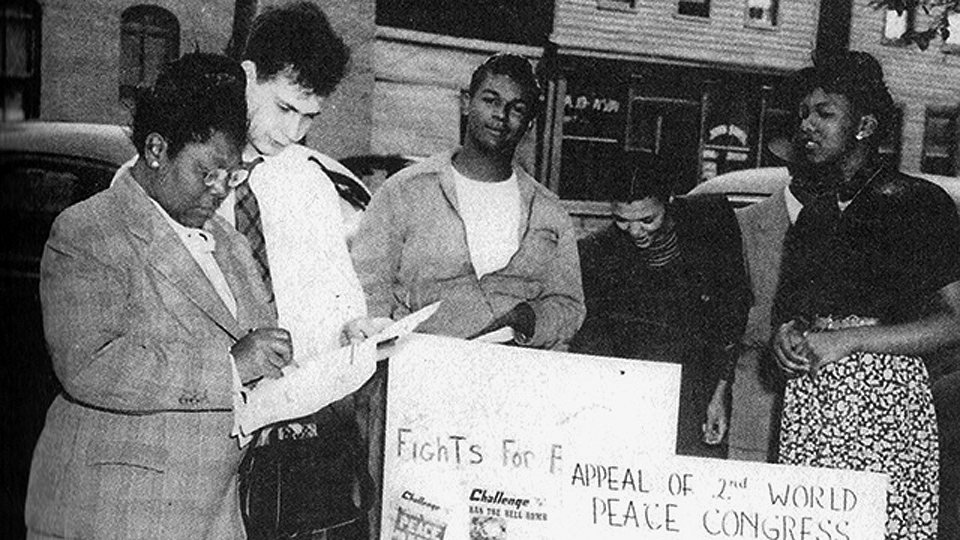 Besides running a large household, Hattie Lumpkin had to do housework for other people. She had more mouths to feed than husband Elmo's wage in the Florida orange groves could cover. At the age of 10, son Warren remembers, he had to bring his baby brother to Ma at work in the "big house" so she could nurse him. It bothered him that Ma got up and cooked breakfast for all. After breakfast, Pa went to work and the children went to school. Then Ma went to do a hard day's work in a rich family's kitchen. At night, she would come home and have to cook again for her large family. So Warren learned to cook to help out.
Ma also did "extra" things for her children. She kept their minds active by taking them places to learn different things. It would seem that Ma could have no time for politics. If that's what you thought, you would have been wrong. Wherever she saw injustice, she was ready to fight. But it was not until she joined the Communist Party in Buffalo that Ma became a leader in the fight for equality, peace and workers' rights.
We can trace Ma's fighting spirit back to her own mother, "Ma Bess." As a young woman, Bess cooked for a wealthy family. But she refused to "live in" her boss's home. "That's too much like slavery," she said. It took a lot of courage for young Bess to take this independent stand in her town of Washington, Georgia, in the 1880s. Washington had been a stronghold of slavery, the site of the last Confederate Cabinet meeting at the end of the Civil War. By 1880, Reconstruction had ended and the rights of African Americans were being rolled back by force.
Just keeping 10 children healthy in the Depression years in the rural South was a serious challenge. In "Always Bring A Crowd, the story of Frank Lumpkin, Steelworker," Warren Lumpkin described how Ma made a meal with 10 cents.
"Hattie used to send Warren to the store with a dime to get food for 13 people. He got a free soup bone, 5 cents worth of rice, and a nickel can of tomatoes. They used the green tops of wild onions for seasoning. That was a meal for 13 people. Or cook up white potatoes with some salt pork. The potatoes would turn into a tasty sauce."
Hattie and husband Elmo wanted their children to stay in school. School, itself, in rural Orlando, Florida, was shortened to allow children to work in the groves after school. Son Frank was typical, leaving school after ninth grade so he could work and earn money to buy shoes. Of the 10 children, only Bessie Mae finished high school and that was in New York. Still Hattie and Elmo were fortunate. All 10 of their children grew up to be intelligent, good people and strong workers. Those who were grown contributed to winning World War II against fascism, four in the Army and Merchant Marine and two in war-production factories.
When Ma's oldest son got a job up North in 1940, she visited him. She found that wages and conditions in Buffalo were much better than in Orlando. So she returned to Orlando to move her family north – if necessary, one by one. With the first few paychecks, Hattie put a down payment of $300 on a two-flat, 11-room house at 263 Watson Street. Soon it was full. Hattie, Elmo, the 10 children, their spouses, Ma Bess, and after a while, the grandchildren lived there. When cousins came and had nowhere to stay, Hattie made room for them. People criticized her for overcrowding her house, but she said, "No kin of mine will have to sleep in the street." After Hattie joined the Communist Party, the house became the center of the whole progressive movement on the east side of town.
Ma's daughter, Jonnie, joined the Communist Party for the twin purpose of fighting fascism abroad and racism at home. She became convinced that the root of the problem was the capitalist system. Jonnie brought the idea of changing the system into the Lumpkin home. In time, Jonnie convinced Ma that workers needed socialism, a system that put people first. Ma joined Jonnie in the Communist Party.
Among the causes she supported was the fight to save the life of Willie McGee, an African American. McGee was sentenced to death in Mississippi on a charge of rape of a white woman. Civil rights groups were convinced that McGee was framed.
Hattie told about a similar case in Florida. A mother traveled throughout the state in a mule-drawn wagon, trying to raise money to save her son from execution. She did not succeed in saving her son. And progressives did not stop the execution of Willie McGee in 1951, although large protests were organized in many cities. Still the fight to save these lives bore fruit in the years that followed. The protests reduced the number of legal lynchings and anti-lynch legislation was passed.
Ma and Jonnie both rose rapidly to leadership and Ma became chairperson of the Ellicott District of the Buffalo Communist Party. She became known as the person to turn to in case of trouble. When Ma got notice of an eviction, she dispatched her children to go door-to-door and bring the neighbors out. Once a sympathetic crowd gathered, someone would say, "This is a shame. Let's put the furniture back." And in less time than it took for the eviction, the crowd would carry the furniture back inside. Often, this would give the tenants the time they needed to borrow money for the rent or to throw a rent party.
One organizing project hit close to home. Son Frank had been arrested when he objected to police manhandling a demonstrator at a rally against discrimination on Lake Erie tourist boats. Ma quickly organized a labor-community coalition to demand that SS Canadiana stop discriminating. Fifty clergymen asked the states attorney to drop the charges against Frank. The whole community celebrated when an all-white jury unanimously acquitted Frank.
When the House Un-American Committee came to Buffalo, they sent Ma a subpoena. That was about the same time that they called in Dr. Benjamin Spock, pediatrician and peace activist. Ma freely testified about her community and church work to improve the life of workers. The un-Americans didn't want to hear any of it. Ma was not intimidated and continued her struggle.
Among those who gathered in the Lumpkin home was Victor Grossman, a young worker-writer. In his book, "Crossing the River: A Memoir of the American Left, the Cold War, and Life in East Germany," he recorded a sample of Hattie's thinking that made her a good leader.
"I used to have hard times with reading", Ma said "I always got headaches reading some of these pamphlets and books on Marxism. I said to myself, you're getting older and never had much education. But you've seen a lot of troubles and had a lot of experience that should be helping you to understand such matters.
"One day I got my first eyeglasses. At last I could see everything sharp and clear. Lots of words are still new and difficult, but I'm learning all the time about chauvinism, surplus value, imperialism, and all those things. Once in a while I stop and think that not everyone has such glasses and sees things so sharp and clear. The world still looks very blurry to lots of folks. If I start acting uppity because things seem so clear, and talk to people in a strange or funny way, without even listening to them, or say, Why bother about him? Everything's blurry to him. Then I can't be surprised if they won't listen to me either, with or without the glasses."
The women who marched to save women's lives in Washington, DC this month were standing on the shoulders of giants. Hattie Lumpkin or "Ma" was one of those giants.