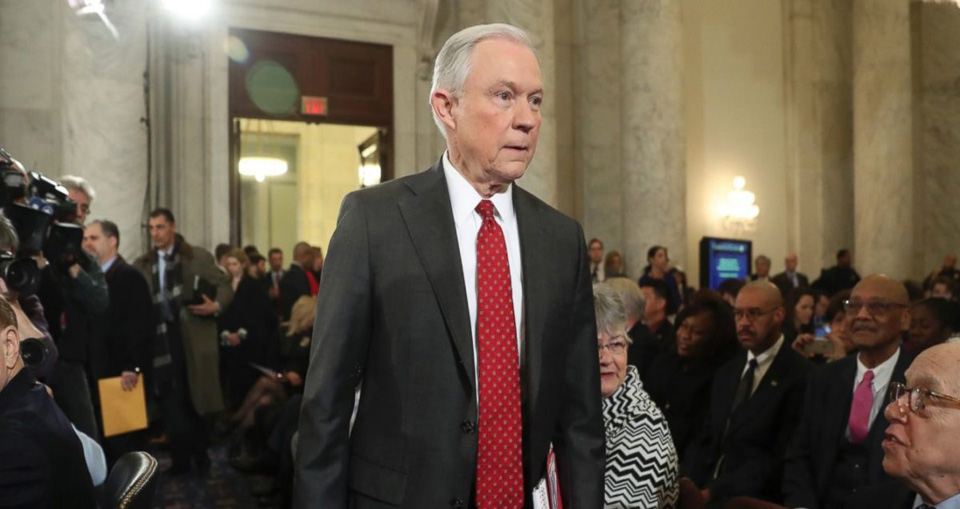 "I really am amazed that a judge sitting on an island in the Pacific [Hawaii] can issue an order that stops the President of the United States from what appears to be clearly his statutory and Constitutional power." This was Attorney General Jefferson Sessions' response to a Hawaii-based federal judge's halting of President Trump's most recent ban on immigrants from a handful of Muslim-majority countries.
Sessions was referring to Judge Derrick Watson of the 9th Circuit in Oahu, but the phrase "sitting on an island in the Pacific" served as a dog whistle to the racist segment of Trump's base that questioned former President Obama's U.S. citizenship because he was born in Hawaii.
Welcome to the U.S. Department of Justice (DOJ) under Sessions. We are witnessing a return to conservative "small government" and racist, Islamophobic politics that will roll back progressive policies established by the Obama administration.
And as we inch closer to the 45th president's first 100 days in office, People's World wanted to give an update on the changes taking place at the DOJ.
Immigration
Sessions spoke at the border entry port in Nogales, AZ, Tuesday, April 11, 2017, and promised a dramatic crackdown on illegal immigration.
"For those that continue to seek improper and illegal entry into this country, be forewarned," Sessions said in his prepared remarks. "This is a new era. This is the Trump era."
Sessions trip to the border brought with it his message of fear by focusing on the alleged rise of drug cartel crimes flooding the US border.
"Depravity and violence are their calling cards, including brutal machete attacks and beheadings," he said in prepared remarks. "It is here, on this sliver of land, where we first take our stand against this filth."  [Ed. note: Sessions omitted the phrase "against this filth" when he delivered the speech, but it was present in the prepared remarks submitted to journalists.]
A memo released by Sessions, on the same day, calls for federal attorneys to consider prosecution of anyone housing of shielding undocumented immigrants, with a priority given to violent cases or that involves the transportation and shielding three or more undocumented immigrants.
Felony charges would also be considered for immigrants who try to enter illegally on multiple occasions, engage in identity theft and document theft, and in cases of fraudulent marriages to obtain legal immigration status.
You can read the memo here.
On Tuesday, April 25, 2017, the New York Times reported that a US federal judge blocked Trump's order to cut off funding to "sanctuary cities' that shield undocumented immigrants.
As for Trump's executive order on travel ban, Sessions has vowed to defend the order and C-SPAN cameras will be broadcasting the May 15 federal court hearing live.
Police Reform
Prior to his appointment, Sessions made it clear that Trump's "law and order" directives were vital to ensuring police officer safety and improving officer morale as they face violent crime.
That position has led to a review of all police reform agreements with troubled police departments nationwide.
In a two-page memo released March 31, Sessions made it clear that previous agreements reached by the department's civil rights division and local police departments would be subject to review by his top two deputies. Leading police reform activists to question whether the agreements would stay in place.
"The Attorney General and the new leadership in the Department are actively developing strategies to support the thousands of law enforcement agencies across the country that seek to prevent crime and protect the public," Justice officials said in their filing asking a federal judge to postpone the hearing on the consent decree reached with the Baltimore police department.
Despite the objections from the DOJ and Trump administration, US District Judge James K. Bredar approved the agreement to reform the Baltimore police department-a direct challenge to the Trump administrations excessive use of executive power.
You can read the Attorney General's response here.
Science takes a hit at the DOJ
Sessions, also in March, ended the DOJ's partnership with the National Commission on Forensic Sciences.
"The availability of prompt and accurate forensic science analysis to our law enforcement officers and prosecutors is critical to integrity in law enforcement, reducing violent crime, and increasing public safety," Sessions said in the statement. "We applaud the professionalism of the National Commission on Forensic Science and look forward to building on the contributions it has made in this crucial field."
The 30-member advisory panel of scientists, judges, crime lab leaders, prosecutors and defense lawyers was brought in by the Obama administration to raise the standards on forensic evidence and testimony.
Six leading scientists on the panel urged the importance of renewing the partnership in a letter delivered to DOJ officials on April 6, 2017.
"Limiting the 'relevant scientific community' to forensic practitioners is a disservice to that field and to the criminal justice system," they wrote, led by Thomas D. Albright, an internationally recognized neuroscientist specializing in vision and the brain at the Salk Institute for Biological Studies.
This action by Sessions is another example of the new administrations break from Obama era policies.
You can read the DOJ announcement here.
An empty Department
Finally, more than two months after Sessions directed the mass resignation of the country's top federal prosecutors, none of the 93 open positions have been filled.
As Sessions travels the country giving speeches about cracking down on crime during the
"Trump era," it will be difficult to accomplish such a thing without US attorneys.
James Pfiffner, a professor of public policy at George Mason University explained that:
"The acting US attorneys are all well-qualified and will ensure open cases are prosecuted and investigations are followed up on, but they don't necessarily share Trump or Sessions' agenda for law enforcement"
And as the public has seen, loyalty to the administration's agenda is vital to government jobs and appointments.
"We really need to work hard at that," Sessions said after being asked about the vacancies. "Hiring US Attorneys does take time."
You can check out the Washington Post's coverage of that Q&A  here.