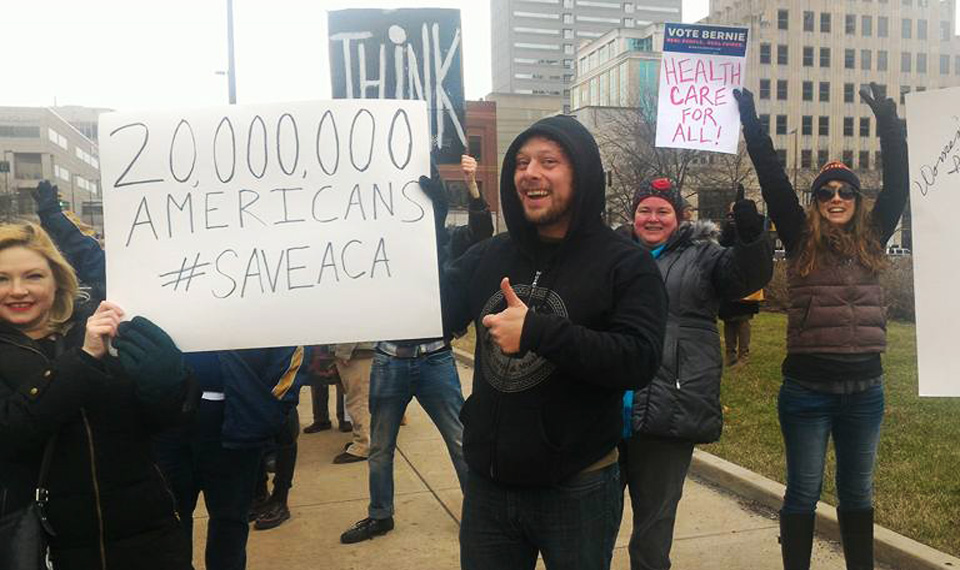 INDIANAPOLIS, Ind. – With a new Republican administration taking power, hundreds of Hoosiers, on the weekend honoring the birth of the Rev. Dr. Martin Luther King Jr., packed the Indiana State House to defend healthcare. Working men and women, retirees, and youth from all over the state gathered with labor and community organizations to send a unified message to the new Senate and Congress that they do not repeal the Affordable Care Act.
Indianapolis Our Revolution, along with Central Indiana Democratic Socialists of America, the Socialist Party USA, The Indiana Democratic Party, Black Lives Matter and Jobs with Justice members organized the local action as part of the nationwide Jan. 15 campaign to defend the ACA, Medicare, and Medicaid in Indianapolis. This was a true grass-roots effort.
Rep. Andre Carson, D-Ind., spoke as did Sen. Joe Donnelly about the 300,000 Hoosiers who would lose health care under the state's Healthy Indiana Plan (HIP) which gets all of its funding from the Affordable Care Act.  Carson reminded everyone that people will die as a result of this callous act by Republicans.
Sen. Donnelly, who received $240,000 in donations from pharmaceutical giant Eli Lilly, got heckled when he took the podium for refusing to back the Sanders-Warren amendment that would have allowed U.S. citizens to buy their prescriptions from Canada at a more affordable price.
Dominic Dorsey from Indianapolis D.O.N.T. S.L.E.E.P./Black Lives Matter reminded those in attendance that the repeal of ACA would have an even greater impact on African Americans. Dorsey stated that the GOP will have blood on its hands. He went on to provide statistics related to a racist, profit-driven health care system where the mortality rate for African Americans is about 967 per 100,000 as compared to 817 per 100,000 for white people. Mr. Dorsey also told the crowd that African American citizens are less likely to have health insurance due to lower wage jobs that do not provide such benefits.
Janet Chilton, a cancer survivor, decried the repeal of the ACA as she recalled being diagnosed with breast cancer in 1994 and how she was unable to find health coverage due to the pre-existing condition clause, which insurance companies will reinstate once ACA is repealed.
Vice president of the Indianapolis City-County Council, Zach Adamson, told the crowd that we need health care that puts patients first. Adamson decried Republicans in government who bemoaned the ACA while enjoying the benefits of comprehensive healthcare themselves.
Audree Bee, another speaker, linked the struggle for healthcare to the fight for LGBTQ equality. "We need to fight tooth and nail for the most vulnerable among us for the next four years," she said, calling for universal single-payer healthcare.
Lastly, Emily Hernandez, a certified nursing assistant who works in home health and assisted living facilities laid out the possibility that the elderly may end up homeless if cuts to Medicaid and the replacement of Medicare with a voucher system become a reality.
As the rally came to a close, dozens of people were still lined up outside to get into the event. According to official counts by the Indiana State House security personnel, 962 people made it inside to the rally.