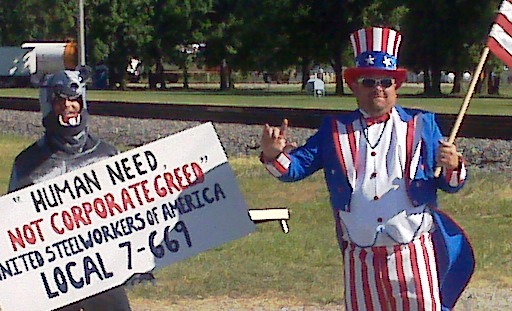 More than 200 workers were on the picket line last week in Metropolis, Ill., after their employer, Honeywell International, locked them out of their jobs, June 28.
The Honeywell plant, located in southern Illinois across the river from Kentucky, produces nuclear fuel. The lockout was the company's reaction after a stalemate was reached in contract negotiations with United Steelworkers, the union representing the workers.
The company says its response was mainly because the union had refused to sign an agreement that would give 24 hours notice before any strike.
Yet, critics charge, the company did not give the workers any 24-hour notification regarding the recent lockout.
Union officials claim the real reasons holding up negotiations have to do with the workers' retirement and health benefits.
Both sides have been meeting for a month. Their previous contract expired last month.
Mike Hillebrand, with the union, Local 7-669, said the company has been planning the lockout for some time.
"We just want to keep our benefits that we've got; our health care and retirement and they're wanting to throw that out," he told reporters with wsiltv.com.
The plant normally has 385 workers yet since the lockout the company has brought in 60 "replacement temporary contingent" workers [also known as scabs] from the Shaw Group, one of the largest nuclear U.S. contractors.
Union workers say they are concerned about the surrounding communities' safety. They are worried the replacement workers are not qualified, and lack the proper training necessary to run the plant's hazardous equipment.
Meanwhile, Honeywell says it hopes to continue meeting with the union to pursue a contract. Although the locked out union workers will not be paid, the company says it will continue to pay the workers' medical and life insurance.
However, until an agreement is reached, union members say they'll man the picket line 24-hours a day.
Photo: From the USW 7-699 picket line.