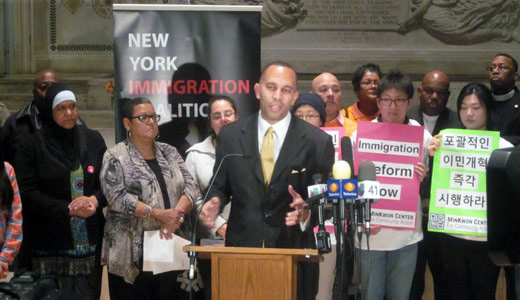 The battle for comprehensive immigration reform has moved into high gear since President Barack Obama's Jan. 27 speech in Reno, Nev. In the past few days alone, the House Judiciary Committee has begun immigration hearings and Obama has himself met with Cristina Jimenez of the United We Dream coalition and others.
The move for reform has been spearheaded by undocumented youth themselves, but also includes Obama, sections of the Democratic Party, labor, churches and other community organizations. Additionally, fearing irrelevance for their party after a huge electoral loss among Latinos in 2012, some Republicans have begun pushing for reform as well.
The hearing highlighted the rifts that are likely to continue to be in play throughout the immigration fight. Obama and the Democrats, not to mention immigrants themselves, have demanded that comprehensive reform include a path to citizenship. Rep. Bob Goodlatte, who chairs the judiciary committee, mused during the hearings on a possible "middle ground" between deportation and a path to citizenship.
Julian Castro, the Mexican-American mayor of San Antonio, Texas, took issue with the "middle ground" proposal, saying that allowing undocumented immigrants to stay without offering a path to citizenship would leave millions permanently relegated to second-class citizen status.
Other Republicans have kept further to the right. Rep. Eric Cantor, the House Majority Leader known for his ties with the far-right tea party movement, addressed the American Enterprise Institute earlier today. In his speech, he said, "While we are a nation that allows anyone to start anew, we are also a nation of laws, and that's what makes tackling the issue of immigration reform so difficult."
However, even Rep. Cantor did seem to endorse allowing undocumented youth to stay in the country. Other Republicans have decried any pathway to citizenship, including for DREAM Act eligible youth, as "amnesty."
At a meeting to push his own plan for immigration reform, Obama met with UWD's Jimenez, as well as others. Organizations included in the meeting were the AFL-CIO, SEIU, the NAACP and the National Council of La Raza. Additionally, other immigration reform advocates and business leaders, who represented Goldman Sachs, Yahoo!, Coca Cola, the Marriott and others, were present.
According to the Associated Press, Obama planned to discuss the reform itself, as well as "how it fits into his broader economic agenda."
Labor leaders were expected to push for worker protection at the meeting. Earlier, American Federation of Teachers President Randi Weingarten released a statement urging officials to end abuses by employers of undocumented immigrants, both in recruitment and on the job.
"[W]e must roll up our sleeves and put all the important issues on the table," Weingarten said. "It is imperative that the agenda include reasonable regulation of the international recruitment process." She called for a number of "sensible and necessary reforms, including the creation of a national recruiter registry, public disclosure of information and the elimination of fees for workers to get jobs."
Weingarten's remarks came as she and other labor leaders, members of the International Labor Recruitment Working Group coalition met to release a report detailing the extreme abuses by employers.
"Three years ago," Weingarten recalled, "the AFT brought to light the abuses of nearly 350 Filipino teachers recruited to work in Louisiana. These teachers borrowed money to pay massive fees, had their documents seized, and faced threats and extortion. Their story was a shock to our union – and a call to action."
The AFT worked with the Southern Poverty Law Center to file a lawsuit on behalf of the Filipino teachers, and eventually won, forcing the recruiters to pay restitution of $4.5 million.
No immigration bill has yet been presented to either House of Congress. A bipartisan group of eight Senators has offered a plan. At the urging of the Congressional Hispanic Caucus, Obama did not introduce his own plan, but only offered general principles for immigration reform. Those principles include stronger border security, a path to citizenship for those who are here without legal status and a streamlined immigration system for those looking to enter the country.
On Jan. 31, White House Domestic Policy Council Cecilia Muñoz hosted a "fireside hangout" via Google+, during which she discussed immigration reform with immigration leaders and advocates. In that meeting, the issue of stopping deportations while immigration reform is debated was discussed, but left open ended. (video below)
Photo: Rep. Hakeem Jeffries, D-N.Y., at a rally sponsored by the New York City Immigration Coalition, via House website.