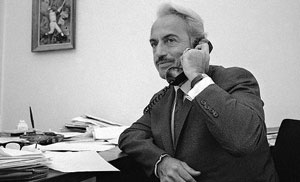 Marvin Miller (pictured), the labor leader who built the Major League Baseball Players Association into sports' most powerful union, died Nov. 26. He was 95.
Imagine a time when a professional baseball player was technically "owned" for life by his team and couldn't play for any other team unless the change was approved by his owner. Professional athletes had few rights beyond whatever their owners granted them-low pay, weak pensions, no real compensation for the wear-and-tear on their bodies, no freedom of movement or ability to determine where they lived or for what team they played.
The system made team owners very wealthy off the hard work of the players without allowing the players to share in the revenue their efforts produced.
Marvin Miller took over the Major League Baseball Players Association (MLBPA) in 1966 and developed it into the most powerful union in sports. During that time – and in the years after – Miller's efforts also led to a total overhaul in the way that sports teams treated players and thus led to a revolution in professional sports.
"Marvin exemplified guts, tenacity and an undying love for the players he represented," said DeMaurice Smith, Executive Director of the NFL Players Association, affiliated with the Metro Washington Council. "His most powerful message was that players would remain unified during labor strife if they remembered the sacrifices made by previous generations to make the game better. His passion for the players never faltered, and men and women across all sports are in a better place thanks to his tireless work."
Click here to read Kenneth Quinnell's full post on the AFL-CIO Now blog.
Photo courtesy thanksmarvin.com, story via Metropolitan Washington AFL-CIO Council.