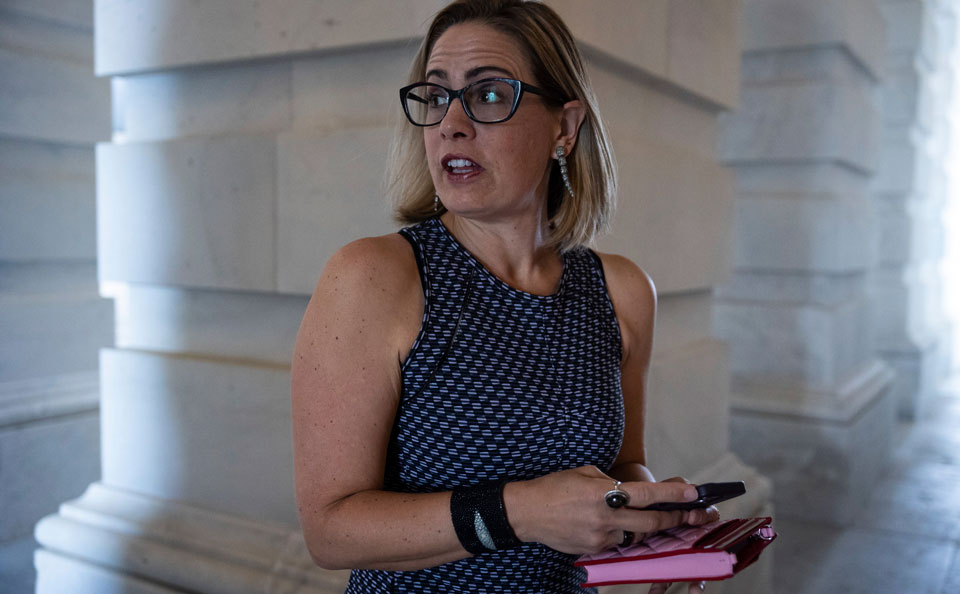 Senate Democrats appear on the verge of passing historic legislation to accelerate a national transition to clean energy, reduce energy costs, create tens of thousands of union jobs, and address environmental injustice.
The surprise agreement, the Inflation Reduction Act (IRA), was brokered by Sens. Joe Manchin, W.Va, and Majority Leader Chuck Schumer, N.Y. All 50 Democratic senators, including Arizona Sen. Krysten Sinema, must support the IRA to pass. Every Republican, fossil fuel driller, and big corporation fiercely oppose it.
Environmental, labor, and social justice organizations, climate scientists, policymakers, and federal, state, and local Democratic lawmakers hailed the deal. They called for swift passage despite shortcomings and concessions to the fossil fuel industry.
The turn of events happened after Manchin torpedoed the Build Back Better (BBB) legislation while a record heat wave baked much of the planet, sparking wildfires and causing flash flooding in Kentucky. Most assumed climate legislation was dead for the remainder of this Congress.
The result was a bitter backlash directed against Manchin, protests, a sit-in by Congressional staffers, and calls for Biden to declare a National Emergency on climate. Guarantees for fossil leasing, extending financing of the Black Lung Trust Fund, separately expediting the permitting process for the Mountain Valley Pipeline across West Virginia, and convincing Manchin the bill would reduce inflation may have convinced him to agree.
The IRA marks the biggest investment in clean energy in U.S. history and is the result of decades of movement-building and battles to pass transformative climate legislation against entrenched opposition. "We're going to look back in 50 years and say this was the beginning of a great transition," said Sen. John Hickenlooper, D-Colo.
"Rhodium Group modeling shows the IRA can absolutely cut carbon pollution by 40% by 2030. With additional executive and state action, we could be back on track to hit President Biden's critical goal of a 50% cut this decade," said Dr. Leah Stokes, leader of Evergreen Action and a climate policy maker involved in crafting the BBB legislation.
According to climate scientists, the world must reduce carbon emissions by 50% by 2030 and 100% by 2050 to avoid surpassing 1.5 degrees Celsius and triggering far more catastrophic changes.
The bill strips from the BBB some provisions like the child tax credit. However, it retains most of the original bill's critical programs, although at lower funding levels. They include $369 billion in funding and tax credits to accelerate the transition toward clean energy technologies, reduction in methane gas emissions, and investments in agriculture, rural economic development, and restoration.
It establishes environmental, labor, and equity standards in public investment. It directs about $60 billion in funding to historically discriminated and vulnerable communities suffering the worst climate change consequences.
One such mechanism is a Greenhouse Gas Reduction Fund to make community renewable energy investments. The climate bank would lend $28 billion for "low-interest loans across the country. A small town in Ohio could say we want to do over our public housing stock completely. Okay, come to the climate bank. Or a community that wants to install solar panels on their town dump. Okay, we'll help finance it," said Sen. Ed Markey, D-Mass.
The bill contains tax credits for consumers to purchase new and used electric vehicles and partially funds the conversion of the USPS truck fleet to electric vehicles. It provides corporate tax credits to produce solar and offshore wind farms, geothermal infrastructure, batteries, and green technology production facilities.
The bill makes it easier for working-class households to winterize their homes and buy electric heat pumps and induction stoves. Studies show the more renewable energy, electric vehicles, and other products manufactured, the cheaper they become, which is not the case with fossil fuel energy production.
The bill also allocates $64 billion to extend Affordable Care Act subsidies through 2024 and allows Medicare to negotiate lower prescription drug prices with Big Pharma.
Lawmakers maintain transitioning to renewables would also reduce energy costs and address Manchin's stated concern about inflation. "Fossil fuels have driven 41% of inflation," said Rep. Pramila Jayapal, D-Wash. "So, when we talk about investments in clean energy, that is one of the biggest components of price increases consumers face. Households will save on average about $1,800 a year in energy bills."
Lawmakers drafted the bill to bypass Republican obstruction through the budget reconciliation process. It needs every Democrat on board, and with Vice President Kamala Harris casting the deciding vote, only 51 votes are required rather than the 60 votes under the Senate filibuster rule.
Sinema has been silent on her support and is under enormous pressure from giant corporations to kill the bill. Her concerns seem to revolve around taxes on the wealthy and corporations, which raise $739 billion in revenue to cover the bill's costs. The IRA does not raise taxes on workers making less than $400,000 annually.
Sinema has repeatedly expressed opposition to the "carried interest charge," a tax on profits hedge fund managers make insisted on by Manchin. The far more significant issue is corporate opposition to a minimum 15% tax on corporate profits over $1 billion. Sinema has previously supported the tax, but the Chamber of Commerce and Business Roundtable, which shower her with contributions, wants it defeated.
"If Sinema, a one-time Green Party activist, derailed the most significant federal climate bill ever while Arizona faces mounting impacts of climate change, it would be an incredible repudiation of everything she's stood for her entire life," tweeted Atlantic columnist Ronald Brownstein. Markey also indicated senators would work with Sinema and get the deal done one way or another.
The IRA comes with difficult compromises to gain the vote of Manchin. The bill mandates onshore and offshore lease sales, but they are to be more restricted and carry higher royalty costs. Ultimately, the plummeting production costs of renewables will make oil drilling unnecessary.
Besides, the total impact of the new leasing on the climate could be minimal, according to one study. "For every ton of emissions increases generated by [the bill's] oil and gas provisions, at least 24 tons of emissions are avoided by the other provisions," concludes Energy Innovation.
Environmental activists vowed to continue fighting new leasing regardless. "We can't stop there and throw these communities (that would suffer the impact of oil extraction) under the bus," said Rev. Lennox Yearwood, Jr., of the Hip Hop Caucus in an Evergreen Action Zoom call. "It doesn't mean we won't continue fighting these projects."
If the bill passes, it could further energize Democratic and pro-climate voters in the 2022 mid-term elections. Most pundits still assume the outcome will be a "red wave," given Biden's low popularity rating and the high numbers who think the country is on the wrong track. Traditionally, the president's party takes a beating in the midterm following the presidential election.
But mass shootings in Uvalde, Texas, and Buffalo, N.Y.; ongoing gun violence; the GOP-dominated Supreme Court rulings on abortion rights, EPA, and guns; the House Select Committee Hearings on the Jan. 6 Insurrection, and horrendous Republican candidates have awakened the anti-MAGA majority. Suppose voters turn out to elect a Democratic, pro-climate, and anti-filibuster majority. In that case, passing even more comprehensive climate legislation may be possible in 2023 to get the country to net zero emissions in time.
"We need to elect two more Democrats so we can get rid of the Jim Crow legacy filibuster so we can have a simple majority and actually pass transformative climate, childcare, and housing legislation. The original BBB had $150 billion to invest in housing. We are not giving up on any of that," said Jayapal. "I hope people are fired up and ready to go because we need bigger majorities. We have to protect democracy to protect the environment."