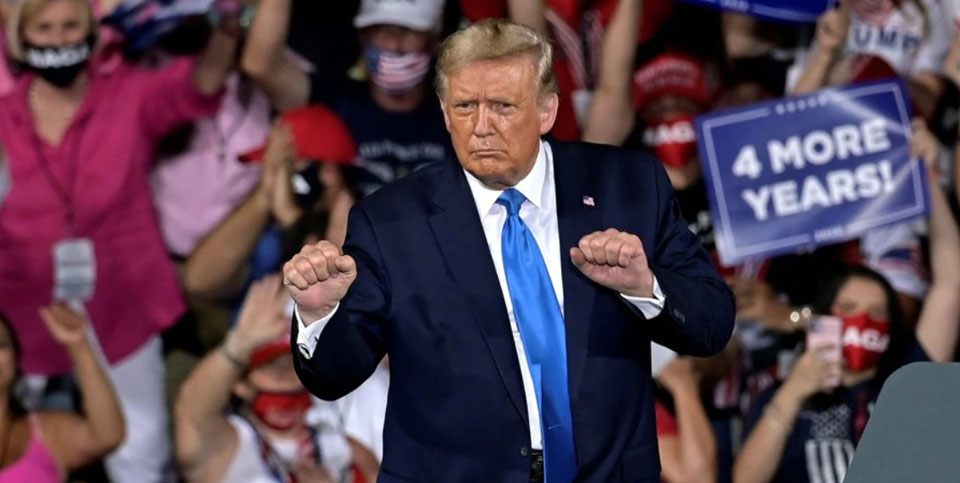 With every part of the country this weekend experiencing sharp increases in coronavirus infection rates, Trump continued, on the campaign trail, to deflect from the fact that he and the GOP-run Senate are blocking any meaningful relief package for a nation on its knees because of the pandemic.
Trump tried to attack Joe Biden on Sunday by saying the Democrat would listen to scientists if he was elected president.
Amid a scourge that has so far taken more than 219,000 lives in the U.S., Trump attacked Biden at a rally he held in Carson City, Nevada. The rally was attended by 5,000 people, most of them standing shoulder to shoulder and face to face without masks.
"If you vote for Biden, he will surrender your jobs to China. He will surrender your future to the virus. He's going to lock down, he's going to want us to lock down. He'll listen to the scientists. If I listened totally to the scientists, we would right now have a country that would be in a massive depression, instead of, we're like a rocket ship. Take a look at the numbers."
Trump proceeded then to take a look at no numbers, including the 64 million who, since the pandemic began, have sought either state or federal unemployment benefits. He also did not mention the millions falling into poverty and facing eviction and homelessness as a surging pandemic and winter close in over the nation.
People's World Election Town Hall – Oct. 25th – Register here.
So, as he refuses to support the Heroes Act which would provide the relief needed to slash both poverty and a surging virus infection rate, he chose instead to mock an opponent who would "follow the science" in dealing with the disease.
Dr. Anthony Fauci blasted Trump for this today, pointing out that when Trump himself became infected, he turned himself over to the very doctors and scientists he attacked at his Sunday rally.
While Trump, when he fell ill, was saved by scientists and doctors, he does not want the rest of us, if need be, to be able to benefit similarly. One can reasonably conclude that Donald Trump's remarks this weekend show he actually favors a higher death rate among American workers. And why not? It means fewer people to oppose him and the neo-fascist circles around him in the White House and in the halls of government. The massive dislocation and chaos of the pandemic can be used by right-wing demagogues to maintain their power.
The evidence that saving lives is of no importance to Trump started piling up at the very beginning of the pandemic. Since then, Trump has blocked life-saving COVID relief in the Heroes Act, dismissed and disputed science, sent dangerous and life-threatening messages to the people, ignored his own government's guidance, castigated public health officials, and now mocks Biden for following the science.
People thought that after he and 33 others in and around the White House fell ill, he would change his tune. Since he has not, it should be clearer than ever that saving the lives of U.S. workers is the last thing on his mind.
The results of the Trump policy are clear.
The U.S. has the highest COVID-19 case count and death toll of any country in the world, and the rates of new infections and deaths continue to soar.
There can be no more compelling reason to sweep him out of the White House on Nov. 3. It is no exaggeration to say that our lives depend upon it.