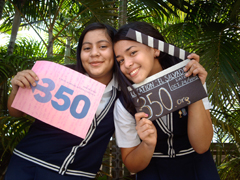 350.org, founded by author and activist Bill McKibben, sponsored over 5,200 events in 181 countries on Oct. 24. The purpose of the actions was to publicize the call of many scientists to reduce the amount of carbon dioxide in the atmosphere to no more than 350 parts per million.
Already the level of carbon in the atmosphere is over 380 ppm. Scientists such as NASA's James Hansen point to the dangers to the world if we do not reduce the levels of carbon dioxide, resulting in temperature increases of more than 6 degrees Fahrenheit.
At many demonstrations around the world, people gathered to form giant human chains displaying the number 350. People on every continent used the occasion to apply pressure for more serious action on the upcoming Copenhagen climate change negotiations in December that will agree on a framework for international agreements to tackle climate change following the expiration of the Kyoto Accords in 2012.
There were many creative demonstrations, including an underwater meeting of the Maldives cabinet, illustrating what will happen to their country as sea levels rise, including a demonstration on the shores of the Dead Sea where Israelis made a giant human "3," Palestinians made a giant "5," and Jordanians made a giant "0." In Abu Dhabi, people made a large "350" standing in front of what is currently the world's largest solar panel array.
While there are disputes about whether 1998 or 2005 was the hottest year on record, there is no dispute that the last ten years have been the hottest ever recorded, and certainly the hottest in the last 11,000 years, the entire period of human agricultural development.
One of the less understood aspects of global warming is that the warming is not evenly spread around the world, but is affecting some regions much more heavily. This is especially true of the Arctic, where summer ice is drastically reduced. There are extra dangers for the world because as the Arctic heats up, the permafrost which covers a wide band of the northern earth is starting to defrost, which will lead to the releasing of massive amounts of greenhouse gases that have been frozen for millennia. Unless we limit temperature increases due to human carbon dioxide and methane emissions, this could lead to runaway global warming, beyond human control. We need to act before we reach such a crisis, while we still have the opportunity through human action to change the direction of global climate change.
The Oct. 24 actions, involving tens of thousands, demonstrate that people all over the world are ready to take action, and understand the need to urge political leaders to take action to reduce carbon dioxide emissions faster than current plans envision.
Go to 350.org for many photos of the international actions, for explanations of the science behind the call to limit atmospheric carbon dioxide to 350 ppm, and to sign up for future activities.

Photo: www.flickr.com/photos/350org/4019349845/sizes/o/in/set-72157622455212282/ Creative Commons 2.0 Generic