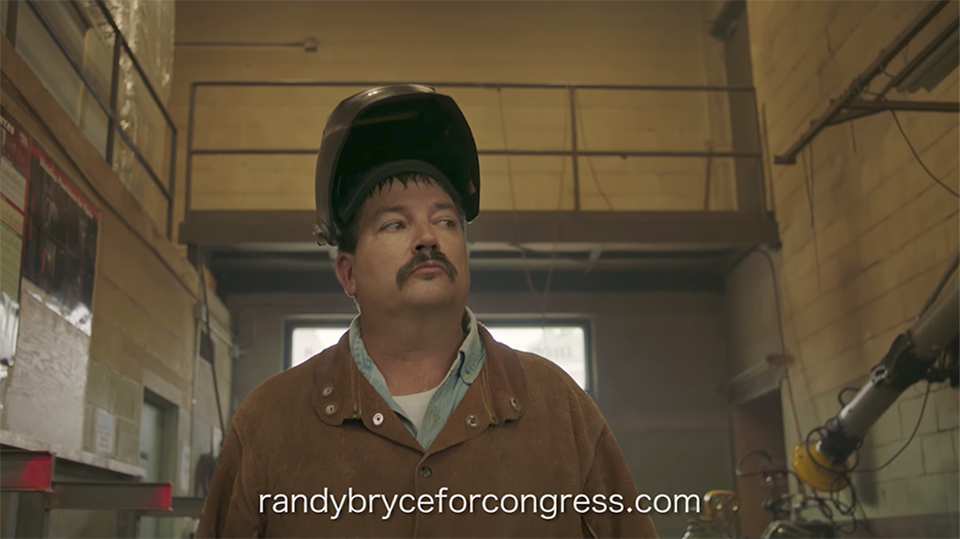 Union ironworker Randy Bryce is Paul Ryan's and Donald Trump's worst nightmare. Democrat Bryce, of Caledonia, is running for Congress in Wisconsin's 1st Congressional District, currently represented by House Speaker Ryan. He will face at least one primary opponent.
Bryce lit up the Internet when he launched his campaign June 19 with a poignant video on why he is running.
With his Ron Swanson-esque mustache, stickered hard hat and actual blue collar, Bryce cuts a genuine working-class hero figure in opposition to the caricatures of the "white working class" that both Trump and Ryan are eager to portray and claim they represent.
Where Trump dons a hard hat of hate and glorifies the "poorly educated," Bryce exudes a gentle strength that embraces caring "family values" in the best working-class all-for-one, one-for-all solidarity tradition, regardless of race, gender, nationality, class status, religion or creed.
The video, which went viral, ties Trump and Ryan to the loathsome Republican American Health Care Act, which threatens to take away health care from some 23 million Americans and give hundreds of billions of dollars in tax breaks to the wealthiest few. It opens with Trump congratulating Ryan for wrangling enough Republican votes in the House to repeal President Obama's increasingly popular Affordable Care Act and pass the disastrous GOP bill dubbed Trumpcare.
Cut to southeastern Wisconsin with its prairie and amber waves of grain. Bryce and his mother are sitting on the couch in her modest home. She describes the pain she experiences from multiple sclerosis as "hot knives." She says she is on 20 drugs, some costing thousands of dollars, and she has to take all of them.
The emotional scene ends with Bryce, a big guy, giving his little mom a hug, saying she's probably the most important person in his life.
Cut again to Bryce with his young son. A single dad, Army veteran and cancer survivor, Bryce has worked "the iron" for 20 years, providing insurance and other necessities for his family. Scenes of Bryce talking with the district's women voters and multi-racial community starkly contrast with the Republicans' constant displays of white and male supremacy.
The video is a beautiful and complex portrait of a white working class guy who has the strength and toughness of iron and the "soft power" that comes from caring deeply about others. We don't often see this in politics or the media, although there are millions of examples of such working class men of every race and ethnicity.
But what has been normalized in the Trump-Ryan era is a race to the bottom – socially, economically, politically, spiritually. The White House and Republican congressional leadership are pushing language, behavior and policy ever lower, trying to cloak their extremist ruling class values in blue collar garb.
Now, out of small town southeastern Wisconsin comes a credible and potent challenge to that. And the Internet has gone wild for it.
"Can someone confirm that Randy Bryce is indeed a real person before I finish up this @IronStache tattoo?" tweeted Chris Sacca of Shark Tank fame. Bryce has become a celebrity overnight.
But the campaign's successful launch alone won't put a win in the Democrats' column come 2018. Bryce and his campaign crew know that too. A Wall Street Journal article on the campaign, saying Bryce "could be Ryan's first serious challenger since entering Congress," noted that Bryce has a "professionally managed campaign and the prospect of significant financial backing."
Bryce, who has run for local office before, has brought on seasoned staff for this high profile race. Notably Bill Hyers, who cut his teeth with Kirsten Gillibrand's first congressional campaign in 2006, managing an upset win for the now U.S. senator in New York's 20th congressional district. Hyers honed his craft during Barack Obama's presidential campaigns and went on to manage Bill de Blasio's winning New York City mayoral run.
Even so, it would take something short of a miracle to pull off a victory here. Ryan was first elected to Congress in 1998 and in eight of his nine re-election campaigns since then he received more than 60 percent of the vote. Moreover, only one House speaker has lost re-election in post-Civil War America: Democrat Tom Foley, and that was during the 1994 GOP congressional landslide.
Wisconsin seems to have an equal share of progressive and conservative politics. It produced both Sen. Robert "Fighting Bob" La Follette and Sen. Joe McCarthy. It riveted the world with the 2011 democratic uprising to defend union rights, but went on to re-elect Republican Gov. Scott Walker, who led the anti-labor attack. Among the political challenges Bryce faces are wedge social issues that resonate among the district's voters. Bryce, a pro-union progressive, stands for LGBT and women's rights. Abortion and same-sex marriage are sure to be on the Republican playlist
Yet, Ryan now "owns" an unpopular and cruel health care bill. He is tied at the hip to a president with unprecedented disapproval ratings. Ryan's own approval ratings have slipped, according to one public opinion poll, which shows 51 percent of the district's voters disapproved of Ryan's job performance. In a recent email, Bryce noted that some 50,000 district residents are at risk of losing their health insurance. With health care on the line, those political tremors may be early warning signs of bigger quakes to come.
Bryce has a unifying message on health care, jobs, wages, immigration and equality. He wants to expand what it means to be "pro-life" to "taking care of each other." He sees greatness in the diversity of Americans and an opportunity to "learn about the rest of the world from within our own borders."
"This country is already great," he told the Down With Tyranny blog. "It is filled with great people of every shape and shade of humanity. The United States has more than enough for all of us. I don't have a problem with rich or poor people. I have a problem with greedy people. All that we need to do is to realize that when we light someone else's torch with our own, our torch doesn't lose its light. It makes things brighter for all of us."
If Bryce manages to turn that sentiment into concrete steps he will take if elected, along with grassroots organizing, fundraising and volunteers, we may be, as the working class bard Bruce Springsteen said, "countin' on a miracle" in 2018.