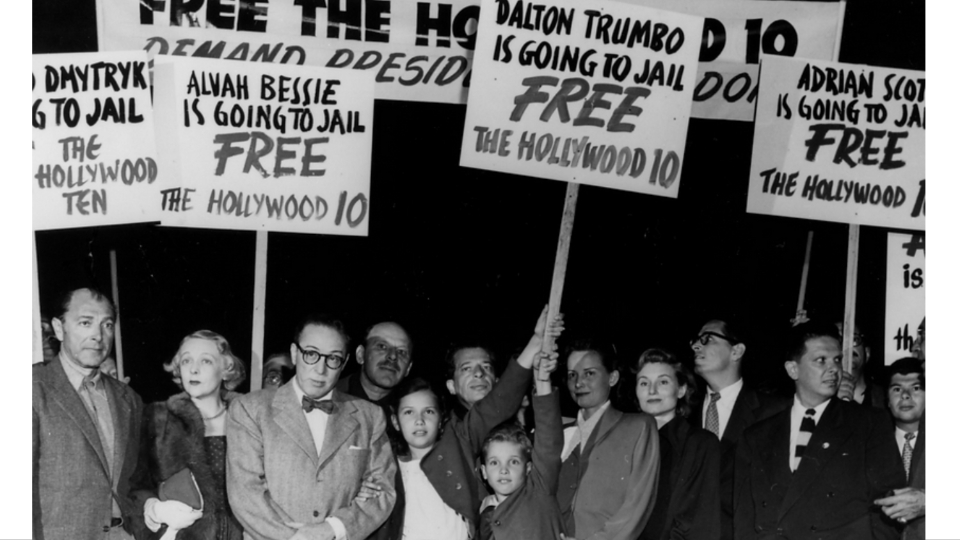 LOS ANGELES — Three museums are commemorating the 75th anniversary of the Hollywood Blacklist, the darkest period in Tinseltown history. What happened during this period of rightwing repression? As actor Humphrey Bogart put it: "We saw it—and said to ourselves, 'It can happen here.' We saw American citizens denied the right to speak by elected representatives of the people! We saw police take citizens from the stand like criminals, after they'd been refused the right to defend themselves. We saw the gavel of the Committee Chairman cutting off the words of free Americans. The sound of that gavel, Mr. Thomas, rings across America, because every time your gavel struck it hit the First Amendment to the Constitution of the United States."
Bogie asserted this in a "Hollywood Fights Back!" radio program in 1947, which is heard in Judy Chaikin's 1987 documentary Legacy of the Hollywood Blacklist, screened on March 26, 2023, at the Hollywood Heritage Museum as part of a program of the same name. The Emmy Award-nominated nonfiction film is narrated by Burt Lancaster, who had also participated in the "Hollywood Fights Back!" broadcasts, organized by the Committee for the First Amendment, composed of film community leftists and liberals who opposed the Blacklist.
Chaikin's 60-minute documentary chronicles the motion picture purge, when hundreds of talents were subpoenaed by the House Un-American Activities Committee to testify about subversion and Communist infiltration in Tinseltown. (Some artists, including Maltese Falcon author Dashiell Hammett, poet Langston Hughes, folksinger Pete Seeger and Spartacus author Howard Fast, were also summoned to appear before Senator Joe McCarthy's Senate Permanent Subcommittee on Investigations.)
On October 27, 1947, John Howard Lawson became the first member of what came to be known as the "Hollywood Ten"—seven screenwriters, two directors and one producer—to provide testimony to HUAC. They declined to answer questions regarding their union and political ties, including the million-dollar query: "Are you now or have you ever been a member of the Communist Party?" Standing on their First Amendment right, the Ten believed this prying into personal affiliations was unconstitutional governmental meddling. In particular, the filmmakers were concerned that if they answered the Committee's inquiries about themselves, they'd then open themselves up to being asked about the associations of friends and colleagues.
But the Hollywood Ten's refusal to be Quislings to HUAC's quizzing, in sometimes testy testimony broadcast coast-to-coast on live radio, came at a high price. The Ten were charged with contempt of court and they were all forced to pay fines and serve up to a year behind bars in the land of the free. In addition to their imprisonment, movie moguls announced studios wouldn't employ "Communists," who were banned from working in the motion picture industry.
In 1951 a second wave of blacklisting erupted when prominent actor Larry Parks became the first of around 300 more members of the creative community to be blacklisted, mainly for refusing to recant their own political activities and name the names of other suspected radicals.
Chaikin's excellent Legacy of the Hollywood Blacklist chronicles all this, mainly from the point of view of the wives and children of the persecuted talents who paid such steep prices for not becoming informers. After the screening of the documentary at the Hollywood Heritage Museum, board member Julie Fleischer, who produced the event and is a script supervisor of TV shows including Will & Grace, The Big Bang Theory and Paramount's Frasier reboot, moderated a panel that included Chaikin and some of her film's interviewees and other children of blacklisted artists. They included:
​​Becca Wilson, daughter of Oscar-winning screenwriter Michael Wilson (who was denied screen credits for co-writing 1957's The Bridge on the River Kwai and 1962's Lawrence of Arabia); Vicki Crawford, daughter of Oliver Crawford (who wrote Star Trek); Michael Collins, son of screenwriter Richard Collins (who co-wrote 1944's Song of Russia and named 26 names in his HUAC testimony), and actor Dorothy Comingore (who co-starred in 1941's Citizen Kane and wouldn't inform to HUAC). The panelists recounted the toll that persecution took on their families. Becca remembered watching a movie her father wrote at a theater and how he cried at the end when the credits rolled—because his name was omitted.
From the Museum's floor, Andy Parks, son of actors Betty Garrett and Larry Parks, recalled the heartbreaking March 21, 1951, testimony of his father who pleaded with the Committee: "I will tell you everything that I know about myself… I would prefer, if you will allow me, not to mention other people's names. Don't present me with the choice of either being in contempt of this Committee and going to jail or forcing me to really crawl through the mud to be an informer… I don't think this is American… [It] is more akin to what happened under Hitler… So I beg of you not to force me to do this." Despite cracking under pressure and divulging others' names, HUAC spitefully blacklisted Larry Parks anyway.Located across from the legendary Hollywood Bowl, in a barn converted into a movie studio by Cecil B. DeMille to shoot a Western in 1914, what's now the Hollywood Heritage Museum is a reliquary of artifacts from the days of silent movies and Hollywood's golden age, a veritable shrine to La-La-Land lore and moving picture pioneers. But Becca Wilson warned that the Blacklist, which started three quarters of a century ago, is not just ancient history. Striking a cautionary note, Becca quoted from her father's 1976 acceptance speech for the Writers Guild of America's Laurel Award:"I feel that unless you remember this dark epoch and understand it, you may be doomed to replay it. Not with the same cast of characters, of course, or on the same issues. But I see a day perhaps coming in your lifetime, if not in mine, when a new crisis of belief will grip this republic; when diversity of opinion will be labeled disloyalty; and when extraordinary pressures will be put on writers in the mass media to conform to administration policy on the key issues of the time, whatever they may be. If this gloomy scenario should come to pass, I trust that you younger men and women will shelter the mavericks and dissenters in your ranks, and protect their right to work. The Guild will have the use and need of rebels if it is to survive as a union of free writers. This nation will have need of them if it is to survive as an open society," insisted Michael Wilson.
As portents of a "gloomy scenario" in our own time, Becca Wilson cited "books banning" and the fact that Donald Trump's "first consigliere" was none other than witch-hunting Senator McCarthy's righthand man, Roy Cohn, one of the Red Scare's most despicable grand inquisitors.
Along with the Hollywood Heritage Museum's memorabilia of Rudolph Valentino and Mary Pickford, et al, screenwriter/director Allison Burnett loaned HHM historic Blacklist mementos exhibited in display cases to enhance the Legacy screening and panel. Ken Levy, son-in-law of screenwriter Robert Lees, who wrote comedies such as 1948's Abbott and Costello Meet Frankenstein, gushed that the Museum's sold-out show was "one of the best Blacklist events I've ever attended." In 2017, Levy co-organized the 70th anniversary commemoration of the Hollywood Blacklist at the Writers Guild theater in Beverly Hills, which featured TV/movie actors and relatives of persecuted talents reenacting blacklistees' HUAC testimony.
Another relative of a purged screenwriter attending the Legacy program was Nancy Escher, daughter-in-law of Dalton Trumbo, who won an Academy Award using a pseudonym for 1956's The Brave One and is widely acknowledged as the scribe who broke the Blacklist, when he received screen credits for 1960's Exodus and Spartacus. On April 29, Escher is introducing that epic drama about the gladiator-led slave revolt against the Roman Empire during the Academy Museum of Motion Pictures' "The Hollywood Ten at 75" film series, which is dedicated to the recently deceased Blacklist historians Victor Navasky, author of Naming Names, and Dave Wagner, co-author of Radical Hollywood and Tender Comrades.
I'm presenting the April 13-30 screenings of "The Hollywood Ten at 75" movies, which kicked off with a double feature of 1943 World War II morale boosters. Tender Comrade stars Ginger Rogers and was written and directed by two members of the Hollywood Ten: Dalton Trumbo and Edward Dmytryk. The desert drama Sahara stars the chain-smoking Bogie, and was written by the first member of the Hollywood Ten to testify, John Howard Lawson, purported leader of the Hollywood branch of the Communist Party. Lawson's granddaughters, Nancy Lawson Carcione and Andrea Lawson, joined me on the Academy Museum's stage for a discussion between the two movies.
The West Coast debut of "Blacklist: The Hollywood Red Scare" is taking place May through September at the Skirball Cultural Center, according to its website, "with newly added artifacts. Blacklist: The Hollywood Red Scare shines a spotlight on the proceedings, investigations, motives, and choices of those caught in the crosshairs—including the many Jewish creatives and executives who suffered under and enforced the blacklist. The result is an emotionally complex and compelling exhibition that demonstrates how the politics of Hollywood can shape the entire country. The exhibition is organized by Jewish Museum Milwaukee."
The educational program includes online classes and screenings of Blacklist-related movies, such as 1973's The Way We Were, starring Robert Redford and Barbra Streisand, and aims to "[e]xplore the history and impact of the Hollywood Red Scare and its contemporary implications for civil liberties, propaganda, and shifting definitions of American patriotism."
In addition to these three Los Angeles museums, in October 2022 Turner Classic Movies presented "75th Anniversary of the Hollywood Blacklist," airing mostly vintage films for three weeks with a special theme highlighting what Hollywood Ten screenwriter Alvah Bessie called "the Inquisition in Eden." During this dire period U.S. conservative cancel culture ran amok, weaponizing government to persecute those who were considered to be "woke" back in the 1940s and 1950s.
From the Salem witch trials to the Espionage and Sedition Acts to HUAC and beyond, the witch-hunters and inquisitors have always been among us. On February 2, 2023—not 19531—the House of Representatives passed House Concurrent Resolution 9, "Denouncing the Horrors of Socialism," with a vote of 328 Yeas, 86 Nays and 14 Present, declaring: "Whereas the United States of America was founded on the belief in the sanctity of the individual, to which the collectivistic system of socialism in all of its forms is fundamentally and necessarily opposed: Now, therefore, be it
"Resolved by the House of Representatives (the Senate concurring), That Congress denounces socialism in all its forms, and opposes the implementation of socialist policies in the United States of America." On February 7, 2023, the Senate referred the resolution to the Judiciary Committee.
At Capitol Hill on March 23, 2023, after gun control advocates Patricia and Manny Oliver, whose son had been killed at 2018's Parkland school mass shooting, disrupted a House Judiciary Committee hearing, they were removed from the hearing room. Manny was restrained, cuffed with his hands behind his back and pinned down on the hallway floor by three officers who were then joined by numerous other guards. On April 6, 2023, two young Black lawmakers who oppose gun violence were expelled from the Tennessee House of Representatives (and later reinstated).
Learning about yesterday's anti-communist Reds-under-the-beds hysteria can empower people today to resist the rising tide of book banning, school curriculum gagging, censorship, disinformation, history denial, expulsions, redbaiting and more. If we don't, as Michael Wilson warned, we "may be doomed to replay it."
For more info see: Academy Museum of Motion Pictures, Hollywood Heritage Museum, and Skirball Cultural Center.
We hope you appreciated this article. Before you go, please support great working-class and pro-people journalism by donating to People's World.

We are not neutral. Our mission is to be a voice for truth, democracy, the environment, and socialism. We believe in people before profits. So, we take sides. Yours!

We are part of the pro-democracy media contesting the vast right-wing media propaganda ecosystem brainwashing tens of millions and putting democracy at risk.

Our journalism is free of corporate influence and paywalls because we are totally reader supported. At People's World, we believe news and information should be free and accessible to all.

But we need your help. It takes money—a lot of it—to produce and cover unique stories you see in our pages. Only you, our readers and supporters, make this possible. If you enjoy reading People's World and the stories we bring you, support our work by donating or becoming a monthly sustainer today.