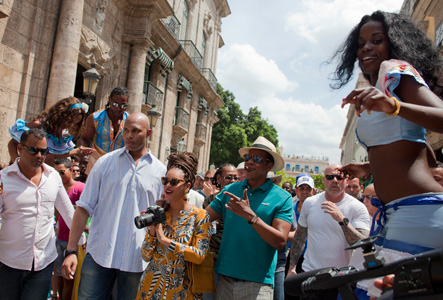 "We must send a strong message to Beyonce and Jay-Z that the United States of America will not tolerate this kind of provocation," declared Rep. Mario Diaz-Balart, R-Fla., responding to their recent trip to Havana, Cuba. The couple were in Cuba as part of a cultural exchange.
The Florida lawmaker accused President Obama of "permitting the crisis to escalate dangerously." He continued, "While the president has allowed himself to be distracted by North Korea, Beyonce and Jay-Z were engaged in threatening activities right in our own hemisphere." If this was not absurd enough Diaz-Balart went on the say President Obama was "soft on Beyonce."
This is "a ridiculous but all too common outdated and irrational U.S. policy to Cuba." responded Gail Walker director of Pastors for Peace, an organization that leads the annual US/Cuba Friendshipment Caravan.
Walker continued, "There are real life impacts to these delusions, more serious than cigars and rum," referring to Cuba's cutting-edge diabetes treatments denied to U.S. citizens because of the embargo.
Because of the tea party's attack, the Carters' (Jay-Z's given name is Shawn Carter) recent trip has turned into a source of discussion, with people from all walks of life offering opinions.
Indeed, the fact that the two African-American cultural icons found their way to socialist Cuba is striking a nerve that Sean Penn and Oliver Stones' excursions never did.
Jay-Z and Beyonce's strong support of President Obama may also be a reason. In "Open Letter," a lyrical response to the controversy, Jay-Z jokes "Obama said 'chill you gonna get me impeached. But you don't need this shit anyway chill with me on the beach." The rapper was just getting started,
"I'm in Cuba, I love Cuba.
This Communist talk
it's so confusing
when it's from China
the very Mic I'm using…"
The response to "Open Letter" has been electric. He "went in on the Republicans" according to one of thousands of Americans who have written messages supporting the couple. Social media sites were flooded with comments like "somebody pissed my boy jay off" and "the old jay's back yall in trouble now!"
The controversy has led many to question the imposed restrictions and by all accounts interest in licensed travel is going up. State Senator Bill Perkins. D-N.Y., captured this sentiment, "We should be sending letters of support and congratulations to Beyonce and Jay-Z. They are showing us how cultural exchanges should be done".
Perkins went on to say, "I will be applying for the appropriate license and visiting Cuba myself".
Indeed, a growing number of Americans do not share Diaz-Balart's views. Even fellow Arizona Republican, Sen. Jeff Flake sees the writing on the wall declaring on Twitter, "Fine by me. Every American should have the right to travel there."
Indeed, now is the time to get past the rhetoric and have a real discussion, about the right to travel and beyond that, the real social benefits socialism has provided the people of Cuba.
Photo: In this April 4, photo, U.S. singer Beyonce and her husband, rapper Jay-meet street performers on stilts as they tour Old Havana, Cuba. On April 9, U.S. Treasury officials said the trip by Beyonce and Jay-Z to Cuba was licensed as an educational exchange. Ramon Espinosa/AP