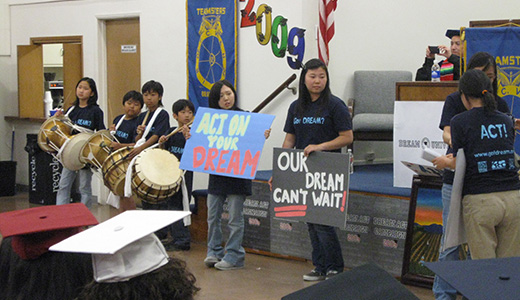 By signing the first phase of the California Dream Act July 25, Gov. Jerry Brown has made it possible for undocumented college students in the state to apply for privately funded scholarships administered through the University of California, California State University and community college systems.
The legislature had previously passed similar legislation, only to have it vetoed by former Republican Gov. Arnold Schwarzenegger.
A companion bill, AB 131, is now before the state Senate Appropriations Committee. It would let undocumented students also apply for Cal Grants and other kinds of state financial aid.
State Senator Gil Cedillo, D-Los Angeles, introduced both bills.
Unlike the federal DREAM Act now before Congress, California Dream Act legislation does not include any provisions regarding citizenship, an issue over which states do not have jurisdiction.
At the signing ceremony at Los Angeles City College, Brown said he is "favorably inclined" to sign AB 131 as well, but won't make a decision until it reaches his desk.
"I'm committed to expanding opportunity wherever I can find it, and certainly these kinds of bills promote a goal of a more inclusive California and a more educated California," he told reporters after the signing ceremony.
Brown called AB 130 "one piece of a very important mosaic, which is a California which works for everyone and a California that understands where our strength is."
Undocumented students who graduate from a California high school after attending for at least three years, and meet other requirements, are already eligible to pay in-state tuition under a 2001 measure, AB 540, but have not been eligible to receive financial aid.
Opponents claim the California Dream Act will take scholarship funds away from U.S. citizens. A spokesperson for the anti-immigrant Federation for American Immigration Reform said institutions that get tax exemptions shouldn't do things that encourage undocumented people to stay in the U.S.
That argument was countered in a statement issued by state Sen. Leland Yee, D-San Francisco. Said Yee, "The Dream Act is not only the right thing to do for the children of our state, but it is also the right thing to do for California's economic prosperity. We rightfully invest in all our kids with public K-12 education, and we should also invest in them with higher education."
"Regardless of the debate surrounding immigration, it's time to stop punishing kids for the decisions of their parents," Yee said.
Photo: A DREAM Action Day event in Orange County, Calif., May 2008. Korean Resource Center CC 2.0