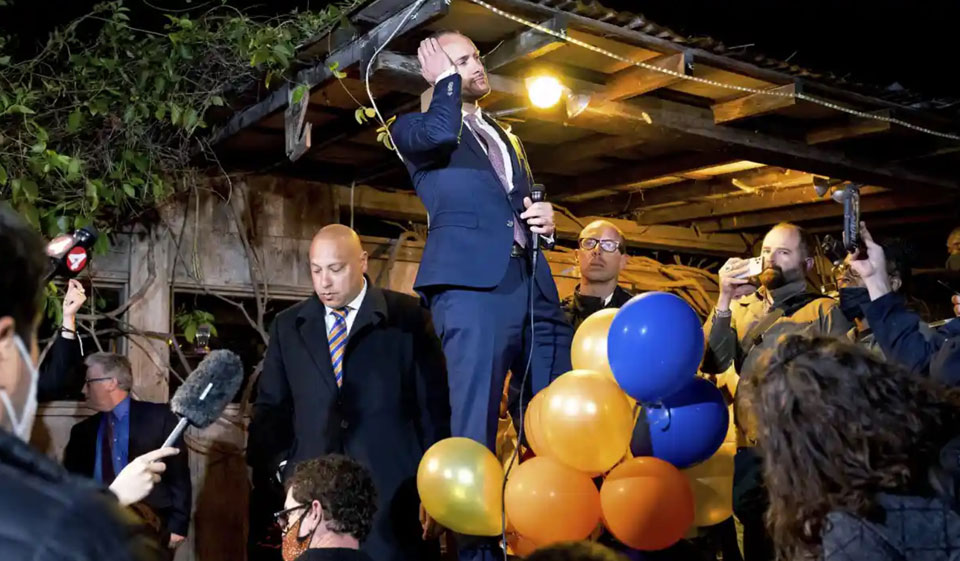 LOS ANGELES—Progressives and their allies, including unions, received warning signals from California voters in two high-profile primary races on June 7, from voters in Los Angeles and San Francisco.
The San Francisco result, which saw progressive District Attorney Chesa Boudin fall victim to a right-wing recall campaign which stoked fear of crime, was worse. He lost by more than 25,000 votes, and a 39%-61% margin.
Boudin is one of a group of progressive prosecutors elected since 2018 on pledges to make police more accountable, to de-emphasize minor "crimes," such as marijuana possession and loitering, and to engage in more community-oriented policing. Other such DAs, notably in Philadelphia, are also under fire.
In Los Angeles, Congressional Black Caucus Chair Karen Bass (D) won 38% of the vote and second place in the supposedly non-partisan mayoral primary in the nation's second most-populous city. But first went to an outright right-winger, multimillionaire businessman Nick Caruso, whose rhetoric is filled with code words. He won 41%.
More detailed analytical reports on California races will be forthcoming from People's World  correspondents in that state.
California had one of  seven primaries around the U.S. on June 7, including New Jersey, Iowa and Montana. That last state, of all places, offers progressives a cause for optimism, in its newly created—or, to be precise, recreated—1st Congressional District.
Golden State results this fall could determine whether House Speaker Nancy Pelosi (D) of San Francisco stays in her chair or must yield it to Republican leader Kevin McCarthy, also a Californian—and whether House committee chairs, including that of the Education and Labor panel, would pass to extreme right-wingers.
McCarthy and Pelosi easily led their primaries. She won 77% of the vote. He got 53% in a district that went for Trump by 25 percentage points. He'll face English teacher Marisa Wood, a progressive who won 28%.
McCarthy kowtows to former Republican Oval Office occupant Donald Trump. He tried to sabotage the committee probing the Jan. 6, 2021 Trumpite coup d'etat attempt, invasion and insurrection in the U.S. Capitol. And he pushes Republican voter suppression schemes, among other ideas. He's also anti-union.
The Golden State also saw heated races for several open congressional seats in a delegation that is heavily Democratic—and one in which the party and its progressive allies hope to increase their margin, as a key to holding or expanding Democrats' narrow U.S. House majority.
But in at least one case, in a safe Democratic district, the more-corporate Democrat advanced to the November general election.
First, the bad news:
Boudin attributed his defeat to the right-wing propaganda, but even before the balloting began he knew he was in trouble, warned by public opinion polls, public worry about recent well-publicized incidents—even though city crime rates fell during his tenure–and a recall of city school board members last year, when the right wing opposed its efforts to rename schools.
"This is a movement not a moment," Boudin told supporters, the San Francisco Chronicle reported, "Our cause is righteous. And we have already won! And we have already won! We are part of a national movement that understands we can never incarcerate our way out of poverty."
Boudin will leave office in 10 days, for a mayoral-appointed temporary replacement, having served two and half years of his four-year term.
San Francisco saw an outright, and landslide, progressive loss. Los Angeles's mayoral runoff in November pits the chair of the Congressional Black Caucus, Karen Bass, against billionaire right-wing businessman Nick Caruso.
Caruso, a real estate developer and former police commission chair, is trying to buy his way into the Mayor's chair, while running a thinly veiled racist campaign railing against homelessness, crime and corruption. He claims crime went down 30% on his watch on the police panel. Caruso bought himself a place in the runoff against Bass by spending at least $34 million of his own money, with three-fourths of it on TV ads.
Still, Bass has several positive factors working for her. One is that despite being outspent 17-to-1 by Caruso, she ran almost even with him. Another is the third-place finisher, former State Senate President Kevin de Leon (D), also a progressive, pulled 7%. His voters are unlikely to back Caruso. And a third is Los Angeles' demographics. The city's majority has been people of color for years. The question, especially among Spanish-speaking voters, will be turnout.
Bass spokeswoman Anna Bahr told Axios, "Voters have a choice in this race between a billionaire real estate developer who has never built a single unit of affordable housing despite 50,000 people living on our streets, and a Black community organizer who has spent her life running toward this city's crises and solving them."
Now for the rest:
The Golden State's congressional primaries were a mixed bag. Like the L.A. mayoral race, they winnowed fields to the top two finishers, regardless of party. So, for instance, in the open 15

th

 congressional district, where incumbent Jackie Speier (D) is retiring, her successor will be a Democrat: Kevin Mullen (43.6%) in the primary David Canapa (24.9%) in a district Democratic presidential nominee Joe Biden carried by 57 percentage points in 2020.
District 21 was redrawn to make it 49% Latino and 45% white and incumbent Republican David Valadao crashed in the primary. He won second with 27% in fragmentary returns and will face a rerun with Democratic State Rep. Rudy Salas (43%). Valadao angered his party's Trumpites by voting to impeach the disgraced and criminal former Republican Oval Office occupant. They ran a Trumpite against him in the primary—and that candidate was in double digits, too.
In District 1, which hugs the California coast from the Oregon border down almost to San Francisco's northern suburbs, right-wing Trumpite Republican incumbent Doug LaMalfa will face military veteran Max Steiner (D), whose positions are a mixed bag of progressive and conservative stands.
Steiner denounces "persistent economic inequality at home and assertive rivals—China and Russia [as he calls them]—overseas." He supports a stronger Voting Rights Act, opposes the push for elected politicians to change the results of elections, and seeks to ban gerrymandering at the federal level.
Steiner also faults his own party's "pitiful" response to the GOP attack on democracy, backs abortion rights, but walks a fine line on gun control: He'll let people buy semi-automatic weapons, but only after a background check. That's no surprise: The district is 75% white, 15% Latino and a swing seat. In 2020, Democratic nominee Joe Biden beat Trump by 2% within its current boundaries.
It's the same story in District 3, which runs from the northeast down to the suburbs of Sacramento, and District 13. The 3rd District is a swing seat which Trump took by two percentage points in 2020. Democrat Kermit Jones (43.2%) will face Republican Kevin Kiley (33.4%). Another Democrat, David Peterson, running to Jones' left, pulled 13.4%.
Jones, a former Navy flight surgeon, who had a health care fellowship with the Obama administration, has tangled with the mess the U.S. calls a "system" and wants to improve it, rather than junk it for Medicare For All, for example. He would also push "affordable high-quality education" for all, without being specific.
In District 13, which includes Modesto, Merced and the Central Valley, the Democrat, State Rep. Adam Gray, D-Merced, who advances to November, is more conservative than Jones, the 3rd District nominee.
Gray won 35%, in a light turnout, to Republican nominee John Duarte's 29.5% in a district Biden won by 12 percentage points. Unions, including the state building trades, the California Teachers Association, the Fire Fighters' Modesto and Merced locals, the National Union of Health Care Workers and AFSCME, backed Gray. So did the state Dem Party and leaders.
But Gray was silent on Medicare For All and on the Republican threat to democracy. A more-progressive Democrat ran behind the top two.
Another Republican in trouble is Mike Garcia, a Trump shill who represents northern Los Angeles County in the 27th. He barely won a 2021 special election for it and Democrat former State Rep. Christy Smith, who lost to him then by 333 votes, lost again 49.6%-33.4%. The catch is there were two other Democrats in the four-candidate race and they took a combined 11.2% of the vote in a district Biden carried by 12%.
The California Democratic Party, the California Federation of Teachers, four members of the U.S. House, 22 members of the California State Legislature, seven state elected officials, and the L.A. Times, which calls Garcia "a Trump enabler and a threat to democracy," all back Smith.
One other big progressive hope may be in, of all places, Montana. The state regained a congressional seat, which it lost several decades ago, and now has two districts. The GOP-dominated state legislature basically followed its old divides: The larger geographically and more right-wing farmer-rancher 2nd district on the east and the mountainous. More populated and more progressive—and a century ago, downright radical–1st district in the west.
And that's the open seat, in an area Trump won by seven percentage points. He won the east by 27. The west, including Missoula and Billings, is also where progressive attorney Monica Tranel won two-thirds of the Democratic primary vote. Her GOP foe has yet to be determined, but the leader, narrowly is scandal-scarred former Trump Interior Secretary Ryan Zinke.
Tranel campaigns against corporate greed, for fair taxation—she wants to fully repeal the 2017 Trump-GOP tax cut—and enact the Protect The Right To Organize (PRO)_Act, labor's #1 legislative priority.
"Right now, our home, Montana, isn't being treated with the respect and fairness that it deserves. Our communities are being divided and people in the middle can't get ahead no matter how hard they work," she says.
"I'm running for Congress because Montana is becoming a playground for the rich and I refuse to lose the home that I grew up in, worked for my entire life, and love with my whole heart."
"Unions brought us living wages, safe working conditions, and dignity and respect in the workplace," says Tranel. "In the 1950s, one out of every three workers belonged to a union, and Montana was a proud union state. But today, only 10% of workers belong to a union, people are not always paid living wages, and the new economy does not give a pathway for workers to advance in their careers or have security in their future."