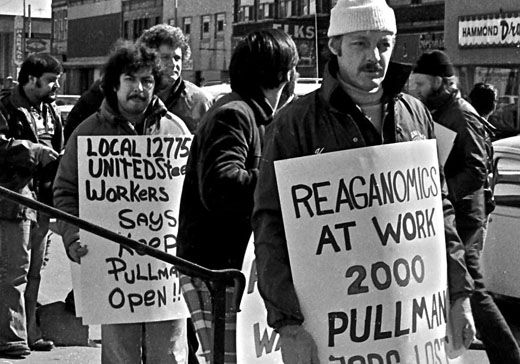 Kenneth William Appelhans, a staunch fighter for the rights of all workers, died June 29 at the age of 75.
Born on February 25, 1936, to William Kenneth Appelhans and Elizabeth (Seitz) Appelhans in Chicago, he was the oldest of six children including Dorothy, Donna, Bill, Ed, and Liz.
Ken spent his entire life fighting for the rights of poor and working people. He believed that racism and exploitation of others is the root of all evil. He served as a proud United Steelworkers Union member at Pullman Standard in Chicago where he helped build the last of the Pullman Amtrak cars that still run on the nation's tracks today. He was one of the leaders in the strike to prevent the plant closure and appeared in the 1983 documentary, "The Last Pullman Car", that tells the story of that struggle.
Ken took pride in his work and strove for a high level of craftsmanship in whatever he did. His work ethic flatly rejected any contradiction between being the best worker one can be and a fighter for workers rights and justice on the job.
He retired from Chicago's LaRabida Children's Hospital in 2001 after 14 years as a maintenance and carpenter worker, his work ethic and commitment to struggle ever present. What he built for the staff and kids at LaRabida remain there today.
Ken was known as opinionated and courageous when it came to social justice. He made sure everyone he met knew how important it was to fight against corporate greed. He was a self-styled "agitator." He believed workers need to unite in the fight to win a better life for themselves and their families, and believed socialism was the answer. He was a leader of the Communist Party clubs at both Pullman and LaRabida. On and off the job, he led by example.
Ken was a working-class intellectual who enjoyed learning science, art and music. From astrophysics to classical guitar to film, Ken had an insatiable thirst for knowledge and keen insights. He was also a savvy sail-boater and captained a boat on Lake Michigan, along with his brother Bill Appelhans and close friends Bill "Mac" Mackovich, Doug "Dutch" Wagner and Scott Marshall, until the sport got too expensive and out of reach for working-class people.
Ken was a loving husband to his wife of 19 years, Alice Bush of Gary, Ind., an organizer for the Service Employees Union. "We shared the same political view and were true comrades in the struggle. Our politics are what brought us together and kept us united," she said. Their relationship grew out of their hard fought but unsuccessful effort to bring a union to LaRabida Children's Hospital.
"Nobody at the time knew the silver lining in that cloud would shine as bright and beautiful as the next 19 years of their time together," said Ken's brother, Bill.
An extremely proud father of two sons and one stepson, Steve, Mike (first wife Linda) and Shane Bush, Ken often said how privileged he felt to have such great kids. Steve Appelhans is a computer architect, filmmaker and father who lives in Minnesota, Mike Appelhans, living in Gary, is a physics and math teacher and holds a degree in civil engineering graduating Summa Cum Laude from Purdue University, and Dr. Shane Bush is a resident physician at Resurrection Hospital in Chicago. He was also the proud grandfather of two, granddaughter Ruby (Steve), affectionately called "the Rubster," and a grandson, Nickolas (Shane).
Ken was preceded in death by his mother, father, sister Dorothy and brother Ed. Besides his wife, sons and grandchildren, Ken is survived by his beloved sisters Liz (Andy), Donna, and brother Bill (Carolyn), nieces Kirsten (Bill), Julia, Roz (Liz), Lisa (Donna), and nephews Danny (Donna), Kennan, Martin (Ed) and numerous friends, buddies, union brothers and sisters and neighbors.
Every member of his family, his comrades and friends were near and dear to Ken, his wife Alice said.
At a July 3 memorial at their home in Gary, friends and family gathered and remembered Ken with tears, laughter and numerous stories and memories with shouts of "Ken Appelhans, Presente!"
Photo: Ken Appelhans, far right, leads union pickets in 1983 at Sen Richard Lugar's office in Hammond, Ind., demanding that the government "Keep Mass Transit Rolling," to save the jobs at Pullman Standard. (Scott Marshall/PW)