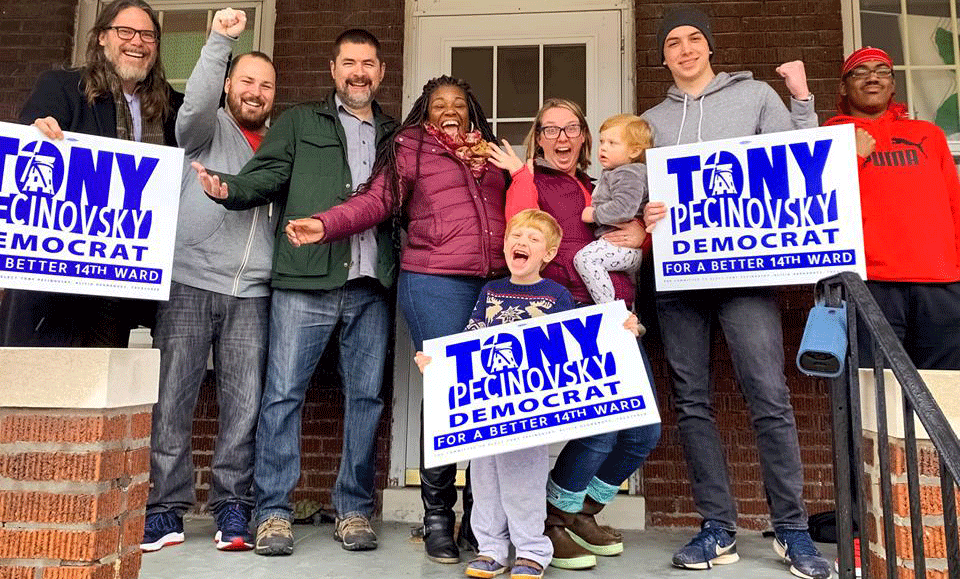 ST. LOUIS—How can a local politician in a working-class ward stand against the interests of working-class people? This was the question before voters in this city's southside 14th ward during last week's municipal election when 41-year-old labor activist Tony Pecinovsky racked up 48 percent of the vote, nearly turning out longtime incumbent Carol Howard in the Democratic primary.
"Raising the minimum wage is a big issue for community members," according to Pecinovsky. In 2015, Howard voted against legislation to raise it to $12 an hour. It passed anyway, but after a legal skirmish in which the Republican-dominated state legislature blocked the raise in court and retroactively stripped the city of its right to pass such legislation, low-wage workers saw their pay abruptly return to $7.70.
Raising poverty-level wages is important to the entire community, Pecinovsky explains, pointing out that 35,000 people in St. Louis live off the minimum wage. "When low-wage workers make more, they have more money to spend in the community. That keeps local businesses going. Families are more stable."
Pecinovsky's campaign was launched last September on a wave of electoral activism that followed a successful statewide campaign to overcome the legislature's "right-to-work" legislation via a ballot initiative.
"A group of folks were upset with our alderperson," Democratic Committeewoman Madeline Buthod told People's World. Besides the betrayal of community interests on her anti-minimum wage vote, Buthod said, "Howard was in favor of every tax abatement that came our way. Those tax abatements take money from our city schools."
"Tony had a history of working with the labor movement. He was a big part of getting the minimum wage passed," Buthod said, adding that Pecinovsky was a big presence in the ward collecting signatures to put the initiative to kill the right-to-work bill on the ballot. "We trusted him to do what's right because of his history," Buthod concluded.
The minimum wage issue wasn't the only thing that had Howard's constituents up in arms. Many also took issue with the neglect of neighborhood amenities in favor of big money projects. "Look at our sidewalks, they're all torn up," one senior citizen told People's World. "Then I hear she was planning on using our tax dollars to build a new major league soccer stadium!"
A pending proposal to privatize the city's St. Louis-Lambert Airport was also a focus for concern. "Tony was adamantly against it, but Howard won't take a strong stand," said Buthod. 14th ward residents are worried that selling the airport, one of the city's biggest assets, could result in the loss of hundreds of jobs and put St. Louis on a slippery slope where "you stick a middleman between city services and the people. We don't need a middle man making money off us," she said.
Besides the 14th Ward Democrats, which Buthod co-chairs, Pecinovsky was supported by an array of progressive and labor groups across the city: STL Young Democrats, Planned Parenthood, the Coalition of Black Trade Unionists, Mobilize Missouri, Operating Engineers and Painters Unions, SEIU, and Action St. Louis.
Howard's campaign did not offer a defense of her vote against raising the minimum wage nor of her corporate spending priorities. Rather, it focused on Pecinovsky's long-time work with the Communist Party, which itself has a long history of supporting working class issues in St. Louis, especially in the labor movement and with such groups as the Coalition of Black Trade Unionists.
"Tony is a stand-up working-class guy," said Lew Moye, president emeritus of St. Louis CBTU, taking issue with the Howard camp's red-baiting campaign. "That makes the anti-communism ineffective." He cited what he called Pecinovsky's long history of opposing racism and sexism: "He's a true champion of the working class."
Pecinovsky is president of the St. Louis Workers Education Society, a community center located near the 14th ward. "WES has made itself a home for grassroots organizations," said Pecinovsky. The center offers labor history, political education, and know-your-rights-on-the-job curriculum to local unions, as well as shop steward trainings and union newsletter design work. WES was a place that brought grassroots forces together while the community was protesting the police killing of African American teenager Michael Brown in 2014.
A stream of social media attacks on Pecinovsky by Howard culminated the week before the election with a flyer depicting him standing next to Lenin and a screenshot of Pecinovsky's many articles on the Communist Party's website.
Megan Green, a candidate for the city-wide position of President of the Board of Alderman, who endorsed and was endorsed by Pecinovsky, was similarly attacked. The St. Louis Police Association's Facebook page photoshopped Green's face over a poster of Mao Zedong and declared "Better dead than red!" Green ended up with 31 percent of the vote in a three-way race.
While some voters—especially among the older generations—may have been swayed by the red-baiting campaign, others were unaffected or even reacted to it by increasing their opposition to the incumbent, said Pecinovsky. Ben Girard, Pecinovsky's campaign coordinator, said that canvassers reported some voters told him the campaign was a "breath of fresh air." Another canvasser reported that an elderly woman asked him about the "letter (she) got in the mail from Howard that attacked Tony for being a Communist, but who cares? He represents us! That's the kind of person we need for alderman!"
The population of the ward has shifted in recent years to a younger, more diverse demographic, Pecinovsky points out. He sees his campaign as part of the surge of progressive politics where candidates such as Alexandria Ocasio-Cortez have been welcomed despite red-baiting.
"I love that he cares about the people and wants what is best for us!" stated Nikki Overmiller, a canvasser for Pecinovsky. "Even my kids are out canvassing because they recognize that families just like ours are coming out to support him, too! That's a powerful lesson to learn at such a young age." Pecinovsky is himself a father. His 6-year-old daughter Ida is named after anti-lynching and suffrage activist Ida B. Wells.
Pecinovsky reported that his campaign focused on door knocking: Eight to ten volunteers hit the streets every weekend covering the campaign's entire "universe" three or four times. "Interestingly, a lot of people came out of the woodwork," Pecinovsky said. "People we had never met. They wanted to be part of the solution."
In fact, most of the volunteers were young, but young or old, the most enthusiastic campaigners got involved after answering their own door to a fellow community member. All generations played a role, said Pecinovsky. Older volunteers filled a niche in making phone calls. "They were the ones who were most effective on the phones," he pointed out since it's older folks who tend to answer landlines. One such caller was Jim Cloud. "I'm typically apathetic to the St. Louis political scene," said Cloud, "but this race opened my eyes because Tony represented how just an ordinary citizen can make a significant impact on the local government."
Less than a week before the March 5 election day, the voting station at King's Highway Baptist Church, where neighborhood voters had been casting their ballots for years, was abruptly moved to the American-Czech Education Center without notice to the neighborhood. Pecinovsky canvassers minimized the impact by hitting the doors the weekend before. One voter said he appreciated the heads up from the campaign. "Nobody told us!" complained a middle-aged couple living in the ward, "This is voter suppression."
Looking forward, Pecinovsky sees working with the ward organization to build and consolidate the energy and momentum coming out of this election.
Meanwhile, the fight against airport privatization is heating up, with newly energized activists carrying clipboards loaded with "STL Not for Sale petitions" appearing at public events and community gathering places across the city. Having squeaked out a bare 674-622 win, the pressure is on Howard to listen to the community.