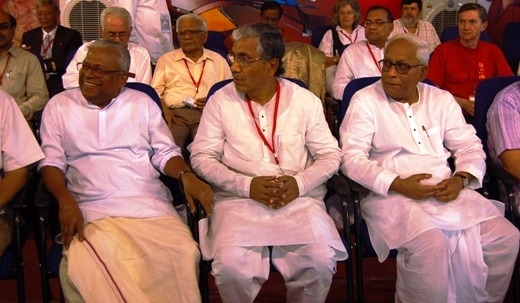 NEW DELHI – Thirty-four years of Left Front state governments in West Bengal ended on May 13, after the Communist-led coalition lost its eighth bid for re-election. The Left Front was first elected in 1977, and re-elected six consecutive times, until this year.
Left leaders said voters had a deep desire for change, and the parties would make a comprehensive analysis of the loss.
The victor is Mamata Banerjee of the Trinamool Congress winning 226 seats out of 294 total. The Left Front won only 62 seats, and its chief minister, Buddhadeb Bhattacharya, lost his district.
Banerjee has been sworn in as West Bengal's chief minister, resigning her post as federal railways minister. While Banerjee broke with the ruling Congress Party and set up an opposition group, she is allied with the Congress at the federal level.
What seemed to anger the voters the most was the inept way the state government attempted to procure land for industrial development. In 2007, the government tried to expropriate land to develop a chemical hub. Opposition developed from legitimate concerns, and anti-Communist forces fueled the issue as well.
Violence seriously escalated when the state government sent in thousands of police to the village of Nandigram in March 2007. Fourteen villagers and one policeman were killed.
Banerjee and other opposition forces, including Maoists, organized around the government's use of force and built a successful anti-Communist movement. A list of about 400 slain Communists from Maoist violence was sent to the federal government.
The ruling Congress party joined with Banerjee to defeat the Left Front, which is led by Communist Party of India – Marxist. India's monopoly capitalists, anxious to get favorable returns on their investments in the fourth largest Indian state, willingly lent a helping hand. The stock market zoomed with news of Banerjee's motley coalition.
(Indian corporate giant, Tata, had planned to develop an industrial site to produce its nano-car, but that scheme failed as well when farmers refused to give up land, despite the government's high compensation offers. Tata took its investment to another state.)
Land reform, establishment of trade union rights, education and literacy programs, and commitment to grassroots democratic participation through local governing councils called panchayats are the hallmark of Left rule in West Bengal. There are no big landowners in the state, and it has one of the lowest infant mortality rates in India.
Despite the accomplishments, voters wanted change, and jobs, as the Indian economy has boomed.
But observers say newly-elected Banerjee will have a harder time governing than campaigning.
"She is an unlikely figure now to persuade farmers they must, after all, give up scarce land to industry," writes The Economist.
And the violence continues post-election, already eight Communist activists have been killed, despite Banerjee's victory and calls for "restraint," writes the conservative UK-based magazine.
Banerjee found common cause with the Maoists, and even admits that "people in the Maoist belts voted for us to restore democracy in their areas." Yet, many say, it is harder to end the violence, than start it. The instability will further turn off possible investors and stymie job creation.
Banerjee's victory may also be a headache for her partners in the Congress Party, since her party won a majority on her own and will not need their seats to form a government.
The bad news for the left didn't stop at West Bengal's borders. In the South Indian state of Kerala, the Communist-led Left Democratic Front also lost re-election, but by a much closer vote than West Bengal.
The main opposition, the Congress-led United Democratic Front, squeaked out a victory over the LDF. The UDF stitched together a majority coalition with the Indian Union Muslim League and a Christian party called Kerala Congress-Mani, putting the new government at 72 seats out of the 140 total.
Since 1957, the Communist-led Front has alternated between winning and losing power. It never had a 34-year consecutive stretch like in West Bengal.
It's to the credit of Kerala's outgoing Communist chief minister, V.S. Achuthanandan, 87, and his extreme popularity that the LDF gave a tight race. Pre-election surveys placed 65% of voters agreeing that his government has done very well in the last five years, and he was called the "best chief minister of any state of India." But opposition managed to eek out a one percent gain in the vote, especially using the "religion card," according to the Left's leaders. Achu will head the LDF opposition.
Not all state election news was bad for Left.
In another southern state, Tamil Nadu, the incumbent government, an ally of Congress Party, was rousted by a coalition that included Communist parties. Voters wanted change there too. The ruling party's leader was ensconced in a huge corruption scandal with the telecoms running in billions of dollars. Popular former actress Jayaram Jayalalitha heads the new government.
Photo: From left to right are the three chief ministers of Kerala, Tripura and West Bengal, attending a 2008 Communist Party of India-Marxist rally in Coimbatore, Tamil Nadu. (Teresa Albano/PW)
CORRECTION: In a previous version of the article it mentioned the victory of the Left Front in Tripura. That victory was not during this state election cycle but two years ago.