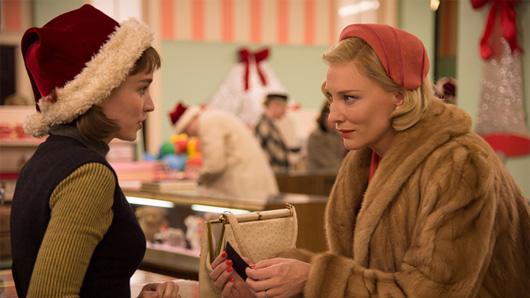 ZÜRICH, Switzerland – Among the gala premieres at this year's Zürich Film Festival is Todd Haynes' (2002's Far From Heaven) lesbian-themed Carol, adapted by screenwriter Phyllis Nagy from Patricia Highsmith's "The Price of Salt." (Since Alfred Hitchcock's 1951 Strangers on a Trainthere have been many screen versions of Highsmith's novels, including René Clément's1960 Purple Noon with Alain Delon and 1999's The Talented Mr. Ripley, starring Matt Damon.)
Ed Lachman's stylish cinematography gives Carol the naturalistic look of the HBO miniseries he shot for Haynes' 2011 adaptation of Mildred Pierce. Carol captures the ambiance of the early days of the conservative era presided over by Pres. Dwight "Ike" Eisenhower, when conformity was the repressive norm amidst postwar America's economic boom.
This is a slow-moving, deliberately paced character study of lovers whose sexual orientation challenges and threatens the status quo. The same-sex attraction between upper-class, married Carol Aird (two-time Oscar winner Cate Blanchett, co-star of 2004's The Aviator and Woody Allen's 2013 Blue Jasmine) and shop girl Therese Belivet (Rooney Mara of 2011's The Girl with the Dragon Tattoo), sparked by a chance encounter at the department store where Therese works, leads to an affair. The desperate actions by Carol's bullying husband Harge (Kyle Chandler) to save their marriage using underhanded tactics would make him feel right at home with today's homophobic religious fanatics and GOP blowhards.
Carol also explores photography as an art form, as Therese – opened up by her affair – evolves from shop girl to photographer. (Another ZFF gala premiere, Dutch director Anton Corbijn's Life – a biopic about James Dean [Dane DeHaan] and Dennis Stock [Robert Pattinson], the photographer who shot a famed Life magazine photo essay of the actor – similarly deals with this art form.)
Haynes presented a ZFF "Master Class" at Zürich's arthouse cinema, Filmpodium, and said what attracts him to shooting movies about women is their conflicts with patriarchal society's "normalcy, expectations, that they succumb to limits of the culture." He noted that in realistically reproducing the early 1950s, Carol'sactresses wore true-to-the-era girdles, which symbolically affected and circumvented women's movements – before there was a mass women's movement.
I asked Haynes about the current state of gay themed films and, referring to Supreme Court and other precedents, the director replied: "Well, there's tremendous change and progression legislatively. The critique of queer cinema is also changing, as well."
For more information see: http://zff.com/en/home/.
Photo: "Carol" Facebook page