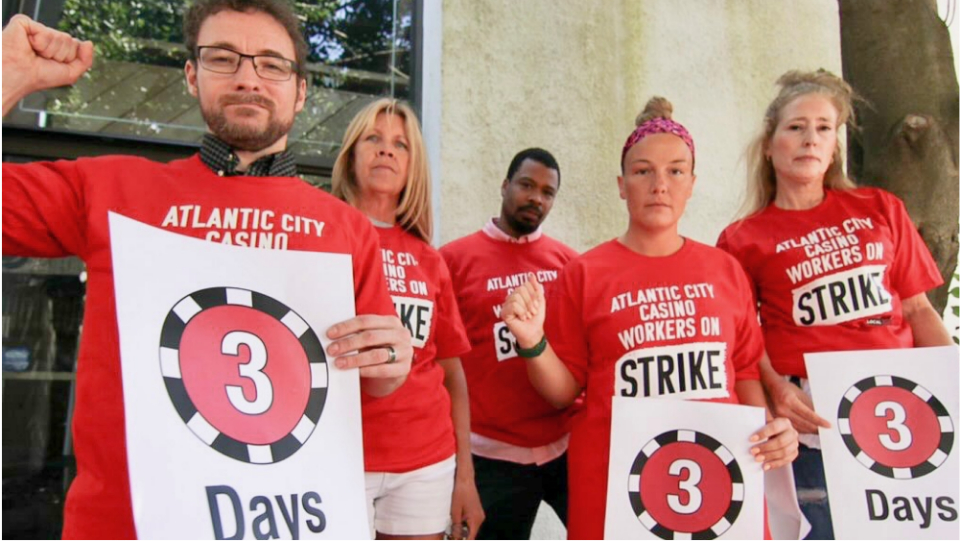 ATLANTIC CITY, N.J. (PAI)—Low pay and—often—short-staffing forced some 10,000 casino workers in Atlantic City, N.J., to vote 96%-4% to authorize a strike. Many could walk July 1.
If the two sides don't reach agreement on a new pact, workers at Caesars, Harrah's, Tropicana, and Borgata casinos will be forced to walk that day, followed on July 3 by Hard Rock casino workers, said their Unite HERE Local 54.
Low pay for the workers, at a time when profits at casinos—now the economic engine of the old resort town—are booming forced the workers to that decision.
The local issued a 12-page report comparing workers' pay at the casinos with the cost of living in Atlantic County, which the city dominates. Even the raise in New Jersey's minimum wage, to $13 hourly, falls short of the $18.83 hourly pay a single adult with no kids needs now.
"I have to buy less because I need to pay the rent and utilities," Harrah's housekeeper Fabiola Sarmiento said in the report. "If I don't, I will get my services cut.
"Electricity and gas have increased. The rent also increased. Food is super expensive, so I try to eat once per day. I am a cancer survivor and when I was ill with cancer, I applied to the state for help. The state did not give me any help. Supposedly, what I earn is enough to live on but that is not true."
"My bills are through the roof because I was out in the pandemic and then the unemployment finished," added Borgata housekeeper Maria Santana. "I'm paying $1,525 for rent. Before I used to go food shopping. Not anymore. What I do is today I buy something to eat in the street. Maybe the next day I go buy something to cook that day. I cannot go do food shopping because I don't have money to do food shopping."
They're not alone. Of 1,934 casino workers Local 54 surveyed for the report, 32% lacked enough money for food, 37% had trouble paying utility bills and 27% lacked transportation money.
"As of March 2022, the average wage at the three Atlantic City casinos operated by Caesars Entertainment was approximately $15.81 per hour for non-tipped workers and $8.80 for tipped workers. The lowest wage for non-tipped workers was $13 per hour, the current state minimum wage for most New Jersey workers," it says.
"Peak season is approaching in Atlantic City and the casino industry is facing a labor shortage with 2,500 positions unfilled. Current wages have not attracted and retained enough workers as other employers have raised starting wages.
"Even though the Atlantic City casino industry is enjoying rising gaming revenues and profits, workers are being left behind. In 2021, the industry reported total gross operating profits of $766.8 million, up 25% from 2019. However, total employment in the Atlantic City casino industry was down 22% in July 2021 compared to July 2019."