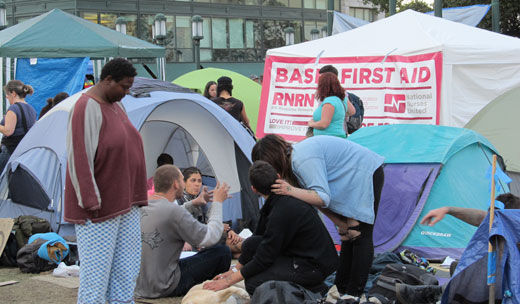 OAKLAND, Calif. – Occupy Oakland's Nov. 2 mass day of action is gaining broad support from unions, community organizations and faith groups.
The action was agreed on by Occupy Oakland's general assembly after the dismantling of the camp last week and the police attacks that followed.
The camp quickly returned, and police presence has been minimal.
While organizers called for a "general strike to shut down Oakland and the 1 percent" they also said they recognized that not all workers would strike, and they welcomed "any form of participation which they feel is appropriate." Actions are slated for early morning, noon and evening, to encourage the greatest participation.
The Alameda Labor Council said its affiliated unions "stand in solidarity with Occupy Oakland and the 99 percent." It is encouraging unions and individual members "to take whatever solidarity actions they deem appropriate to support Occupy Oakland and draw attention to the need for good jobs, ethical banking practices, quality public services and a system where everyone, including the rich and corporations, pays their fair share."
The Labor Council is serving dinner to all Day of Action participants starting at 4:30 p.m.
Among many different activities, "Occupy the banks! Foreclose on the 1 percent" actions are planned for both morning and noon Nov. 2, while union worksite actions are planned for the morning. "Family bike and stroller brigades" will gather at noon. In the late afternoon a community picket line will aim to shut down the Port of Oakland.
On the evening of Nov. 1, the East Bay Alliance for a Sustainable Economy (EBASE) is holding a "Swag'n for Justice" concert and rally to press for quality jobs at the upcoming redevelopment of the Oakland Army Base.
On Nov. 3, protesters will join the California Nurses Association in a late morning action in San Francisco in solidarity with international protests against the G20 finance ministers and central bank governors during their meeting in Nice, France. The nurses have been staffing the Oakland encampment's first aid facilities.
While pointing out that they are not asking members to strike, Teamsters Local 70 urged them to participate in the day of action during their off hours, wearing their "Teamsters gear."
Dwight McElroy, president of SEIU Local 1021's Oakland chapter, said in a statement, "We are also part of the 99 percent. Our jobs have been cut, our people are unemployed, and our community has lost needed services in these hard times."
The Oakland Education Association endorsed the Nov. 2 actions, and is urging members "to participate in a variety of ways," including taking personal leave to join actions, doing informational picketing and holding teach-ins at school sites.
The OEA has been funding the porta-potties at the camp site.
Among the many community organizations participating is the disability rights organization CUIDO, which will hold a rally and teach-in to protest impending federal and state cuts impacting the disability community, as well as participating via van shuttle in the community picket at the port.
Photo: Marilyn Bechtel/PW