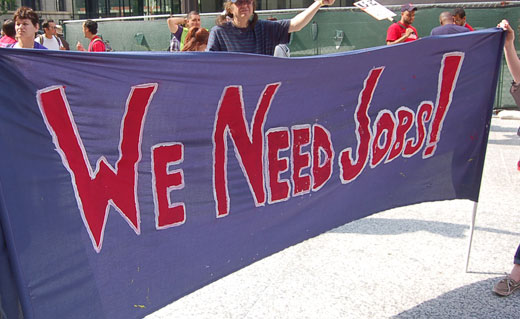 With joblessness at extreme levels and child poverty reaching new highs (twenty three percent of Michigan's children now live in poverty), Michigan's Republican dominated state Legislature did the opposite of what reason and sanity call for.
Last Wednesday, they passed a 48-month lifetime limit on welfare benefits expected to cast more than 11,000 families off the welfare rolls on Oct. 1 – including more than 29,700 children.
Added to their previous votes granting tax breaks for corporations and votes to raise taxes on both the working poor and the pensions of seniors, Republicans continued the drive to balance the economic crisis on those already suffering the most.
That wrongheaded, mean-spirited and life threatening action was bad enough. What is outrageous is the post debate explanation given by Republican Rep. Dave Agema on his Facebook page.
Agema writes "During the debate, One of the DTW (Detroit) reps just stated God would 'get us' if we reduce welfare. I seem to recall a Biblical verse that states 'let them that will not work, not eat' (if they are able). Welfare reform is long overdue."
Agema's Facebook comments are off base on several accounts. First "able-bodied" people are lining up by the thousands whenever and wherever job interviews or job fairs take place. Even employers offering low wage jobs are deluged. Aldi, a discount grocery chain, had almost 1000 people apply for twelve openings in Holland, Michigan (a town very close to Agema's district) two days before the legislatures vote. A few days earlier in Detroit, 5,000 desperately searching for work came to a jobs fair, sponsored by the Congressional Black Caucus, held at Wayne County Community College.
In addition, was the intention of the Biblical verse to condemn the weak and the poor? Rev. Tim Yeager chair of the Communist Party USA's Religious Commission, told People's World that Agema had completely taken the quote out of context.
Rev. Yeager said "To use the letter of Paul to the Thessalonians as a justification for cutting people off from state assistance, when there are no jobs to be found, is a total distortion of Paul's words, and the exact opposite of what Jesus teaches in the gospels.
"The text of 2nd Thessalonians 3:10-11 (New Revised Standard Version) is: Anyone unwilling to work should not eat. For we hear that some of you are living in idleness, mere busybodies, not doing any work.
"The early church in many places was a communal society where property was shared, and people were expected to contribute according to their ability. Paul is NOT talking about the poor who have lost their land or their homes, who have little or nothing, who are willing to work but cannot find it, or who cannot work, or who are disabled, or widows and children."
One could say that the idleness the disciple Paul was talking about is exemplified by those that hoard their extreme wealth and abandon our communities. Dick Dauch, the American Axle CEO, and major Republican donor, comes to mind. Dauch justified closing Hamtramck's plant by saying, "We have the flexibility to source all of our business to other locations around the world and we have the right to do so."
Rev. Yeager said, "Jesus often describes the Kingdom of God as a banquet to which the poor and the homeless are invited first. The poor and the 'undesirables' are invited to places of honor at the feast."
Rep. Agema and his fellow Republicans are on the wrong biblical track.
PW photo