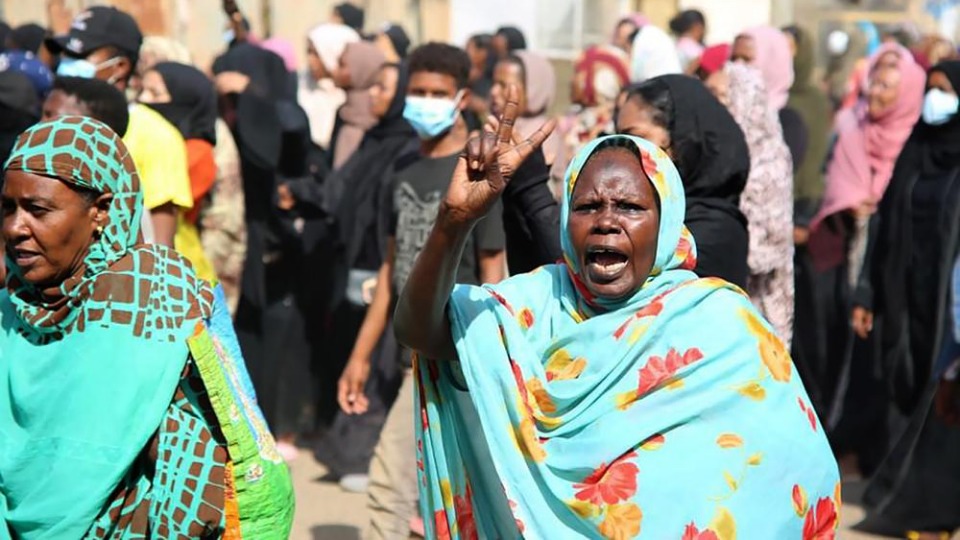 Sudanese Communist Party (SCP) officials issued an urgent appeal for international solidarity today after the military seized power in a coup, making sweeping arrests. A state of emergency was declared as General Abdel Fattah al-Burhan dissolved Sudan's transitional government.
Tanks surrounded the home of interim Prime Minister Abdalla Hamdok, who was placed under house arrest, while army and security forces rounded up other ministers and political leaders in the capital, Khartoum.
Journalists at the state broadcaster were detained after troops stormed television and radio headquarters in Omdurman, the Information Ministry confirmed.
"We invite everyone to continue the march until the coup attempt is brought down," the SCP said in a statement. Communist spokesman Fathi Al-Fadhl said that the party anticipated "a severe onslaught" by the military against all of Sudan's democratic forces.
Gen. Burhan justified the power grab by claiming a struggle between the civilian and military elements of the interim administration threatened peace and security. But the coup was branded "political foolishness" by Mohammed Hassan Eltaishi, a civilian member of the sovereign council, who vowed to resist it "until the last drop of blood."
Hamdok issued a statement calling on the Sudanese people to "protest using all peaceful means possible…to take back their revolution from the thieves." He was backed by the SCP, which called for "a political strike and civil disobedience until this coup is defeated."
The Sudanese Doctors Committee said that at least 12 people had been injured when security forces opened fire on people protesting against the coup in Khartoum.
The Arab League expressed "deep concern" at the unfolding situation, urging Gen. Burhan to return to the negotiating table.
Earlier this month, the Communists demanded the immediate transfer of power to a civilian government, accusing the military of derailing the transition to democracy.
The party said that the armed forces, which dominated the joint civilian-military administration, were moving away from the goals of the revolution that ousted former President Omar al-Bashir in 2019.
It accused the government of implementing economic reforms at the behest of the International Monetary Fund that were increasing poverty as the prices of bread and basic goods rocketed.
Today's coup took place soon after a visit by U.S. special envoy Jeffrey Feltman, raising questions about external interference in Sudanese affairs.