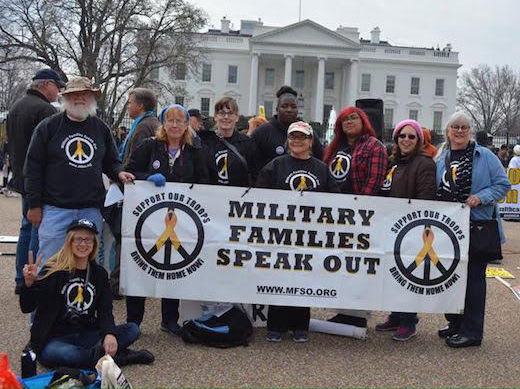 Military Families Speak Out (MFSO) in a recent press release commended "President Obama and Secretary of State John Kerry, along with the United Kingdom, France, Germany, China, and Russia on their tremendous work in reaching an agreement, the Joint Comprehensive Plan of Action (JCPOA) with Iran dramatically curbing Iran's nuclear program."
MFSO is an organization made up of over 4,000 members who have family members in the military and speaks out against unjust wars and for taking care of our troops when they come home.
"It takes courage to deal with an adversarial country in a peaceful manner, and to instead focus on what joins us together than what tears us apart. There can be no doubt that our rush to war responses has created more enemies and an ever increasingly violent Middle East," states the press release.
"As a mother, whose son served a combined five tours in Iraq and Afghanistan, it is a great relief to know that our country can follow a path to diplomacy and not rush into another war, where more lives will be lost and or damaged," said Pat Alviso, coordinator for Military Families Speak Out.
In an open letter, three dozen retired generals and admirals called on Congress and the American people to support the Iran Deal.
"We, the undersigned retired military officers, support the agreement as the most effective means currently available to prevent Iran from obtaining nuclear weapons," states their letter.
Generals and admirals emphasized, "America and our allies, in the Middle East and around the world, will be safer when this agreement is fully implemented. It is not based on trust; the deal requires verification and tough sanctions for failure to comply.
"We agree with the Chairman of the Joint Chiefs of Staff, General Martin Dempsey, who said on July 29, 2015, "[r]elieving the risk of a nuclear conflict with Iran diplomatically is superior than trying to do that militarily," the letter continues.
One of its signers is Retired Navy Admiral Harold L. Robinson, a rabbi and former naval chaplain who chairs the National Conference on Ministry to the Armed Forces. In a recent interview he said "As a lifelong Zionist, devoted to Israel, and a retired general officer and a rabbi for over 40 years, and operating without institutional encumbrances, I have a unique perspective, those of us who love Israel in the United States are not of one mind and one voice on this matter. I thought it was important to represent some of the diversity within the American Jewish community."
Along with military families, generals and admirals, 29 of the nations top scientist, including some of the world's most knowledgeable experts in the fields of nuclear weapons and arms control have also spoken in favor of the Iran Deal citing that, "It limits the level of enrichment of the uranium that Iran can produce, the amount of enriched uranium it can stockpile, and the number and kinds of centrifuges it can develop and operate."
If you want to support the Iran Deal sign the petition: http://www.stopwarwithiran.com/
Photo: Military Families Speak Out