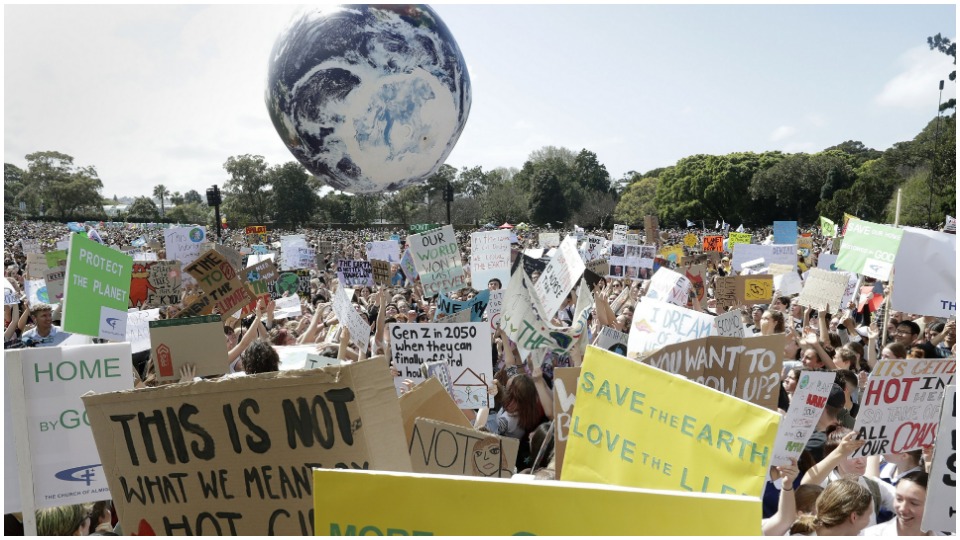 From Alaska to Hawaii to Miami to Chicago to New York to D.C. – and around the world – millions of people are hitting the streets  Sept. 20 or 21, depending on local time zones, to demand world leaders get off their asses and act to stop global warming before it's too late.
The Global Climate Strike includes events in Washington on both days, while Chicagoans will march from the southern end of Grant Park to Federal Plaza on Sept. 21, for example. But there will also be demonstrations everywhere from London to Kuala Lumpur.
There's even a planned climate strike in Laramie, Wyo., in a deep-red pro-carbon state.
The week of student-led climate strikes comes as overwhelming evidence of global warming and its harm continues to mount and slap leaders in the face. Global warming's impact includes everything from more-frequent and more-intense hurricanes in the Caribbean to the increasingly rapid melting of glaciers in Greenland and Antarctica.
Global-warming caused melting raises sea levels, so much so that within a few decades residents of cities worldwide – from Venice, Italy to Venice Beach, Calif. — could find themselves and their homes and businesses permanently underwater. Miami Beach, frequently, already is.
The chief cause of global warming, scientists have proven, comes from burning fossil fuels, releasing billions of extra tons of carbon into the atmosphere and trapping heat within it, raising the globe's temperature worldwide. Another rise of two degrees centigrade, the scientists add, would be the tipping point to worldwide disaster.
That two-degree rise has already occurred and carried out huge impacts in states and counties in the U.S., studies add. Affected areas include much of New Jersey, especially around Lake Hopatcong in its northwest corner, and the entire state of Rhode Island.
All this will lead millions of people into the streets, concurrently with a United Nations special session on global warming and climate change.
"Join young people in the streets for global climate strikes and a week of actions to demand an end to the age of fossil fuels and climate justice for everyone," Dominique Browning of the Moms Air Force, one of the strike's sponsoring citizens' movements, said in an e-mail.
"This September, millions of us will walk out of our workplaces and homes to join young climate strikers on the streets and demand an end to the age of fossil fuels."
"Our house is on fire — let's act like it. We demand climate justice for everyone."
"In just a matter of days, students will walk out of their classrooms — and parents will stand with them — to demand real action from global leaders towards climate safety. Millions of people across the world will participate," Browning, a Big Apple resident, added. The New York City strike will be at noon on Sept. 20 at Foley Square.
Climate strike leaders in the U.S. also urge supporters to lobby lawmakers, personally and by social media, to support a quick transition to 100% clean non-fossil fuel energy.
The U.S. Youth Climate Strike coalition leading the mass movement here put out a detailed list of priorities for stopping carbon emissions and achieving positive climate change.
They include enacting and implementing the Green New Deal, and its transformation of the U.S. economy to 100% renewable energy by 2030, plus phasing out fossil fuel extraction while "creating millions of good jobs" in clean fuel industries in the transition.
They also include an "immediate halt…to all construction, leasing, and permits" for "extraction of fossil fuels," processing them and factories for doing so. That includes a ban on all such extraction and projects on land owned by indigenous people and Native Americans.
And their platform demands environmental justice, notably "a transition that invests in prosperity for communities on the frontlines of poverty and pollution," along with "welcoming those displaced by the cumulative effects of the climate crisis, economic inequality, violence, and lack of opportunity."
It also demands "an end to subsidies for industrial agriculture." Such factory farms are high users of carbon-based fertilizers, for example.
Their platform, does not, however, include – at least specifically – an end to another prominent form of environmental injustice: The siting of waste dumps, slag heaps and other noxious byproducts of carbon extraction in low-income communities of color.
Examples include slag heaps on Chicago's far South Side and mountains of waste coal, zinc and other slag heaps of "clinkers" piled up on Native American reservations in far northeastern Oklahoma. Lack of environmental justice was a topic of a recent Congressional Black Caucus legislative conference seminar.
Besides the organizers, a wide range of groups backs the climate strike. Other than "green" groups, they include four international unions: The United Electrical Workers (UE), the Teachers (AFT) and its California state affiliate, the Service Employees and its 1199 Hospital and Health Care Workers and the Association of Flight Attendants-CWA.
UE, the first, explicitly also endorsed the climate change strike, in a resolution at its convention in Pittsburgh this summer.
"Like the transformation of our manufacturing infrastructure and economy that took place during World War II, a just and successful transition to a sustainable industrial and manufacturing base will require massive infusion of federal and state resources, coordination between government, industry, and labor, and democratic participation of workers through widespread unionization," UE said.
"Millions of workers could be employed strengthening our infrastructure, rebuilding our rail and transit systems, converting to renewable energy sources, protecting against the effects of rising temperatures, and in many other areas."
Other backers include the Workmen's Circle of Boston and other Jewish groups, Black Lives Matter of Greater New York, the Labor Network for Sustainability, the New York State Nurses Association, United University Professions (AFT), Railroad Workers United and the San Francisco Labor Council. They also include various progressive political groups. All may have an extra hard time convincing some politicians of the urgency, especially in the U.S.
On the eve of the climate strike, for example, GOP President Donald Trump, an outspoken and vitriolic climate change denier, declared on Sept. 17 that he would revoke the special exception written into the federal Clean Air Act that allows California – home to enormous auto exhaust air pollution when the law passed 49 years ago – to impose cleaner standards on auto emissions than other states do. The act also lets other states follow the Golden State's lead.
California Attorney General Xavier Becerra (D), citing the tougher rules' positive impact on his state's air – and that automakers voluntarily agreed to continue increasing fuel mileage and emissions standards – vowed to oppose Trump's move in court.
Trump's not the only U.S. political problem climate change strikers confront. Two of the three top Democratic presidential contenders, Sens. Bernie Sanders, Ind-Vt., and Elizabeth Warren, D-Mass., enthusiastically endorse the Green New Deal. The third, former Vice President Joe Biden, is another matter. A trailing hopeful, former Rep. John Delaney, D-Md., flatly opposes it.
In a recent CNN debate devoted exclusively to climate change, Katie Eder, 19, director of the Future Coalition, told Biden: "Older generations have continued to fail our generation by repeatedly choosing money and power over our lives and our futures. So how can we trust you to put us, the future, over the wants of large corporations and wealthy individuals?"
"Because I've never done it," Biden replied. "I've never made that choice, my whole career. Simple." Later, he added: "Coming up with good plans isn't enough. You need to be able to bring people, and countries and interests together to get anything done."
That prompted Northwestern University (Ill.) doctoral candidate Isaac Larkin, 27, to point out that Biden, a favorite of the so-called Democratic establishment and its big donors, planned a closed-door big-dollar fundraiser hosted by Andrew Goldman, CEO of a big fossil fuel firm that specializes in exporting natural gas. "I didn't realize he does that," Biden replied.
"I found his initial response of 'because I've never done that' to be a bit abrupt and lacking substance," Eder e-mailed afterwards, answering a question from the young women's news website Jezebel. "He went on to refer to his past record on climate change but gave no specific details about his current plan. We don't want to hear about what he's done in the past—we want to know what he plans on doing in the future."