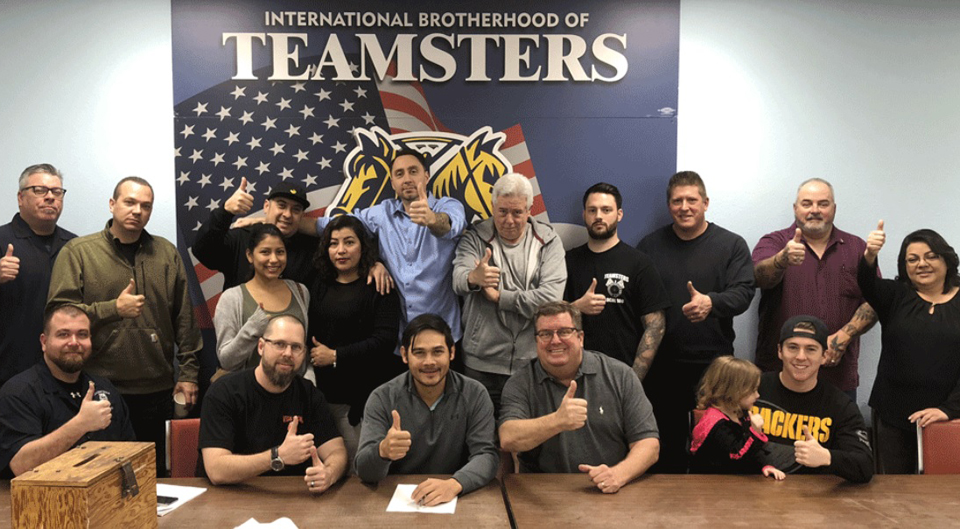 LAS VEGAS — Since 2009, valet parkers at the Hard Rock Hotel in Las Vegas pursued getting a Teamster contract to protect themselves. This year, they finally got it done.
After voting in Teamsters Local 986 in 2010, the union achieved a first contract in early 2018, but only after a legacy of National Labor Relations Board charges, demonstrations, letters, flyers, more charges and federal court hearings. Year after year after year.
Along the way, the NLRB and the federal courts used the Hard Rock case, in 2011, to expand workers' rights for everyone, by restricting when an owner of a restaurant inside a casino could restrict off-duty workers' hand-billing elsewhere in the facility.
What finally worked in getting the contract was simple. Call it the power of the purse. Just threaten to pull several hundred million dollars of investment money away from the Hard Rock's owner, Brookfield Asset Management.
Following a letter from Teamsters Secretary-Treasurer Ken Hall to Brookfield investors decrying the hotel/casino owner's anti-worker machinations, the message headed out to East Coast Teamster officials Gregory Floyd and Patricia Stryker of Local 237.
Stryker is the Teamster representative on the board of one of New York City's Retirement System's five funds. The funds have a strong Responsible Contractor Policy. It requires companies in which they invest to follow all applicable laws covering employees.
It also happened that early this year Brookfield, whose Hard Rock management employed every dirty trick to keep its valet parkers non-union since 2011, was up to secure several hundred million dollars from that NYC pension fund. Suddenly, it was hands-off time at Hard Rock. The sides reached a good first contract.
"After years and years, it all came down to the money," Local 986 Secretary-Treasurer Chris Griswold said. "We used the members' resolve to keep fighting, our union's tremendous resources coast-to-coast, and cooperation to finally prevail."
The threat of yanking the cash forced the firm to finally bargain in good faith. Griswold said the new pact was especially sweet for the local's newest Las Vegas members
"Eight years is a long time to fight. There is a long, long list of Teamsters who helped put this puzzle together," he said. Besides Hall, Stryker and Floyd, they include union president Jim Hoffa, Local 986 General Counsel Debra Goldberg, the union's Capital Strategies Department's Carin Zelenko – Griswold called her "amazing" — and Teamsters George Miranda and Bill Black. And the first contract? Raises, inclusion in the Teamsters pension plan, medical insurance paid in full by Hard Rock – the valets were paying up to $500 monthly for coverage — and more.
Paul Mihalow is editor of the Southern California Teamster