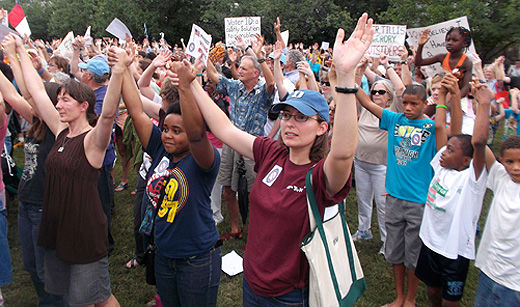 On Feb. 8, the Moral Monday movement, which showed massive momentum in 2013, will return with its biggest event yet, the Moral March on Raleigh. While the state of North Carolina has been moving in a more Democratic direction in recent years in presidential elections, with Barack Obama winning the state in 2008 and coming just two percentage points of winning it again in 2012, extremist Republicans have taken control of the governor's mansion and the state Assembly.
The Moral March on Raleigh will call out North Carolina Gov. Pat McCrory, state House Speaker Thom Tillis (R), and state Senate Leader Phil Berger (R) and their extreme policies, which have included attacks on voting rights, education, the environment, health care and women's rights. Organizers expect tens of thousands of North Carolinians to stand up for their rights and fight back against these extreme policies on Feb. 8.
The Moral Monday movement was organized by the Rev. William Barber II, head of the North Carolina NAACP, which staged protests in Raleigh and throughout the state last year. The events were launched in conjunction with another organization headed by Barber, the Historic Thousands on Jones Street (HKonJ) People's Assembly Coalition, and have been supported by more than 150 other organizations. The 13 Moral Monday events in Raleigh in 2013 led to nearly 1,000 arrests for civil disobedience, while events in dozens of other cities around the state helped raise awareness about the strange games afoot in the state capital.
Kenneth Quinnell wrote this article which appeared this week in the AFL-CIO Now Blog
Photo: Thousands take part in a Moral Monday demonstration in Raleigh, North Carolina. Tim Wheeler/PW