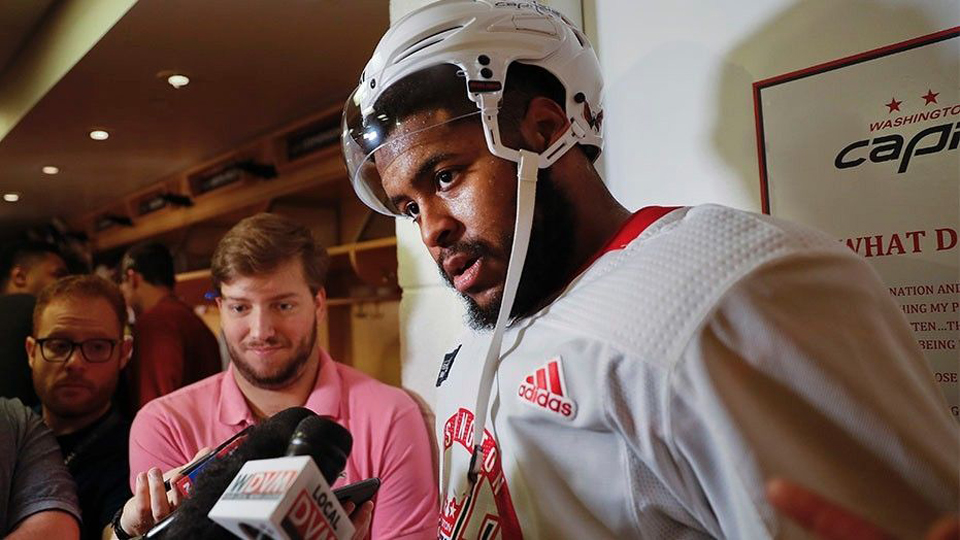 The Washington Capitals, after 13 years of playoff failure, finally won their first Stanley Cup. A moment of victory that wouldn't have happened if not for the signing of a 25-year old forward who barely made the team at the start of the season.
Devante Smith-Pelly scored goals in three straight games in the finals, including the game-tying goal midway through the third period of the final game. He will be only the eighth black hockey player to have his name inscribed on the Cup and received loud cheers at the Capitals' victory parade. But it will be his last public appearance in Washington D.C. until next season.
If the Capitals are invited to the White House, Smith-Pelly will not be among them.
"The things that (Trump) spews are straight-up racist and sexist," he said. "Some of the things he said are pretty gross. I'm not too into politics, so I don't know all his other views, but his rhetoric I definitely don't agree with. It hasn't come up here, but I think I already have my mind made up."
Just a few months ago, February 17, Smith-Pelly experienced the kind of racism Trump's election has emboldened while facing the Chicago Blackhawks.  As Smith-Pelly sat in the penalty box, a group of fans began chanting "Basketball! Basketball!" at him. The fans were thrown out by security, but Smith-Pelly was still visibly upset. "It's pretty obvious what that means," he said afterward. "It's not really a secret. Whether it's that word or any other word, I got the idea. And I'm sure they got the idea, too."
That idea being: you don't belong here.
Wayne Simmonds also knows what it's like to be singled out for his race. The Philadelphia Flyers right wing was a target during an exhibition game in London, Ontario in 2011 when a fan threw a banana at him while on the ice. "When you're a black man playing in a predominantly white man's sport, you've got to come to expect things like that," said Simmonds.
Seeing black and biracial players in the National Hockey League is still an uncommon sight. Out of 713 players, 32 are of African descent. But the path to acceptance has been anything but easy.
The NHL of the 1950s
Willie O'Ree is considered by many to be the Jackie Robinson of hockey since he was the first black player in the NHL. A native of the province of New Brunswick, Canada, O'Ree made history on January 15, 1958 when he took the ice for the Boston Bruins in a game against the Montreal Canadiens. He played in only two games before being sent back to the minor leagues.
Three years later he was back in Boston, scoring 4 goals and had 10 assists in 43 games. He did log 26 minutes in penalties as he wouldn't back down from opposing players who tried to intimidate him. When Chicago Blackhawk forward Eric Nesterenko called him the n-word and used his stick to break his nose and two teeth, O'Ree fought back by taking his stick and hammering Nesterenko's head.
The fans were even worse. "Every time I went on the ice, I was faced with racial slurs because of my color," O'Ree recalled. "I had black cats thrown on the ice and told to go back to the cotton fields and pick cotton. I didn't let it hurt me. I let it go in one ear and out the other."
Besides the racial taunting, O'Ree had to deal with a problem that made playing at a high level even more difficult. He lost sight in his right eye playing in a minor league game when he was 20, two years before he debuted with the Bruins. He never told anyone, and because he was such a good player no one ever suspected there was a problem.
Although O'Ree never made it back to the NHL after the 1961 season, he played 16 more years in the minors, most of them with the Los Angeles Blades of the Western Hockey League.
In 1998, O'Ree was named ambassador for the NHL Diversity Program (now called "Hockey Is For Everyone"), a position he still holds today. While honored at the NHL All-Star game this past January, many hockey fans believe he deserves to be inducted into the Hockey Hall of Fame in November.
Wayne Simmonds, star forward of the Philadelphia Flyers credits O'Ree with being a great role model for young black players. In an article he wrote for the Players' Tribune, Simmonds said, "Mr. O'Ree should be in the Hockey Hall of Fame. He should be in the Hockey Hall of Fame yesterday. I can't think of anyone who has done more to broaden the appeal of our great sport to new audiences. He's a living hero to so many of us, and he deserves to be honored as a legend of the game."
After Jackie Robinson broke the color line in major league baseball in 1947, within four years there were 20 black players in the majors. After Willie O'Ree's last year in the NHL, it would be another 13 years before another black man put on an NHL sweater.
Race Relations in hockey: Canada vs. USA
In 1974, left winger Mike Marson was a 19-year old rookie with the expansion Washington Capitals and scored 16 goals, good for third best on the team. But, not surprisingly, he had to endure torrents of abuse from players and fans alike. "I was called the n-word and every other bad name in the book," he said, "along with stuff I didn't even know was in the book."
A Canadian like O'Ree, Marson didn't experience the kind of racism in his home country as he did in the United States. "We didn't have the same civil rights movement here in Canada that they did in the States," Marson said. "I used to get hate mail and all that sort of stuff."
Marson only played five years in the NHL.  He wasn't the first black player to have a long successful career in the league—that honor would go to Tony McKegney.
In a 17-year career, McKegney would score 320 goals along with 319 assists, and his 78 points (total goals and assists) were the most for a black player until the 2001-2002 season when Jarome Iginla had a total of 96 points.
In 1981, Val James became the first black American to play in the NHL but for only two seasons.
Another Canadian black player, goalie Grant Fuhr, debuted in 1981 and began a 21-year career which would see him play on five Stanley Cup championship teams and would culminate in his election as the first black player in the Hockey Hall of Fame. Fuhr had an interesting take on race relations in Canada compared with the United States. "To be honest with you, I've never thought much about it. I grew up in a small town in Alberta and it wasn't about anything but how you played the game," he recalled. "I think it's different in some places but it's not a big thing here (in Canada), and it's certainly not a big thing in the game."
The 1990's saw a significant increase in the number of black skaters in the NHL and many of them were impact players. Donald Brashear was a left winger with 5 teams during his 18-year career and was known as an "enforcer": a player who makes particularly hard hits on opposing players to intimidate them.
As a result, Brashear was always a league leader in penalty minutes for six seasons and ranks among the top twenty players in penalty minutes all-time. He played in an NHL era when each team had enforcers; as a result, Brashear wasn't able to become the offensive force he could have been if he hadn't been stereotyped as an "angry black man."
Fortunately, Jarome Iginla didn't fit into that stereotype. As a right winger Iginla made history in 2002 by being the first black player to win the Art Ross Trophy (league leader in total goals and assists), the Maurice Richard Trophy (most goals scored), and what is now the Ted Lindsay Award (most outstanding player).
The son of a Nigerian father and a white mother from the U.S., Iginla grew up in Edmonton. His favorite player as a kid was Grant Fuhr. He had such success as a junior hockey player that Iginla was drafted in 1995 by the Dallas Stars in the first round. Traded to the Calgary Flames before taking the ice in Dallas, Iginla had an excellent rookie season, scoring 21 goals and being named to the NHL All-Rookie team. He played 15 seasons with the Flames and reached the Stanley Cup Finals in 2004 where they lost to the Tampa Bay Lightning.
Overall, Iginla played 22 seasons with five different teams, was a six-time All-Star and is one of only twenty players to score 600 goals in his career. He has also been recognized for his work in the Calgary community, winning the Mark Messier Leadership Award. Since 2002, Iginla has donated money to the Diabetes Research Association from the proceeds of his non-profit Jarome Iginla Hockey School. He also serves as an Ambassador in the Hockey Is For Everyone campaign.
The NHL today
Certainly the most polarizing of the current group of black players is P.K. Subban, a defenseman with the Nashville Predators. Subban had been a star with the Montreal Canadiens for 6+ seasons and was known as much for his success on offense (particularly on the power play) as he was for being an outstanding defender. Subban was voted the league's top defensive player in 2013 and was named to the NHL's First Team as an All-Star. He was beloved in Montreal for charity work in the community in addition to his play on the ice.
Which is why it was such a shock when Subban was traded to Nashville in June, 2016. Canadien fans were upset and left wondering why management would let such a great player go. Rumors of dissension swirled around the team, as other players resented Subban's outspoken personality; believing he was a "showboat" who cared more about individual honors than team success.
Former coach and popular CBC analyst Don Cherry initially called Subban a "hot dog" when he came into the league. But he has since had a change of perspective and now compares Subban's play to that of Bobby Orr, perhaps the best defenseman in the history of the sport.
Even though he had been traded, Subban didn't turn his back on the people of Montreal. In the off-season, he returned to Montreal and raised $50,000 to help support struggling working-class families with sick children.
Subban's presence had an immediate impact on the Predators' play as the team reached the Stanley Cup Finals during his first year with the Nashville team. In his second, the Predators held the best record in the league and fell just shy of the Western Conference Finals. (His former team, the Canadiens, had the fourth worst record.)
In May, Subban was named one of three finalists for the King Clancy Memorial Trophy, which is given to the player "who best exemplifies leadership qualities on and off the ice and who has made a significant humanitarian contribution to his community."
Mr. Smith-Pelly goes to Washington…Or does he?
Devante Smith-Pelly's season was one of hope, struggle, adversity, and, ultimately, triumph. In some respects, his journey from junior hockey to the Stanley Cup is a reflection of the history of the black experience in the NHL. For Smith-Pelly and many black hockey players today, it is still one of surmounting obstacles that white players never had to deal with. "I can't go to anyone on my team and have them understand really how it is to be in my shoes," he says. "Just because I'm a professional hockey player, they just don't understand. So it's really lonely in that sense. You don't really have anyone."
Smith-Pelly knows the current resident of the White House will never understand – because he doesn't want to understand. And that, is why, Mr. Smith-Pelly won't be going back to Washington until it's time to lace up his skates.