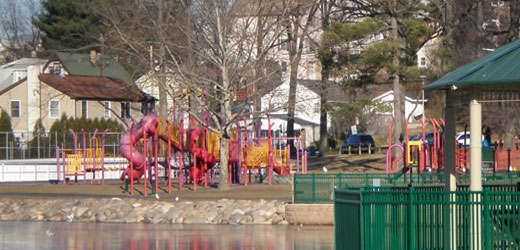 Part 1 of a 2-part story. Read the second part here.

Disaster strikes
Garfield is a small, Italian-Polish town in New Jersey known for its pizza, its positive youth groups and anti-drug culture, and the restaurant Goodfellas (named after the mob film of the same name). It's also my hometown, where I spent the major part of my life so far. And very recently, I learned that, since the 1980's, it has been contaminated with a cancer-causing chemical called chromium.
In Dec. 1983, three tons of hexavalent chromium leaked from a tank at the E.C. Electroplating plant, less than 10 blocks from where I grew up. The N.J. Department of Environmental Protection ignored evidence that a plume of the stuff was then migrating under the neighborhood, and allowed the company to stop the cleanup after just 30 percent had been recovered. Since then, the problem has grown worse, and there's a growing fear that the chemical could become airborne.
Garfield, like the other neighborhoods along the Passaic River that border it, was a working class factory town during the 20th century. It was home to textile mills, paper factories, chemical plants, and other industry. It contained modest homes, bakeries, and family-owned shops. During the early part of the last decade, it saw a brief uptick in crime, but now the situation has reversed, and Garfield is experiencing gentrification.
For me, it came as a shock to hear about the chromium currently wending its way beneath Garfield, because no one who lives there seemed to know about it. And that is a prime example of how little environmental awareness there is in that area. Now, however, people will no longer have a choice: chromium is starting to show up in their basements.
Lack of action
The chromium is slowly seeping into homes and threatening thousands of people's health. The substance can cause lung cancer, stomach cancer, asthma, anemia, rashes, irritability, and intestinal ulcers. Now, Garfield is New Jersey's newest Superfund site. Officials with the Environmental Protection Agency, who took over for the DEP, have warned residents not to go into their basements, noting that there may be severe contamination present in their homes that poses "a significant threat" to their health.
The EPA found absurdly high levels of chromium in 13 residential basements, two other homes, a gas station, a car repair shop, and the building of Garfield Fire Company 3. It was also found several times in the Golden Towers senior center on Grand Street.
Grand Street is a small road on which I grew up and spent about 13 years of my life. I knew Golden Towers – a high-rise building – before it was given that name; when the building was still painted white. My apartment building was a one-minute walk from it. To think that my friends and I were unknowingly exposed to this chemical is unsettling.
A major problem was the DEP, which was notoriously lax on pollution control. Its principal specialist, John DeFina, wrote in a May 1985 letter to E.C.'s attorney, "The expense of [a cleanup] effort might not be justified by the result." Because there were no wells for drinking water in the area (Garfield relies on a sewer system) he concluded, "there is no threat to public health." Clearly, he was wrong.
The initial investigation was sloppily executed. While recovery wells were drilled near the factory site, they were too shallow for engineers to get to the bulk of the chromium. And no wells, meanwhile, were drilled in other parts of the neighborhood.
"The DEP dragged their feet," said Jennie Coulter, whose house on Grand Street (owned by her family since 1906) was contaminated. "They could have solved this 20, 30 years ago. Now I won't go down to my basement until a man from [the EPA] puts his hand on a Bible and says everything is safe."
The chromium that was found in the fire station – which was a mile away – was largely ignored. Though Fire Company 3 was shut down, no effort was made to open up a new investigation, nor was any new testing done in the area.
An attack on health
Federal officials have stated that Garfield residents are in danger anytime they go down to their basements, if chromium is present. Though the state Health Department analyzed its cancer registry and did not find elevated rates of disease in the area, these figures are not completely precise, because the neighborhood has a relatively transient population. That makes it difficult to determine chronic exposure and illness in former residents.
However, for some people whose homes were affected, illness and tragedy were about to set in.
This story is continued tomorrow in Part 2.
Photo: Danherts Lake is one of many parks in Garfield. Its waters could become poisoned if the drifting plume of chromium continues to spread. GarfieldNJ.org