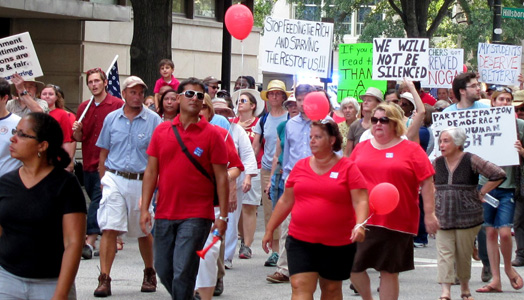 DURHAM, NC – On Friday, a federal judge denied attempts by North Carolina Gov. Pat McCrory and his administration to have the N.C. NAACP's legal challenge to the massive voter suppression law dismissed. Instead, he ruled that the case will be set for a full trial in 2015.
Judge Thomas Schroeder also declined to issue a preliminary injunction that would have stopped the many restrictions on voting to go into effect this November. He said he did not think it would cause irreparable harm to allow the law to be enforced this year.
Many voters will almost certainly be disenfranchised this fall, because of the cuts to early voting, the elimination of same-day registration, straight ticket voting and cutbacks of provisional ballots for people who mistakenly turn up at the wrong polling site.
In response to Judge Schroeder's ruling, Rev. Dr. William J. Barber, II, president of the North Carolina NAACP, issued the following statement:
"If one elderly or young person, black, white or Latino decides she won't vote because of the shorter early voting weeks, the elimination of same-day voting, the confusing ballots without straight party voting and other sections of this voter suppression law that are still standing because of today's court decision, that is indeed an irreparable harm. The harm is irreparable to the voter…and to our democracy.
"The N.C. NAACP understood when we moved for a preliminary injunction, that the bar we had to jump over was quite high. We knew we had to persuade the Court the harm this cruel law would do to African Americans and other minorities would be irreparable if it were allowed to be enforced during the 2014 November election. The Court found that allowing election officials and others to ask voters whether they had a photo ID -even though such ID's are not required for two more years-would not cause irreparable harm.
"The franchise is not a partisan issue. It is a fundamental issue of our rights as guaranteed to us by the 14th and 15th amendments to the U.S. Constitution and by the 1868 Reconstruction Constitution here in North Carolina. It is a moral issue.
North Carolina was the first state to pass a discriminatory voting law since the Supreme Court's Shelby Co. v. Holder decision on the Voting Rights Act, which stopped the enforcement of Section 5 last June and reduced critical protections for voters of color. "This case proved that Section 4 must be fixed so that the Voting Rights Act can guarantee Southern states are covered by preclearance," said Barber. "This case exposes the level to which extremist groups will go to suppress the vote. It shows the danger and risks we face when cases go through the courts instead of being precleared on the front end by the Justice Department.
"This voter suppression law's passage was aided by a political climate in which our Supreme Court-the highest judicial authority in the land-was saying publicly that civil rights had been achieved and we could legitimately eliminate crucial voter protections for minorities.
"We will not falter in our efforts to mobilize until this extreme law is completely repealed. Our movement against this voter suppression law is built on the legacy of those who have testified before us, with their feet and blood, to fight for equal rights in North Carolina and the nation."
Photo: Moral Monday march in North Carolina. T.W. Buckner/Flickr (CC)